It would be hard to find an investor that thinks sales growth is unimportant. Sustainable earnings growth needs to be made on the back of sales growth, otherwise you are simply 'tightening the belt' as you improve margins.
Some investors, such as Ken Fisher, believe that low price-to-sales stocks can provide better relative valuations than earnings, which tend to be more volatile. A low price to sales firm could indicate deep value. Of course, you need to put this into context with industry averages. Some even prefer this to book valuations since assets and depreciation of assets can be quite specific to the company making comparison difficult for the average investor.
Our screen will include small-caps and under:
Price to Sales below 5 year average
Price to Sales below Industry average
Sales growth exceeds Industry sales growth
The liability to asset ratio less than Industry average
And high relative strength within industry group
(If you like tiny stocks, check out these 2 that may be gearing up for a run)
Two Oil Small Cap Stocks
| | | |
| --- | --- | --- |
| Ticker | Company | Market Cap |
| (NASDAQ:DBLE) | Double Eagle Petroleum Co. | 111 |
| (NYSE:BBG) | Bill Barrett Corp. | 1895.78 |
Double Eagle Petroleum (DBLE) – As with any oil company, there is a necessity to replace its reserves while producing. The cost of exploration and acquisition is high, which is some of the reasons for narrow industry margins. As of the time that this article was written, the price to sales ratio was only 2.0. The industry is recorded at 5.44(numbers vary slightly according to source).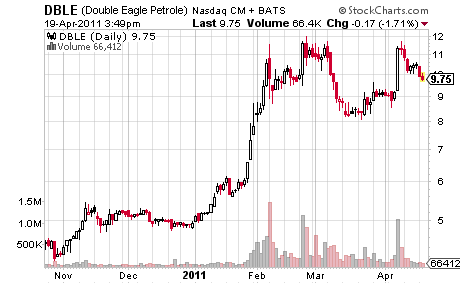 One year sales growth is 22%, and this is similar to the 5 year average. Of course, quarter over quarter sales growth between years is down roughly 30%, which is disconcerting. With only one analyst covering the stock, it is hard to get a good read on the future earnings prospects. As well, there is a lot of fluctuation in this company as sometimes they use derivative instruments to hedge, and other times they don't.
Based on a simple price to sales ratio and increases in sales between fiscal years, this could be a good small cap oil play.
Bill Barrett Corp. (BBG) – The price to sales average in the Oil and Gas Drilling and Exploration is over 7. BBG clocks in at 2.71. This is below the 5 year average of BBG's price to sales of 3. Could this be slightly undervalued? Let's look to see how sales have been faring lately.
1 year sales growth 18.4%
3 year sales growth 21.4%
5 year sales growth 19.3%
7 year sales growth 37.4%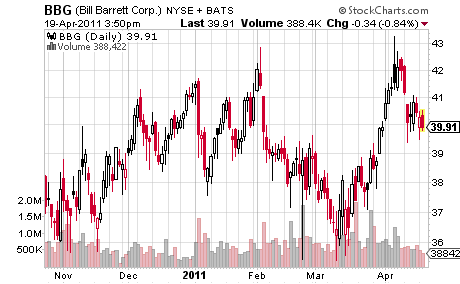 The past two quarters the sales have declined somewhat, but the overall annual trend is still on the up. Over the past seven days the earnings consensus has been raised for the following quarters as well as the current year and 2012 year. Sales growth is expected to grow 12.8% for the FY 2012.
Price to Sales Not the Final Word … But it Might Help
There are so many numerous factors that drive these stocks up including book values, earnings, free cash flows, firm size, oil prices, and the list goes on and on.
Some might say that the stock is being priced accordingly (low price to sales that is) based on the available information. This is in-line with the efficient market hypothesis that states there are no bargains in the market. I am not one of those believers, and I do think that there is a better than average chance that these two small cap stocks are mildly undervalued based on price to sales ratios. That being said, I must confess that I am not the biggest proponent of low price to sales stocks, but I wanted to single a couple picks out for those that are.
Disclosure: I have no positions in any stocks mentioned, and no plans to initiate any positions within the next 72 hours.