By Patrick Crutcher
As we reported earlier, we had high expectations for sales of Momenta Pharmaceuticals' generic Lovenox, but the actual sales numbers are above and beyond those. Tuesday morning Novartis (NYSE: NVS) reported $247 million in Lovenox sales for Q1 2011. We previously estimated somewhere around $200-225 million in sales. That's 10% above our expectations on the high end. Momenta Pharmaceuticals (NASDAQ: MNTA) will report earnings on May 5th.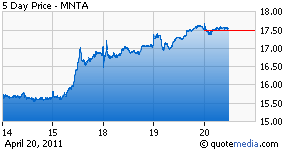 Based on previous margins and operating expenses, this could mean somewhere between $70-75 million in revenue to Momenta. Consider that in Q4 2010, the company received around $58 million in revenue. Based on $70M, that's a 20% jump in revenue. A conservative estimate for Momenta's earnings per share (EPS) would be around $0.9 on net income of close to $48 million. That is a very good quarter by any standards, especially for a smallcap biotech company. This revenue will continue to add more cash to their balance sheet, which already has an effective cash balance of about $203 million at end of 2010 and no debt.
We have stuck with Momenta's story and it has paid off. In our view, MNTA shares are still vastly undervalued. With these type of revenues sustained throughout 2011, Momenta could see EPS of around $3.50 or higher for fiscal year 2011. We can't even think of another biotech stock under $1 billion in market cap that is doing anything close to this in revenue.
In a recent note out of Cowen & Co., its analysts reiterated their belief that "Momenta's M-Enoxaprin is worth mid $20's to shares". Also, Teva's (NYSE:TEVA) Lovenox ANDA is not a real threat and there's the possibility of a settlement in the Copaxone litigation with Momenta. Consider that TEVA recently stated it won't comment upon its ANDA until it gets approval. Now that's a 180 degree turn from its previous pumping back in July about "being close". It suggests to us very serious problems with its Lovenox program and could spell the end of it; a cold shutdown so to speak.
All of those reasons fully support our belief that Momenta is undervalued and should be well north of $20. As usual, we will keep you updated on the goings on at Momenta.
Disclosure: Long MNTA
Recent coverage
Novartis' First Quarter 2011 results (PDF)