Intel Corporation is a semiconductor chip maker company. The Company develops advanced integrated digital technology products, primarily integrated circuits, for industries such as computing and communications. It also designs and manufacture computing and communications components, such as microprocessors, chipsets, motherboards, and wireless and wired connectivity products, as well as platforms that incorporate these components.

Sales, Earnings, and Free Cash Flow

| Years | Revenue (in millions) |
| --- | --- |
| 2006 | 35,382 |
| 2007 | 38,334 |
| 2008 | 37,586 |
| 2009 | 35,127 |
| 2010 | 43,623 |
Intel is coming off of a record year in 2010, with revenue reaching an all time high of 43.6 billion, a 24.2% increase from 2009. This is much higher than the 10 year average revenue growth of 5.6%, and Intel credits this to an increase in demand for all of its products, across all operating segments and markets, as well as increased prices. All 3 business segments had double digit revenue growth: the PC Client group increased 21%, the Data Center Group was up 35%, and Other Intel Architecture was up 27%.

Intel just reported a blow-out first quarter, with revenue of 12.9 billion, a 25% increase from Q1 2010. With healthy guidance on Q2, and a business that's seasonally stronger in the second half of the year, Intel is positioned for 20% annual revenue growth again in 2011.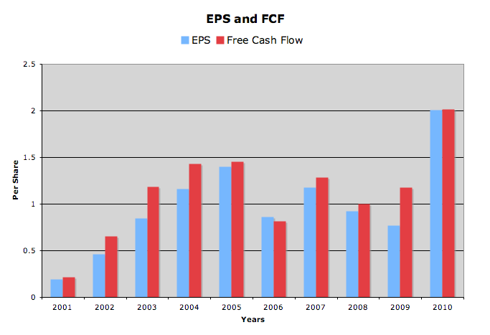 (Click charts to expand)
Earnings and FCF have shown a strong correlation over the past decade, with 10 year growth rates of 29.6% and 27.9%, respectively. The semiconductor industry can be highly cyclical, and Intel's earnings prove this. After some bumpy years, Intel came back with a vengeance in 2010, with a 161% earnings growth, from $0.77 to $2.01. Analysts estimated 2011 earnings at $2.02, but this number may be a bit short if Q1 is an indication that we are in the beginning of another strong cycle of microprocessor sales.

"These outstanding results, combined with our guidance for the second quarter, position us to achieve greater than 20 percent annual revenue growth," Paul Otellini, President and CEO, stated recently. If those hold true, and Intel can sustain margins and buy back shares, 2011 eps will surely be higher than $2.02.

Intel has managed to take an average of 4.6% of its shares off the market every year, though 2010's shares outstanding increased slightly, from 5,645 billion to 5,696 billion. In January, the company authorize another 10 billion for share buybacks.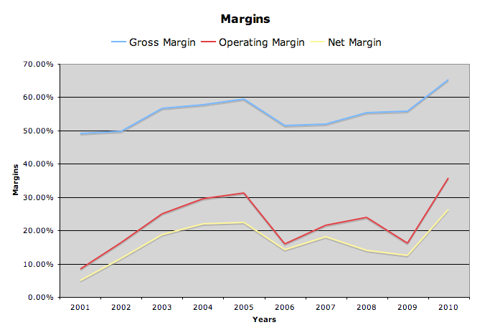 2010 was also a record year for margins, as numbers showed robust improvement across the board. Gross margin reached 65%, up from 55% a year earlier. Operating and net margins more than doubled, from 16.2% to 35.7%, and 12.4% to 26.3%, respectively.

Dividends

Intel is very young when it comes to the dividend growth game. After 3 years stuck at $0.08 (2001, 2002, 2003) the first increase came in 2004, when Intel increased its annual payout 100% to $0.16. Then came another 100% increase in 2005, to $0.32. Growth has slowed since then, with a 5 year average of 12%.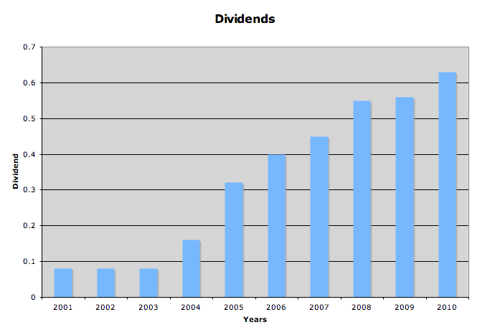 The most recent increase was announced in November 2010, but payable in 2011, when the quarterly rate was increased from $0.15 to $0.18 a share. This gives 2011 an annual dividend of $0.72, an increase of 15.9% from 2010's $0.63.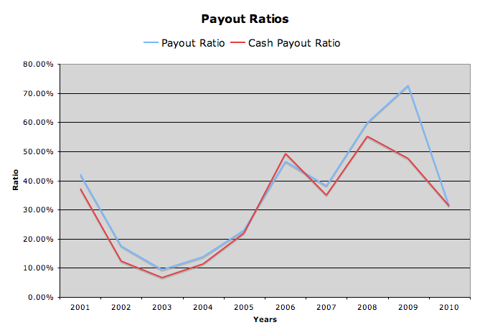 The payout ratios have increased in recent years, even reaching as high as 70% of earnings in 2009. A great year in 2010 brought both payout ratios back down to under 40%, leaving plenty of room for growth and a nice margin of safety. It's interesting to note as well that Intel generates tons of cash, and even when the earnings based payout ratio grew into the 70s, the cash payout ratio was still under 60%. The increasingly long history of dividend growth combined with a low payout ratio leads me to believe INTC will provide me with a growing stream of income well into the future.

Balance Sheet

Intel's balance sheet is pristine. Debt is only 4.1% of total capital employed, and the current ratio is a super-conservative 3.4. Goodwill only accounts for 7% of total assets, giving Intel a tangible book value of $7.88 per share. The price jumped today on the great earnings report, but at $21.13 it's still only 2.7x tangible book.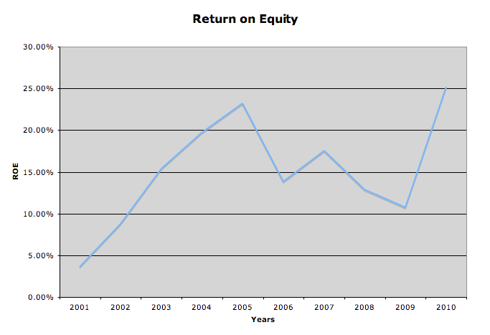 Return on average equity has been relatively stable after peaking in 2005, though it did dip as low as 10% in 2009. 2010 saw a rebound up to 25%, above the 10 year average of 15%. Considering the low debt and cyclical nature of Intel, a 10 year average ROE of 15% is very acceptable.

Stock Price Valuations

Current Price - $21.13
5 year low p/e - 16
Current p/e (ttm) - 10.5
Forward p/e - 10.5
5 year high yield - 3.5%
Current yield - 3.4%

Conclusion

One of the most cited criticisms of Intel is its lack of presence in the mobile market, but I think this is overblown. Not only is it innovating with chips like the Atom, but investors are also overlooking the other aspect of that market - the data centers and servers needed to handle and store all that information. Intel is well positioned here with its dominance of the server market, and I expect as the mobile market matures, Intel will find its way into smartphones and tablets.

I find INTC attractively valued at only 10.5x ttm earnings and about the same for forward p/e, though I think INTC will beat estimates. The 3.5% yield and growing dividend is the cherry on top. I'm adding to my position when funds are available.


Disclosure: I am long INTC.