Google (NASDAQ:GOOG) found out just how cruel Wall Street can be when the technology company missed its earnings estimate for Q1. Shares of Google tumbled over the past week with the search engine giant seeing its shares drop nearly $50 as analysts quickly slashed price targets. The huge price tumble seems to be and overreaction. The current drop in Google's stock price is a good buying opportunity for investors as shares are now trading at below $520.
See the full (April 15) earnings call transcript
Google's earnings miss can be largely attributed to increased spending on research and development, marketing, employee salaries, new hires, and capital expenditures. The company's uptick in spending weighed on earnings results and has led to some trepidation by analysts who think that Google's earnings miss may be a sign of things to come. A closer look at the company however reveals that last quarter was a temporary hiccup in the long term growth of the company.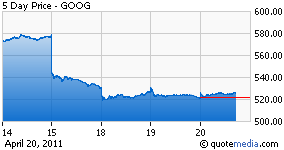 For starters, Google has been investing heavily in social media. The company has been trying to incentivize employees with higher pay and bonuses to increase the technology company's presence in the social arena. This may lead to higher costs now but it can pay off big time if Google can develop a forum that is even a minor threat to Facebook. Google has continued to invest in its social search, which helps users discover relevant content from their social connections.
The Android operating system is a bright spot for the company with 350,000 smartphones being activated every day. That's a 16% increase over the number of phones activated back in January. Google Chrome has been a success as well with over 120 million users. Google is making efforts to increase its revenue from mobile applications and social media so that these two areas will become a larger percentage of total revenue.
A deeper look into earnings shows that things are just fine at Google. Revenue was up 27% year over year coming in just under $8.6 billion dollars for the quarter. Earnings per share came in at $8.08, which was 4 cents below expectations. Search is still the largest part of earnings accounting for more than 80% of revenues. Last year Google generated 20 billion clicks per month via its search engine. The company dominates the search engine market with a 68% share. Google is seeing healthy growth in the paid search category with paid clicks rising 18% last quarter.
Net income was up 15% for the quarter. Google still has a great balance sheet with over $30 billion dollars in cash and short term investments. Google has been able to increase cash flows every year with last year's number coming in at over $11 billion dollars. The search market requires significant investments to maintain market share since there are no economic moats in the market.
Shares currently trade at $15.5 times this year's earnings and 13 times next year's estimates. For a company that has been able to grow earnings at a 30% clip over the past five years, a 15 multiple is more than fair to pay for the stock. Even if the company can only grow at 15% over the next year, the stock would be worth just over $600 per share.
Disclosure: I have no positions in any stocks mentioned, and no plans to initiate any positions within the next 72 hours.