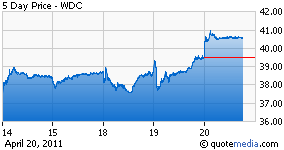 Western Digital (WDC) is expected to report Q3 earnings after the market close on Wednesday, April 20, with a conference call scheduled for 6:00 pm ET.
Guidance
The consensus estimate is 65c for EPS and $2.25B for revenue, according to First Call.
Analyst Views
Brean Murray feels it is reasonable to believe that the company reports Q3 EPS of about 60c-70c, likely with slightly firmer pricing. Brean expects this to be a balanced quarter with a bit softer units, if Western Digital was indeed component constrained during the quarter. Guidance was for 50c-60c. Brean believes FQ4 EPS is much trickier given potential for share to shift away from Western Digital due to the Hitachi acquisition and potential component constraints. Brean Murray continues to believe that Western Digital has the potential to generate $3.50-$4.00 in CY11 EPS, and $4.00-$5.00, including almost full benefit of Hitachi, in CY12. Based on Brean's current assumptions for both peer Seagate (STX) and Western Digital, they believe industry earnings power could ultimately be setting up to move Seagate shares into the low-mid $20's, and Western Digital towards the mid-high $40's -- through the year. Brean also believes Seagate is a likely share gainer in FQ4; Seagate commented that it isn't component constrained at the moment, nor does it expect to be -- but that it believes the rest of the industry appears to be. Investors will learn more tonight when Western Digital reports and comments on its component situation, but if Western Digital confirms it is constrained Brean Murray believes Seagate could react favorably on Thursday morning. Consensus for Western Digital's Q4/FY11 is 65c/$3.09 on $2.23B/$9.36B in revenue.