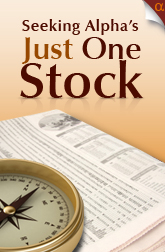 Several times a week, Seeking Alpha's Jason Aycock asks money managers about their single highest-conviction position - what they would own (or short) if they could choose just one stock or ETF.
---
Joseph Biondo Jr. is chief investment officer and portfolio manager at Biondo Investment Advisors, a Milford, Penn.-based independent investment management firm. A graduate of the University of Pennsylvania's Wharton School, he previously worked for Prudential Securities and Smith Barney.
If you could only hold one stock position in your portfolio (long or short), what would it be?
JPMorgan Chase (NYSE:JPM) warrants.
Tell us more about the company behind the stock.
JPMorgan is a global financial services firm with $2.2 trillion in assets and operations in more than 60 countries. The company's operations include investment banking; treasury and securities services; asset management; commercial banking; retail financial services; card services; and private equity investment.
How does your choice reflect your fund's investment approach?
We are growth managers and construct concentrated portfolios of stocks that we feel have great growth potential. We generally look for stocks that will double in five years, which implies 15% per year.
However, we also look to find situations where a company has great operating leverage that can lead to periods of very strong earnings growth. JPM fits into this category as it is coming off some very tough times during the financial crisis. Coming off those lows you can see potential double-digit earnings for the next several years.
Buying the JPM warrants ((JPM-WT)) instead of the stock illustrates our style, as they offer a great leveraged opportunity. All the banks that participated in TARP issued warrants to the government as part of the program. The government has since auctioned the warrants back to the public – providing a rare opportunity. These warrants give the owner the right to purchase JPMorgan common at $42.42 any time between now and November 2018. Essentially, this is a very long-dated, in-the-money call option on JPMorgan.
We have normalized earnings of around $6.50 in 2013, so we have a target price of $65 for the stock some time in the next 12-18 months. The stock currently trades at $45, so that is some great upside in the stock. Assuming we are right, the warrants ought to trade for $30 or so, and they now trade at $16. So we can just about double our money in not quite a 50% move in the underlying stock. Pretty attractive.
How much is a choice of JPM based on the outlook for financials, as opposed to a pure bottom-up pick?
Part of the thesis in investing in JPM comes from the opportunity in the industry itself. The entire banking sector was hit hard during the financial crisis, particularly those banks with high exposure to mortgage lending. These banks took huge writedowns and added to reserves at unprecedented levels in order to deal with the tidal wave of foreclosures and delinquencies in their lending books.
With earnings at such depressed levels at most banks, a return to normalized credit costs alone will cause earnings to double, even with little or no loan growth. Add to that the potential resumption of meaningful dividends and share buybacks and you have significant upside potential at these banks.
We feel that JPMorgan is the best of breed within this group. The company has plenty of capital and overall a better balance sheet than its peers. We feel this puts JPM in a position to return more capital to its shareholders than other large-cap banks and will lead to outperformance. Its management team is also the best in the business, in our view.
How is JPM set up with regard to competitors?
JPMorgan competes with other large multi-service financial services companies such as Citigroup (NYSE:C), Wells Fargo (NYSE:WFC) and Goldman Sachs (NYSE:GS). One of the things that distinguishes JPM from its peers is strong positioning in all its business lines and geographies. The Company is able to operate in all interest rate environments as it is not heavily dependent on its spread business, nor does it need a vibrant M&A or trading environment to generate strong fee-based growth.
How does JPM's valuation compare to its competitors?
JPM trades at 8x 2012 EPS estimates, in line with its large-cap bank peers. At 1x book the stock is slightly cheaper than peers. We feel that JPM deserves a premium multiple due to its superior balance sheet, terrific management team and diverse growth opportunities. We see normalized earnings of $6.50, so relative to normalized earnings we think it is rather inexpensive.
You mention good growth opportunities - going forward, do you think there's more potential for organic growth vs. M&A? Through the crisis and aftermath, of course, JPM swallowed some big targets in Washington Mutual, Bear Stearns, RBS Sempra Commodities etc.; how has it done there?
There is potential for JPM to grow both organically and through M&A. JPM bought WaMu and Bear Stearns at the bottom of the market and have huge upside when the environment improves for both those businesses. The company's focus on taking market share during the downturn leaves opportunity for organic growth in the future.
JPM's excess capital position gives them plenty of dry powder for M&A. Management has discussed seeking opportunities internationally, especially in high-growth Asian markets. The company could make strategic acquisitions in asset management, securities, investment banking or commercial businesses.
Does your view differ from the consensus sentiment on JPMorgan?
Although the market is starting to view the financial sector as bound for recovery, the sector still remains depressed and underperformed the market in the first quarter. Credit quality continues to improve and many of the banks have even raised dividends in recent weeks. However, loan growth has still not returned and there are still some liability issues related to mortgage putbacks that continue to weigh on the stocks.
Overall, it still appears en vogue to hate the banks on both Wall Street and Main Street. Sometimes, this creates tremendous opportunities and we think this is one such circumstance.
Does JPM management play a role in your selection?
The strength of JPMorgan's management team is a key factor in our investment. In our view, the long-term success of any company is primarily due to the top decision makers at the company.
Jamie Dimon is in our opinion the best CEO in the industry. JPMorgan's excess capital position is for the most part due to their acting prudently during the mortgage boom. In situations like this where a company is coming out of an industry downturn, you have to have faith in management and Dimon and his team give us the most confidence in the group.
What catalysts, near-term or long-term, could move the stock significantly?
JPMorgan has an asset-sensitive balance sheet and therefore a meaningful increase in interest rates would lead to an expansion of JPM's net interest margin and provide a boost to earnings.
A rebound in the housing market would help reverse the string of losses in the firm's mortgage operations. Delinquencies in the mortgage unit would presumably decrease as home values increase and sales pick up.
What could go wrong with your pick?
A prolonged sluggish economy would have an impact on many of JPM's business lines. Legal issues regarding mortgage putbacks could resurface and cause the company to take further writedowns and add to reserves.
Basel III capital requirements could also be raised higher than expected and eat the company's excess capital position.
JPM beat earnings estimates last week handily ($1.28/share vs. $1.12 expected) - but on much lower revenue, largely because of a big reduction in loan-loss reserves. Is this a sign of trouble for you - or more of an indication that delinquencies are really getting back to normal?
This is not a sign of trouble at all. The improvement in credit quality is the most important facet of the JPMorgan story. The important metric we focus on is the commercial lending business, which saw 5% sequential loan growth. JPM's strong capital and credit position has allowed the company to take share in corporate lending as customers have sought safe, stable lenders to do business with; therefore, when the lending environment starts to normalize, JPM should show significant loan growth.
Also, the improving credit trend not only will reduce credit costs in the future but will potentially lead to some big reserve releases in coming quarters, which will be a big boost to earnings.
Thanks, Joseph, for sharing your choice with us today.
Disclosure: Biondo Investment Advisors is long JPM and its warrants.
Read more Just One Stock interviews »
If you are a fund manager and interested in doing an interview with us on just one stock or ETF position you'd hold, please email us at Just One Stock.