Whitestone REIT (NYSEMKT:WSR) is a somewhat unique company in that it concentrates its property holdings in "community centered properties" (the company's description from a press releases). While we hear plenty about the large REITs, seldom do we hear about the tiny ones and some of the niche markets that they play in. Whitestone is one of the small ones (38 properties) and has a different strategy then most of the large players.
Founded in 1998 the company had a management change in 2006 and at this point in time the strategy to acquire "Community Centered Property" was formed. The company defines "Community Centered Property" as "visibly located properties in established or developing culturally diverse neighborhoods in our target markets." The companies target markets are Houston, San Antonio, Dallas, Chicago and Phoenix. The company is headquartered in Houston.
The company went public in August 2010 with an IPO of 2.2 million Class B shares which it sold at $12.00. There are 3.4 million Class A shares outstanding as well - all common shares hold all the same rights.
While operating results have been pretty unspectacular (although acceptable), with 2010 core FFO of $1.35/Share compared to $1.32 in 2009, we believe that the best is yet to come since little of the IPO cash was able to be invested by the end of 2010. Overall occupancy in its properties was 86% at the end of 2010 versus 82% in 2009 which should give the company a shot in the arm soon.
The share price of the company has reflected the unspectacular financial 2010 performance - while under-appreciating the 8% yield.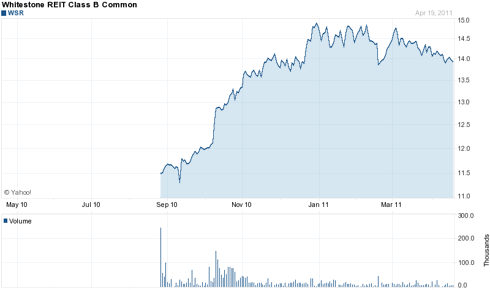 The good part for the future is:
Lease values for new and renewed properties were 41% higher in 2010 versus 2009.
A 12% increase in square footage leased with new and renewed leases was attained in 2010.
Additions of new properties at very favorable purchase prices (the company just announced the acquisition of a Scottsdale, AZ, property at $58/leasable feet as well as two other properties recently acquired "on the cheap" that are just being leased) which should, over time, provide substantial additions to FFO.
The continuation of a monthly dividend of 9.5 cents which gives it a current yield in the eye popping 8% range.
Assuming that the new acquisitions don't cause too much "indigestion" we think that over time Whitestone will prove to be a big winner and wouldn't be surprised to see core FFO up 20%-25% on an annualized basis by year end.
Disclosure: I am long WSR.