Once upon a time, Chinese small-cap companies were the sexiest animals in the market – not only do they have high growth and cheap valuation, but also, their stocks soar after getting uplisted to Amex or Nasdaq. It is no secret that I once fell for some of them, one example being China MediaExpress (OTCPK:CCME). Only after I obtained their SAIC documents did I start to realize that I had been dealing with professional liars. My seeking truth helped reveal one of the most sophisticated and blatant among all the Chinese RTO frauds.
Many other fund managers went through the same route. They thought they were seeking alpha for their clients but only found they were involuntarily assigned an arduous task to seek truth instead. Steven Wegener is one of them.
A Fraud-Charging Press Release
Steven Wegener, the owner of Wegener, LLC and portfolio manager for Wegener Adaptive Growth Fund, shared a common strategy with many other small fund managers, which was to seek and hold undervalued small-cap stocks. His stock screening apparently ended up discovering numerous Chinese Reverse Takeover ("RTO") companies last year since they all reported rich cash balance, amazing profitability, and admirable growth even under the global financial distress. The 10% annual growth of Chinese GDP made those stories even more believable.
He bought stocks like CCME, OTCPK:CMFO, OTCPK:CSKI, TPI, and OTC:PUDA, each - we later learned - had irregularities in financial reporting [Editor: An unsubstantiated reference to an additional company has been redacted]. He made the buying decision based on quantitative measures on their reported financials. It was not until he visited these companies in China that it dawned on him that those companies were just traps designed for value-seeking investors like him.
The discovery culminated on March 3, 2011, when he abruptly published a press release (.pdf) claiming that ZST Digital Networks (OTCPK:ZSTN), a Chinese radio device manufacturer, was a fraud, after he performed extensive on-the-ground investigation in Henan Province, where the charged company is located. He once believed in ZSTN and the SEC filings show that he kept 10,000 shares of ZSTN, 1.4% of his portfolio at the end of 2010.
Who is ZSTN
According to ZSTN's 10-K, ZSTN owns two lines of business. One is providing Internet protocol television ("IPTV") set-top boxes that are used to provide bundled cable television, Internet and telephone services to residential and commercial in Henan Province, the other is providing GPS location and tracking services in the Henan Province in China.
ZSTN is a Delaware registered company, but with all revenues and incomes derived from its directly owned operating company in China: Zhengzhou Shenyang Technology Company Limited. The following chart from its 10-K shows how it is organized.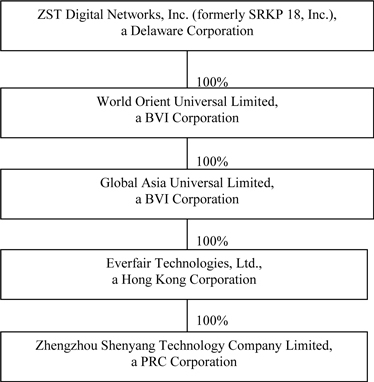 ZSTN's Unverifiable Business
Steven Wegener dismally found that the local markets that were supposedly using ZSTN IPTV products stopped IPTV services and the original device providers were not ZSTN. The supposed GPS sales for ZSTN also cannot be verified.
In his press release (.pdf), Steven Wegener figured that
ZSTN would have to dominate the Henan IPTV market in order to generate the sales it claims. However, that market in Henan is actually dominated by VCOM through China Unicom. The Henan IPTV market outside of VCOM is essentially nonexistent at this time.
Steven Wegener further provided evidence in a blog to substantiate his charge. He visited cable companies and TV bureaus at Yiyang, Huaxian, and Kaifeng (links go to Steven Wegener's blogs with photos and detailed accounts), three top cities where ZSTN supposedly derived its IPTV income from only to find that they do not have IPTV offering any more. China Unicom (NYSE:CHU) and VCOM used to have those markets, but they scaled back and stopped IPTV services as early as two years ago.
My independent research yielded the same conclusion. The government initiated the Henan IPTV to achieve political education purposes, and VCOM and China Unicom were chosen to complete the project. This is quite well known in the industry and the relevant information can be easily found on Baidu with keyword "Henan IPTV".
The SAIC report in 2008 and 2009 also do not support that ZSTN had any significant IPTV business, which I will discuss in Part Two.
The new GPS business ZSTN entered is as questionable as its IPTV business.
On February 25, 2011, ZSTN announced that it signed an agreement with Shangqiu City to develop a city-wide GPS tracking platform for commercial vehicles. ZSTN said that it was a 60,000 commercial vehicle market. With an initial investment of RMB 2m, ZSTN expects to generate revenue of RMB 40-50m per year.
Steven Wegener visited Shangqiu Transportation Group, which manages all buses and trucks in Shangqiu. He was informed that the bus company was not in the process of upgrading its GPS devices or location system. The bus company also has never heard of ZSTN. He further learned that there were only 4,000 taxis and 5,000 buses or trucks in Shangqiu, the total number far less than what ZSTN claimed. The original account can be found here.
My search also corroborated his findings. A news article posted in May 2010 on the Henan Province government portal reported that Shangqiu Transportation Group spent RMB 10m for a GPS monitoring system on all its vehicles. The article also described a real-time GPS monitoring system already in working.
More compelling evidence of fraud found by Steven Wegener was Henan Wan Li Logistics Ltd, which was mentioned in ZSTN's 10-K as a major customer (
2010 10-K
Page 4). He checked with Wan Li and found that the company never heard of ZSTN, and Wan Li had
its own GPS system and services
.
When questioned by Steven Wegener, ZSTN informed him:
Henan Wan Li Logistics is not a customer. The SEC filings are wrong and they plan on updating that. They claim the real firm should have been Wan Li Auto Trader Company.
However, ZSTN was not able to find this customer online, nor was it able to provide a number, address, logo, bill or anything when Steven Wegener demanded proof at the ZSTN headquarters in Zhengzhou. The original account can be found here.
Steven Wegener Is Unlikely to Tell a False Story
Steven Wegener provided text, photos and videos of his investigation in his fund's blog site. Even though Steven Wegner holds negative opinions on ZSTN, he is not short ZSTN. He was long ZSTN. Trading operation issues and information dissemination issues prevented him from taking advantage of his knowledge as well as revealing his knowledge to the world.
He explained why he did the on-the-ground investigation:
We are primarily quantitative investors. But we checked ZST out. The reason it matters that we were holders as of parts of last year is that we had every incentive to find ZST to be fault free. The fact that we came to opposite conclusion should be telling. Our motivation has not changed in the past year, yet our opinion has.
I praise him for his courage to seek truth and reveal to the world what the truth is, even if it means to negate oneself.
He suffered significantly from the prevalent frauds in the Chinese small-cap space, which often showed consistently "high" growth and "low" valuation. To a value investor, these are the opportunities to take. Only when it is revealed that all numbers were faked, the "low" valuation suddenly becomes extremely high valuation.
Steven Wegener finally realized that the whole group of RTO stocks from China was way too risky:
Our stock selection has been hurt from this general group of stocks the past 1 to 1.5 years. Given our recent trip and the issues mentioned we aren't comfortable with this group of stocks and intend to manage our stock selection accordingly going forward.
I advocate that the SEC take strong measures to demand higher transparencies from foreign companies, such as mandatory reporting of SAIC filings, and honest value fund managers like Steven Wegener will no longer lose his investors' capital to professional liars.
In Part Two, I will present my own research that shows ZSTN lied on their revenues and a recent real estate purchase.
Disclosure: I am short OTCPK:ZSTN, OTC:PUDA.