Atmel Corporation (NASDAQ:ATML) announced Wednesday that it has integrated haptics capability to its QTouch® capacitive touch controllers to support buttons, sliders and wheels (BSWs).

Atmel's 8-touch button AT42QT1085 becomes the first capacitive touch controller in the industry to provide haptics support for BSWs, offering up to 14 different haptic effects made possible thanks to Immersion's (NASDAQ:IMMR) market-leading TouchSense haptics technology.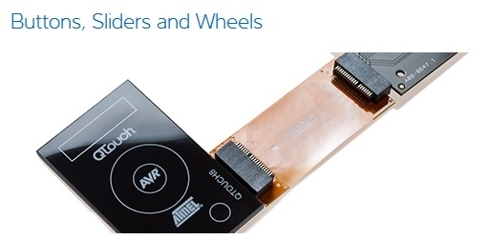 Atmel is one of Immersion's eco-system partners, having integrated the company's haptic technology into part of its product offering – the others being Cypress Corporation (NASDAQ:CY), Integrated Device Technology (NASDAQ:IDTI), Renesas and Imagis.
Immersion started implementing a strategy to broaden and expand market penetration by licensing its technology to chip manufacturers in 2009. At the end of 2010, royalties from this vertical already represented about 10% of its revenue stream. In addition, Immersion gets the opportunity to leverage its partners' sales force to gain additional visibility for its technology and potentially win new customers who will need a license from the company to implement haptics into their products.
Wednesday's announcement strengthens Immersion's importance in the vertical, and confirms that haptics is slowly becoming a "must have" technology for different verticals, apart from the usual suspects (mobile phones).
Having a company with revenues exceeding $ 1.5 billion issuing a press release involving its technology may really represent an inflection point for Immersion.
This is a short quote taken from Atmel's press release:
The addition of haptics to Atmel's BSW devices enables designers the opportunity to develop more differentiated and competitive products for their customer base," said Jon Kiachian, senior marketing director of touch marketing of Atmel Corporation. "We are excited to launch our first series of touch controllers supporting 14 effects to allow the designer to choose the right feedback for their specific application.
Atmel's QTouch controllers are sampling now and will be in production in May.
EE Times published an interesting interview with Patrick Hanley, product marketing manager at Atmel, that sheds some light on the company's decision to widen their product offering through the offering of additional haptic ready products:
I would argue [haptics have] taken off because they are in almost every smartphone, and all tablets have them except the Apple iPad," said Patrick Hanley, who said he doesn't know why Apple has not adopted the technology.

"Consumers are now comfortable with haptics, and we are seeing much more pull for the technology from other markets such as automotive, medical and industrial," he said.
Immersion's technology is based on a strong IP protected by about 1,000 issued and pending patents. In the last few years, the company's strategy has been to provide the market with tools that may offer an easy way to implement its sophisticated haptic effects into finished products – that being both making its technology available from chip manufactures, and launching MOTIV, a platform designed to simplify haptic integration for both OEMs and application developers.
Disclosure: I am long IMMR.