The bulls are in control, according to our survey of ETF proxies for the major asset classes.
As detailed below, sellers appear to be in the minority these days. The leading exception is found in U.S. bonds broadly defined, where a standoff between the bulls and bears drags on. Otherwise, optimism has broken out across the major asset classes.
We're not complaining, but a party that reaches into virtually every corner of the capital and commodity markets raises questions about what comes next. Let's just say that this is a good time for rebalancing your portfolio. Whenever you can adjust the asset mix on your terms, it's a good day.
But gift horses don't last forever, at least not in ample quantities. On the other hand, momentum is strong and it's usually a force to be reckoned with. In any case, let's take a closer look at the party already in progress…
click to enlarge images
US STOCKS
Vanguard Total Market (NYSEARCA:VTI) • Benchmark: MSCI US Broad Market Index
The bulls have retaken the 50-day moving average line of defense for the second time this year...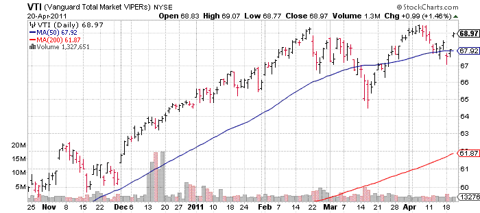 FOREIGN DEVELOPED MARKET STOCKS
Vanguard Europe Pacific (NYSEARCA:VEA) • Benchmark: MSCI EAFE
A similar charge higher is underway in foreign developed-market stocks...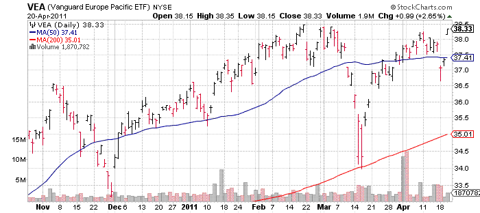 EMERGING MARKET STOCKS
Vanguard Emerging Markets (NYSEARCA:VWO) • Benchmark: MSCI Emerging Market
The skyward bias is even more pronounced in emerging market equities...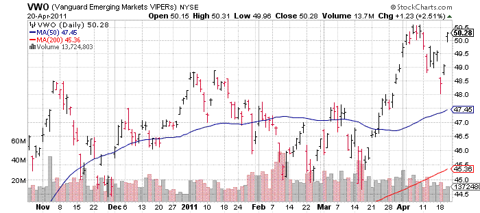 US BONDS
Vanguard Total Bond Market (NYSEARCA:BND) • Benchmark: Barclays US Aggregate
But the trend looks shaky for broadly defined investment-grade US bonds, where the 50-day moving average continues to trail the 200-day average...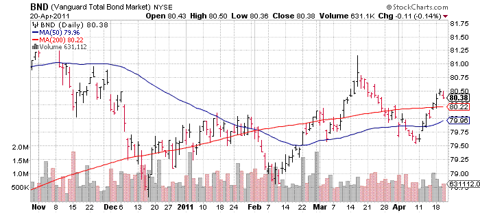 INFLATION-INDEXED US TREASURIES
iShares Barclays TIPS Bond (NYSEARCA:TIP) • Benchmark: Barclays US TIPS
Inflation-indexed Treasuries, by contrast, are strong compared with conventional fixed-income securities...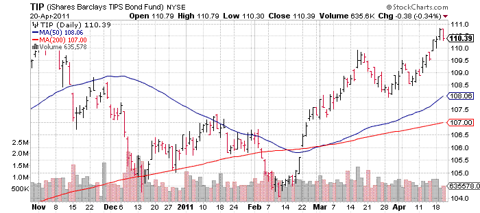 HIGH YIELD BONDS
SPDR Barclays High Yield Bond (NYSEARCA:JNK) • Benchmark: Barclays High Yield Very Liquid
Technical strength is nothing new for junk bonds either...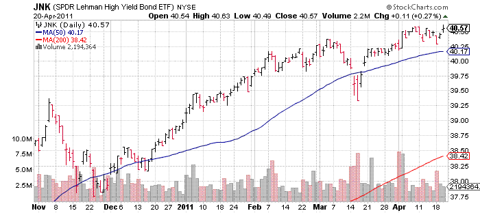 COMMODITIES
iPath Dow Jones-UBS Commodity (NYSEARCA:DJP) • Benchmark: DJ-UBS Commodity
Commodities have had a strong run recently as well...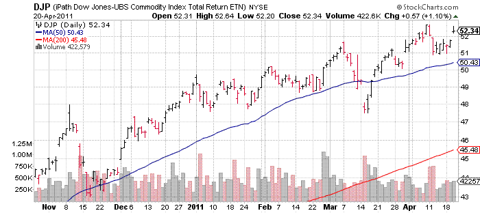 REAL ESTATE INVESTMENT TRUSTS
Vanguard REIT (NYSEARCA:VNQ) • Benchmark: MSCI US REIT
Meanwhile, the recent stumble in REITs looks like ancient history once more...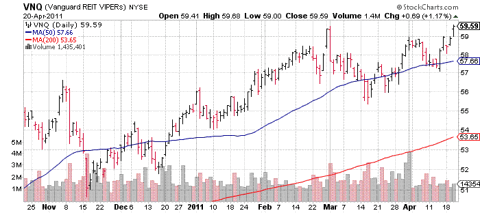 FOREIGN DEVELOPED MARKET GOVERNMENT BONDS
SPDR Barclays Int'l Treasury (NYSEARCA:BWX) • Benchmark: Barclays Global Treasury ex-US Capped
In contrast with US bonds on the defensive, foreign fixed-income in mature markets is enjoying a nice run, thanks in no small part to the weakening dollar this year...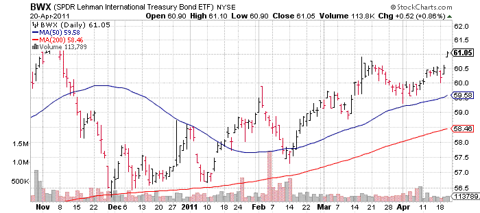 EMERGING MARKET GOVERNMENT BONDS
Van Eck Market Vectors Emg Mkt Local Currency Bond (NYSEARCA:EMLC) • Benchmark: J.P. Morgan GBI-EMG Core
There's no shortage of buying in the land of emerging market bonds either...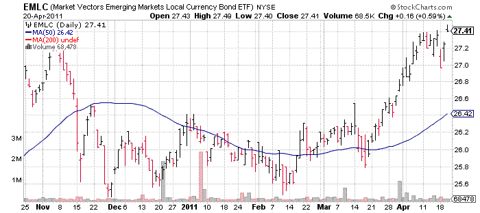 FOREIGN GOVERNMENT INFLATION-LINKED BONDS
SPDR DB International Inflation-Protected Bond (NYSEARCA:WIP) • Benchmark: DB Global Government ex-US Inflation-Linked Bond Capped
It's also safe to say that foreign inflation-linked bonds take a back seat to no one when it comes to rising markets of late...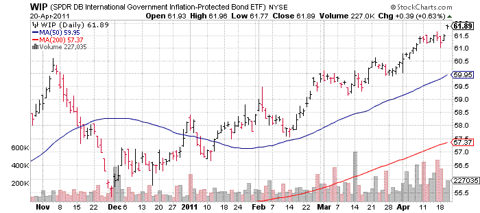 FOREIGN CORPORATE BONDS
PowerShares International Corporate Bond (NYSEARCA:PICB) • Benchmark: S&P International Corporate Bond
Finally, on the subject of technical strength, no one will confuse recent trading in foreign corporate bonds for anything less than a market dominated by the bulls...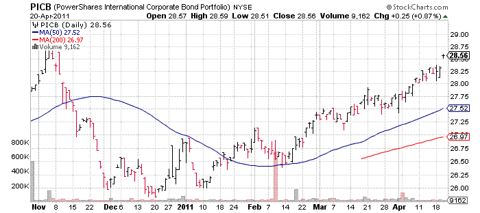 Charts courtesy of StockCharts.com