Investors are attracted to mining stocks due to their leverage to underlying metal. When the leverage doesn't materialize there is always a lot of questioning. The current divergence between physical Gold & Silver and the Gold & Silver Miners is as large as I can recall since I began following the sector in 2002. The chart below highlights the divergence between Silver (NYSEARCA:SLV) and the Junior Gold Mining ETF (NYSEARCA:GDXJ) over the past 6 months (click to enlarge).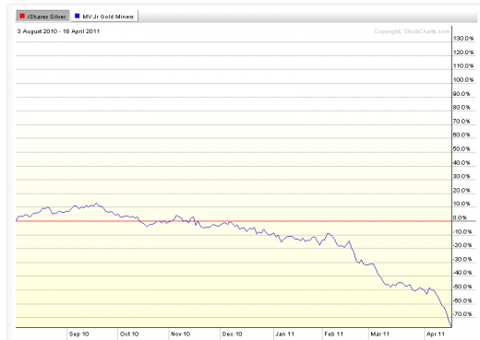 Monday alone SLV was up +1.3%, while Helca Mining (NYSE:HL), Pan American Silver (NASDAQ:PAAS) and Silver Wheaton (NYSE:SLW) were down -7.5%, -1.6% and -2.3% respectively. There are recent stories behind each.
These stories should remind us that there are tremendous business risks associated with mining stocks. Not only are there accidents, potential strikes, rising input costs to deal with, but mines are like real estate – it is location, location, location. Many mines aren't located in business friendly countries. Or maybe I should say sometimes they are friendlier than at other times. When Silver was below $5/oz and almost uneconomic to mine, the Bolivan government welcomed Pan American Silver. However, at $40/oz the Government has a better idea – like maybe it's time for PAAS to hit the road.
The business risks have always been understood by precious metal investors and the leverage to bullion was their compensation for the risk. In 2004, the dynamics of investing in precious metals changed with the release of the Gold ETF (NYSEARCA:GLD). The Big Boys (Mutual Funds, Endowments, etc.) could now access precious metals without taking on the additional risk. In March of 2007, I penned an article called Sayonara Gold Stocks discussing the divergence in the behavior of the metals and miners. My conclusion was that it didn't make sense to continue investing in miners – bullion was a better option. My favorite bullion play became the Central Fund of Canada (NYSEMKT:CEF), a combination gold and silver fund. The silver provided a little juice versus GLD. The Silver ETF didn't exist at the time.
Interesting side story: At the time, I was blogging a lot about investing in gold stocks. One of the well known gold bugs sites was republishing all of my articles. However, after Sayonara Gold Stocks - I was black-balled. Kind of petty, but whatever.
At some point, I got sucked back in and started trading the miners again. With the huge divergence and the number of incidents over the past two weeks, miners are just not worth the headache. If you want leverage over the bullion, trade the 2X ETFs or options. That's my plan and I'm sticking with it this time….
Disclosure: long Gold and Silver bullion.