Much has been made -- at least in the small circles I skate in -- of my decision to sell my small stake in Apple (NASDAQ:AAPL). As usual, some readers -- frequent commenters, in particular -- focused on the headline, ignoring the content of the article.
Having purchased most of my shares between $266 and $286 and selling them only a couple of weeks ago, I have no regrets whatsoever about missing out on Apple's post earnings run. As I write this during Wednesday's after hours session, AAPL is up about 4%, trading at $356.01. Even when considering the few dollars I left on the table, I could only dream that all of my trades rendered the type of profits AAPL did.
In the article, I noted that "Apple will dominate for the next year or two" and that "nobody has been able to come close" to the company's products. I pointed out that if it were not for the margin requirement, I would sell AAPL puts in the $330-$335 range. And I stand by the argument that, for the next several months, AAPL remains a better stock to swing trade than to hold long-term.
And with its latest earnings slaughter, Apple deserves the moniker America's Company. Apple reminds us of all of the reasons why we probably should no longer refer to the Dallas Cowboys as America's Team. Steve Jobs and Apple deserve our praise; not since Roger Staubach (and maybe Troy Aikman) have the Cowboys, particularly the Jerry Jones-led Cowboys, been worthy of anything other than scorn.
Apple's all-out attack on the competition has hit hyper speed. Second quarter profits increased by an unbelievable 95%. And forget the iPad, iPhone sales more than doubled and Mac sales rose 28 percent from the previous year. So much for weak lines at Verizon (NYSE:VZ) stores and slowing PC sales. Just as I admire Apple the company, more than AAPL the stock, I find the other ways it literally embarrasses its imitators more interesting than blow out earnings.
The great Herb Greenberg's Twitter feed alerted me to this interesting news: It appears as if Apple will open a retail store in Waterloo, Ontario. What amounts to a Mac geek website out of Canada appears to have broken the news.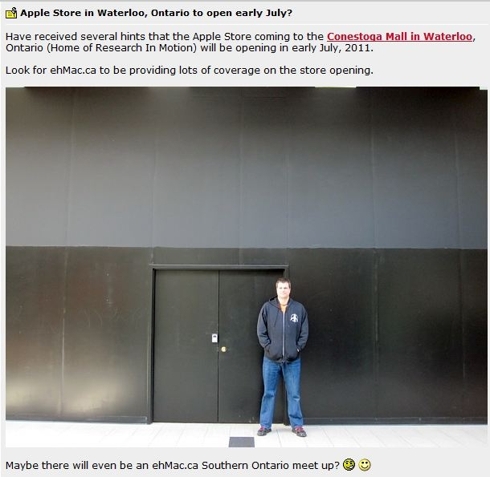 Click to enlarge
(Click to enlarge)
As I hail from the inferior American side of the border, Southern Ontario used to be my stomping ground. I can get behind Research in Motion (RIMM) CEO Jim Balsillie's bid to bring an NHL team to the region; it deserves one. I cannot, however, support most of which Balsillie does with RIMM.
While I do not claim to be privvy to Apple's retail strategy, the Southern Ontario region is, if nothing else, an interesting choice. If RIMM were not headquartered there, would Apple be setting up shop in Waterloo of all places? Who knows? Certainly, the region, which also includes places like Kitchener, Hamilton, and St. Catherines, sports several million people, technology companies, and plenty of university students and graduates. That said -- knowing how Steve Jobs likes to take shots at the imitation, this has to have something to do with crushing RIMM on its own turf. Waterloo residents ought to be checking Jim Lorentz's career stats on a Blackberry or Playbook, not an iPhone or iPad.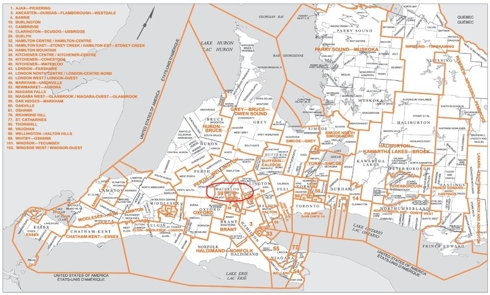 Click to enlarge
(Click to enlarge)
As if Apple has not already shown RIMM up. The reviews on the Playbook are in -- it amounts to a practically useless device. I think I know what Balsillie was going for by only allowing email access on a Playbook if you connect your Blackberry to it. He was likely attempting some feeble re-creation of Apple's halo effect. And attempting to lure Blackberry customers -- retail and corporate -- into getting a Playbook to complement their mobile phone. It's not going to happen.
Balsillie was unable to pull off a Steve Jobs during his media tour this week. Something just did not look right, as he awkwardly held the Playbook up for all to see, sort of.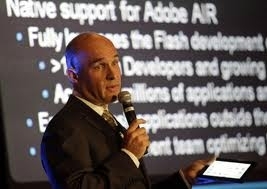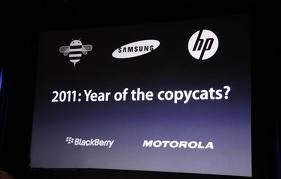 .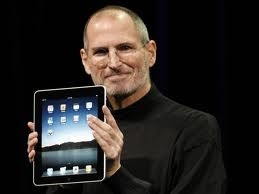 RIMM apparently sold a relatively laughable 50,000 Playbooks on its launch day. Add to this, the fact that Balsillie cannot quantify how many enterprise customers actually want to check out or purchase Playbooks, while Apple comes down with hard and fast numbers. RIMM's impressive run to a multi-billion dollar market cap is set to go down in one final blaze of incompetence.
Google (NASDAQ:GOOG) and even the new Nokia (NYSE:NOK)/Microsoft (NASDAQ:MSFT) hookup will serve as a bigger threat to Apple's gadget dominance than RIMM. When analysts look forward with smartphone market share estimates, for example, RIMM gets fewer and fewer mentions. Sure, they remain in the mix, but as little more than an afterthought. And remember, the latest figures do not take into account Apple's astonishing first quarter iPhone performance. Nor do they fully appreciate that Apple has barely scratched the surface with the iPhone in places like China. I believe the iPhone/iPad and Blackberry/Playbook story go, for all intents and purposes, hand-in-hand.
How to play it
I stand by my decision to go short RIMM anyway you can. My preferred plan of attack involves using RIMM LEAPS options, as I believe we stand at the beginning of a slowish, but steady decline in the company's stock. Nearly a month ago, I suggested looking into the Jan 2012 RIMM $55 puts. At the time, they traded for around $6.50. As of Wednesday's close, the last trade was $7.15 and that's down $0.65 on the day. I also highlighted the Jan 2013 RIMM $55 puts, which traded at $9.80 back in late March. With open interest of 5,504, no contracts changed hands on Wednesday, but the bid/ask spread was $10.15/$10.40. I feel comfortable getting in on either of these plays on any strength in RIMM (for example, the type of move up we saw on Wednesday). In addition, I will also look at the out-of-the-money LEAPS puts in RIMM, ranging from $42.50 to $52.50.
Disclosure: I have no positions in any stocks mentioned, and no plans to initiate any positions within the next 72 hours. Author may initiate a long or short positon in AAPL, via options, within the next 72 hours. Author may open a short position in RIMM, via options, within the next 72 hours.