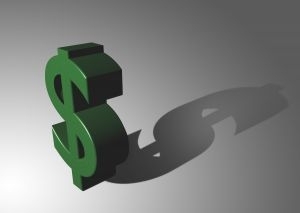 During the Fed's easy money policy, official money supply growth looks moderate. Therefore, there seems to be little indication of high inflation risk.
However, the easy money policy has caused money supply dislocations. When adjusted for these, money supply growth increases appreciably, thereby raising inflation concerns.
Here's the situation…
First, the money supply. Why M2 is the generally accepted money supply measure.
This graph shows M2's breakdown by account type, along with descriptions of the major changes, described below.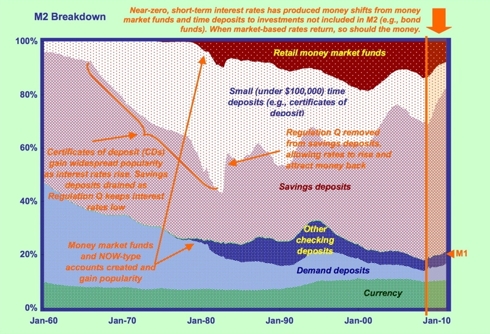 (Click charts to expand)
M1 (currency + demand deposits)
used to be the most common measure for judging money ease or tightness and inflation risk.
M2 (M1 + savings deposits
+
small time deposits)
added in money that was at financial institutions but fairly stable and not considered transaction based.
In the 1970s, the rising rates disrupted the situation, leading to money market funds and "other" checking accounts that pay interest. The M2 breakdown shows the currency + demand deposits falling in proportion.
The final blow to M1 was Fed-induced. In 1994 financial institutions were allowed to start "sweeping" commercial checking accounts to savings accounts overnight. This bookkeeping tactic allows banks to avoid the regulation that forbade paying interest on demand deposits (the Dodd-Frank bill removes the regulation this July). But the real benefit was allowing banks to reduce reserves.
Moreover, those swept commercial demand deposits disappeared from M1, making it unusable as a money supply measure. (For more, see "Federal Reserve rewrites Congress' regulation" at end of this write-up.)
How today's situation understates M2 and M2 growth

Today's situation can be likened to the 1970s and early 1980s when Regulation Q kept savings account interest rates well below market rates. As the difference became large, savers made the decision to commit their savings to time deposits. Then, when NOW-type checking accounts and money market funds were created, transfers from demand deposit and savings accounts began.
We have a similar situation today, but with a difference. Time deposits and money market funds are shrinking this time. What's different is that the declines are due to transfers out of M2. The amount is large: $1 trillion (M2 is currently $8.9 trillion).
The cause is the Fed's keeping all short-term rates near zero for 2-1/2 years. Therefore, everyone holding interest-bearing accounts included in M2 is faced with a dilemma: Earn next to nothing or take on the risk of bonds to earn
something
.
Because bond funds are rightly not part of the M2, the flows out of M2 accounts are reducing its growth.
Need to adjust M2 to see actual growth
Therefore, we need to adjust for the outflows. The rationale: Without the Fed's near-zero interest rate policy, people who normally hold time deposits and money market funds would still be doing so.
This graph shows the major flows and the adjustment.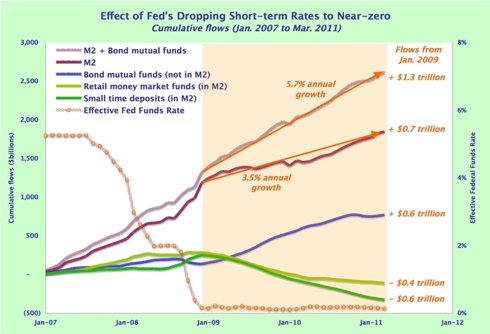 Note that the adjustment is to include bond fund flows ($0.6 trillion), not the total outflows of $1.0 trillion. The reasoning is that we know people were "encouraged" to go into bond funds for better returns. Therefore, they will likely return to time deposits and money market funds when those rates rise. It's not clear where the other $0.4 trillion went, so there is no assumption of it returning.
So… the M2 growth rate of 3.5% is too low. It is understated because the near zero interest rate policy has caused people to leave M2 accounts and go to non-M2 holdings. When the Fed policy ends and the money returns to M2, we will be able to see what the actual M2 growth rate has been. The 5.7% estimate discussed here is high enough to produce inflation concerns.

Next: "Easy Money (3) - Fed Ignores Those Harmed by Policy"
Federal Reserve rewrites Congress' regulation: This Federal Reserve permission to sweep commercial demand deposits into savings accounts temporarily to skirt Regulation D is a good example of weak regulation. The real problem is not the ability to pay interest on commercial demand deposits. Rather, it is the ability of banks to cut the reserve requirements on the transferred amounts to 0% (yes, zero). How large is the amount? Enormous. About 60% ($800 billion) of all demand deposits are "swept."
An ancillary, but important, problem caused by the Fed's action was the loss of M1 as a long-standing money supply measure.
For more information, here is an explanation from the Federal Reserve Bank of St. Louis. The article's estimated M1 (an attempt to measure M1 without the sweeps) is shown in this graph.
Disclosure: Client positions: Long US stocks and US stock funds