General Electric Company (NYSE:GE) reported first quarter 2011 earnings per share from continuing operations of 33 cents before the opening bell today, which beat the Zacks Consensus Estimate of 28 cents.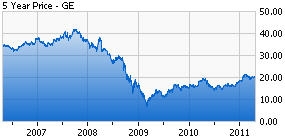 It was also up 48% year over year. This was the fourth consecutive quarter with strong earning growth.
Revenue
Total revenue was up 6% year over year to $38.4 billion, above the Zacks Consensus Estimate of $33.7 billion. The company continues to benefit from the improving economic environment.
Total order growth was healthy and the backlog at the end of the quarter was $177 billion.
GE Capital also had a strong first quarter, earning $1.8 billion after tax.
The company increased its R&D investment by 12% and launched nearly 50 new Healthcare and Energy products. Industrial segment operating profit margin declined 1.1% from the year-ago period to 14.3%.
Segment profit increased 36% compared with 1Q10, with increases of more than 200% at GE Capital, 37% at Transportation, 7% at Healthcare and 5% at Aviation, offsetting a 7% earnings decline at Energy Infrastructure.
Cash generated from Industrial operating activities totaled $1.7 billion in the quarter, on track for the full-year plan of $12-$13 billion. At the end of the quarter, GE had $82 billion of consolidated cash.
GE raised its quarterly dividend by a penny to 15 cents per share, effective in the third quarter of 2011.
GE has one of the best infrastructure franchises worldwide with solid organic growth rates, exposure to favorable secular trends and a large installed base supporting a growing annuity-like services business.
The company has adopted strategic imperatives to strengthen its portfolio by building strong growth platforms and generating cash from low-return businesses. Its focus remains on accelerating organic growth and achieving technical and service excellence, while building enduring customer relationships around the world.
GE has products and services ranging from aircraft engines, power generation, water processing and security technology to medical imaging, business and consumer financing, media content and industrial products. Since its incorporation in 1892, the company has developed or acquired new technologies and services that have broadened considerably the scope of its activities. United Technologies Corporation (NYSE:UTX) is a major competitor.
We currently have a Neutral recommendation on General Electric.