Medical devices giant St. Jude Medical (NYSE:STJ) continues its positive earnings surprise streak as its first-quarter 2011 adjusted earnings per share of 80 cents has topped the Zacks Consensus Estimates of 78 cents and exceeded the year-ago earnings of 75 cents. This represents the Minnesota-based company's seventh consecutive quarter of outperformance.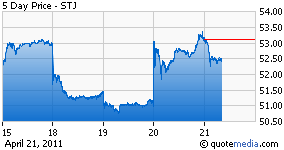 The adjusted earnings exclude charges of $28 million, primarily associated with the company's acquisition of cardiac devices maker AGA Medical. Net earnings, as reported, clipped 2.2% year over year to $233 million (or 71 cents a share), hurt by these charges.
The Quarter in Detail
Revenues
Revenues jumped 9% year over year to $1,376 million, matching the Zacks Consensus Estimates. Revenues were boosted by double-digit growth across the company's Cardiovascular, Atrial Fibrillation and Neuromodulation businesses. Foreign currency translation contributed roughly $17 million to the top line.
Segment-wise Results
Revenues from the company's core Cardiac Rhythm Management ("CRM") division edged up 1% year over year to $762 million as higher ICD sales (up 3% to $465 million) were partly masked by a decline in Pacemaker sales (down 1% to $297 million). St. Jude contends with heightened competition in a mature pacemaker market. Nevertheless, the company's new Fortify and Unify defibrillators are gaining notable traction, thereby boosting its ICD business.
Atrial Fibrillation revenues soared 15% year over year to $195 million while Neuromodulation revenues climbed 10% to $92 million. Sustained adoption of the coimpany's deep brain stimulation ("DBS") systems and the Eon Mini SCS system is driving the results of its Neuromodulation business.
Revenues from the Cardiovascular unit zoomed 28% year over year to $327 million, boosted by the contributions from AGA Medical. Vascular products sales rose 8% to $184 million while structural heart product revenues cruised 66% to $143 million benefiting from the addition of the AGA Medical product lines.
Margins
Gross margin fell to 73.5% from 74.5% a year ago as higher cost of sales (up 13.5%) more than offset an increase in the top line. Selling, general and administrative expenses, as a percentage of sales, increased to 37.3% from 35.1% a year ago. Research and development expenses (as a percentage of sales) increased modestly to 12.8% from 12%. Operating margins declined to 23.4% from 27.4% a year ago.
Financial Condition
St. Jude exited the quarter with cash and cash equivalents of $663.8 million, a roughly 25% year-over-year increase. However, long-term debt rose nearly 50% year over year to $2,558.5 million.
Guidance Raised
St. Jude has raised its earnings forecast for fiscal 2011. The company now envisages adjusted earnings per share of $3.28-$3.33 for the full year, up from its earlier expectation of $3.25-$3.30. For second-quarter fiscal 2011, the company expects adjusted earnings per share in the band of 83 cents to 85 cents. The current Zacks Consensus Estimates for second quarter and fiscal 2011 are 84 cents and $3.28, respectively.
While St. Jude is well placed to grow its CRM market share (especially in ICDs) on the back of new product launches, it has challenges ahead. The company and its rivals Medtronic (NYSE:MDT) and Boston Scientific (NYSE:BSX) are battling for market share in a soft CRM market.
Competition has intensified with the launch of the Protecta line of defibrillators by Medtronic in March 2011 followed by St. Jude's recent launch of ShockGuard technology, designed to be used with its Fortify and Unify devices to reduce inappropriate shocks to patients with ICDs. This is expected to ignite price competition.
While we are impressed by St. Jude's solid fundamentals, strong product mix, healthy growth trajectory and operating leverage, we remain wary about competition-driven pricing pressure. Our long-term Neutral recommendation on the stock is supported by a short-term Zacks #3 Rank (Hold).