Market Movers
The correction previously discussed dropped prices below support at 421 this week on the perception that China's demand would slow as the government continued to reign in inflation by raising interest rates and increasing reserve requirements. This however was soon replaced by a more positive tone after U.S. Housing starts showed. "U.S. builders broke ground on 549,000 homes at an annual pace in March, more than analysts forecast." Southern Copper (NYSE:SCCO) reported a 25% increase in first quarter profits (although the stock ultimately traded lower on the day), and reports from Chile added some fuel to the rally fire that supply would continue to fall short of demand. Unfortunately also contributing to upside momentum was the report that Freeport-McMoRan (NYSE:FCX) suspended operations at its mine in Indonesia after an industrial accident killed one worker and left another missing.
Technical Analysis
The daily chart for copper has been updated (Elliott Wave labels) and included below. With the break below 421 the overall pattern is best interpreted as a correction still in progress. It appears the market will take additional time to sort through and digest news from China, Japan and Indonesia as well as current earnings reports from mining companies.
As I presented last week, the "yellow caution flag" was out for the near term picture. While it remains active for now, there appears to be a stronger support zone forming between 392 and 395. If resistance at 440.27 contains and holds back additional upside I would expect an additional leg down to begin and carry prices (possibly quick and ugly) into support at 392 - 395.
Again, a break with follow through (volume and price) above 453.30 would signal the corrective phase is complete with the larger advance back underway.
The futures remain oversold at the moment with the Stoch oscillator pointing higher.
Click to enlarge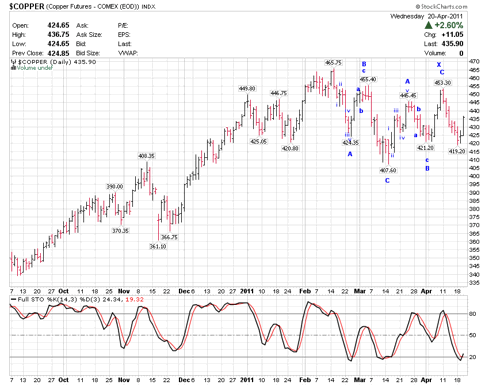 COPX dropped right into support at 18.77 which held. (updated chart below) Thus far it is too early to say whether or not the rally underway will be contained at resistance just below 20. From last week, expectations were for an intervening rally to take place before an additional leg down to complete the corrective phase that began off of the recent highs. This remains the probable course for COPX in the near term. Resistance thus far is keeping a lid on upside. Although I wouldn't be surprised to see a more "flat" type of pattern here as traders digest and react to news. The overall pattern if this is the case suggests the rally (underway now) pushes back toward the highs at 20.74 before the additional down leg again drops prices to support at 18.70.
The stoch oscillator for COPX is sitting in neutral readings which doesn't help us out short term.
Click to enlarge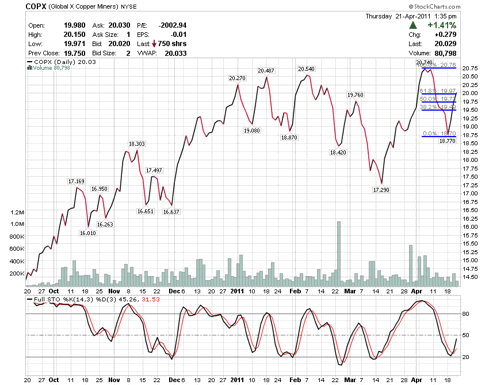 Disclosure: I have no positions in any stocks mentioned, and no plans to initiate any positions within the next 72 hours.