When I first looked at this week's listings for my ETF Pullback strategy (see Appendix below for details and performance information), I figured I was in for a big-time change of pace. After two-weeks of all-energy exposure, the list now has a telecom fund, a palladium fund and three Eastern Europe funds, one of which is focused entirely on Russia, the largest country in that region. Here's this week's list:
This was the list for last week:
But on closer examination, telecom and palladium aside, a theme I recently stressed seems alive and well: Don't be too quick to assume you know what you're getting based on a quick glance at the name of an ETF. Two weeks ago, I pointed out that for an investor who wants to play energy prices, there's quite a difference between funds geared toward energy production versus funds geared toward energy services (and that the former is likely to be more suitable for those who want to play oil price trends).
Looking more closely at today's list, we come to understand that funds geared toward Eastern Europe may not be quite as focused a play on Eastern Europe as some expect. While developments in the region are definitely relevant (see below), investors need to also understand that Russia is a big energy producer so when you buy these funds, you're very much buying into energy: GUR's portfolio is 40% energy; ESR's energy stake is 51%, and energy comprises 53% of RBL's portfolio. Materials (mainly metals) is also an important area for these funds, comprising 20% more or less of assets. If you're bearish on these areas, you don't want to be in these funds.
If you're bullish on energy and materials (as I am longer term), it still doesn't mean that you can simply toss a coin to decide between RBL versus, say, XOP or a dedicated natural resources fund. The question is whether the factors that dilute the resources angle at RBL (as well as GUR and ESR) are seen as positive or negative. With energy services, I was not enthusiastic about the additional factors. The ones here, with exposure to other aspects of Russia and Eastern Europe, make for a tougher call.
The timing of the need to address this question is interesting. In the general commentary section of issue of the report I released Wednesday, I had occasion to address the nature of a special situation.
Through books, classes, and so forth, investors are taught pretty-much from day one to seek the "good." This can mean good growth, good balance sheets, good products, good management, a good moving-average trend, good valuation metrics, etc. etc. etc. That's even compatible with deep-value investing, where we seek companies that are more good than the Street realizes, or are bad and likely to get their well-deserved bad-company punishment (be broken up, hopefully in a way that give shareholders a profit). One way or another, it's all about what's good.
Special-situation investing is based on substantial change: New management, major new products, etc. Here, too, we can chase after that which is good, but often, the most interesting opportunities occur among companies that are not so good. A transition from bad to good can be an incredibly potent force for making money in the financial markets.
It's hard to make a case for investing in Russia or Eastern Europe based on traditional good-oriented notions. For starters, I'll defer to an especially poignant headline from the April 16, 2011 issue of The Economist: "From Bolshevism to backhanders: Corruption has replaced communism as the scourge of eastern Europe." Add that to the typical set of developing-world economic challenges (e.g., capital flows, inflation, infrastructure), and we have a situation that's hard for investors to love.
When we see something like this, we can react one of two ways. We can run as far as we can as fast as we can, which is the traditional approach based on a standard quest for what's good. Or we can look more closely to see if we can find catalysts that might lead to positive change.
With Eastern Europe right now, I have to confess it's hard to find an immediate catalyst. But looking at the political upheaval in the Middle East, one does have to wonder whether the grass-roots quest for better government may spread. China is concerned. Russian leaders have not publicly betrayed any worry in this regard, but that doesn't mean they're ignoring developments; they aren't exactly the kinds of guys who wear their hearts on their sleeves. Aside from Russia, we've seen often that people elsewhere in the region are not unwilling to assert their interests when sufficiently motivated to do so.
This does not amount to as immediate a catalyst as special-situation investors usually seek. But given Eastern European precedents from recent years and from ongoing events in the Middle East, it's probably more than idle hope. Adding in the already-established energy/material play, it seems that a special-situation case can be made for ESR, GUR and RBL.
APPENDIX
To create this model, I started with a very broad-based ETF screen:
Eliminate ETFs for which volume averaged less than 10,000 shares over the past five trading days

Eliminate HOLDRs (I don't want to be bothered with the need to trade in multiples of 100 shares)

Eliminate leveraged and short ETFs (I think of these as hedging tools rather than standard ETF investments of even trading vehicles)
Then I sorted the results and select the top five ETFs based on the following factors:
120-day share price percent change - higher is better (15%)

1-Year Sharpe Ratio - higher is better (15%)

5-day share price percent change - lower is better (70%)
The idea of using weakness as a bullish indicator is certainly not new. But often, it's an add-on to other factors that, on the whole, emphasize strength. Here, the weakness factor is dominant, with a 70% weighting.
This model is designed to be re-run every week with the list being refreshed accordingly. If you want to follow an approach like this but do have to worry about commissions, the strategy tests reasonably well with three ETFs, or even with one. (Cutting the number of ETFs is far preferable to extending the holding period.)
Figure 1 shows the result of a StockScreen123 backtest of the strategy from 3/31/01 through 12/30/10.
Figure 1 (Click to enlarge)

Figure 2 covers the past five years, a very challenging market environment that witnessed the fizzling of many strategies that had succeeded for a long time.
Figure 2 (Click to enlarge)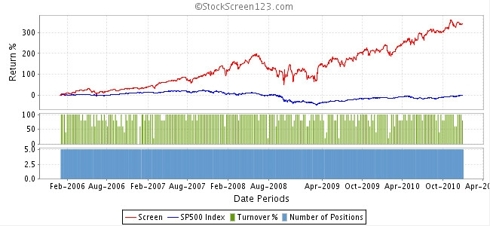 Figure 3, a screen shot of the trade strategy I use.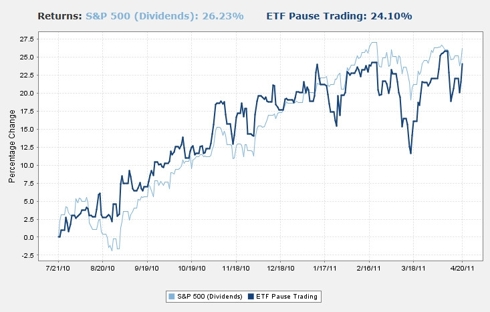 Clearly, the model has been cold for much of the past six months as trends have come and gone with unusual rapidity. Volatility, noteworthy for being low early on, has really picked up of late.

Disclosure: I am long ESR, GUR, PALL, RBL, VOX.