Market watchers have been "bedazzled" by gold's new price tag at $1,500 per ounce. Similarly, ETF enthusiasts have been intrigued by Van Eck's ability to attract $500 million in assets for Market Vectors Rare Earth Metals (NYSEARCA:REMX); the exchange-traded fund has been in existence for less than six months.
Performances for many of the metal ETFs and metal ETNs have been nothing short of astonishing. In as little as three months, five prominent representatives have double digit returns.
Metal ETFs: The Amazing And The "Less Than Amazing"
Amazing
Approx 3 Mo %
iShares Silver Trust (NYSEARCA:SLV)
67.1%
ETFs White Metals (NYSEARCA:WITE)
33.9%
ETFs Physical Precious Metals (NYSEARCA:GLTR)
29.9%
Market Vectors Rare Earth/Strategic Metals (REMX)
20.3%
SPDR Gold Trust (NYSEARCA:GLD)
12.0%
Less Than Amazing
iPath Industrial Metals (NYSEARCA:JJM)
4.1%
iPath Copper (NYSEARCA:JJC)
1.7%
iPath Nickel (NYSEARCA:JJN)
1.2%
ETFs Physical Platinum (NYSEARCA:PPLT)
-0.6%
ETFs Physical Palladium (NYSEARCA:PALL)
-6.2%
Perhaps surprisingly, there are sharp differences between the momentum for precious/rare/strategic metals and those metals that are more attributable to the well-being of global industry. In fact, it is this sort of run-up that leads many to question the sustainability of gold and silver's rise, let alone the jump in "rare earths" and "strategics."
With respect to the things in the world that are precious, rare or strategic, institutional and individual investors may be on the path to irrational greed. That's not to say I believe gold won't ultimately forge higher… on the contrary! I've been buying it on every significant dip for 2 1/2 years.
Nevertheless, one high level hedge fund could send silver for a monumental correction. One policy shift from China could hammer REMX as well. In other words, keep your stop-limit loss orders intact and check your premises. (Remember when oil went from $150 to $30, not to $300?)
It may a bit more interesting, though, to assess the reasons that "widely used" metals have underachieved. From my vantage point, investors have a conflicted outlook for the worldwide economy. Emergers may be growing, but can they contain inflation and still maintain their exporting capacity? Developed nations may have corporations with reasonably strong balance sheets, yet housing and tepid employment gains are a drag.
It follows that the metal with a Ph.D. in economics isn't wildly impressed with the state of the global industrial cycle. If iPath Copper (JJC) doesn't break out if its doldrums relatively soon, it could be a very cruel summer.
Click to enlarge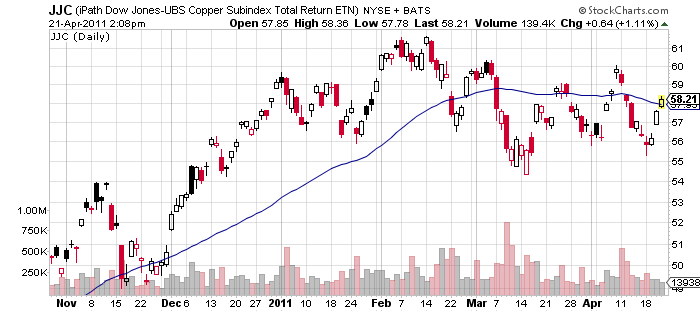 Disclosure: Gary Gordon, MS, CFP is the president of Pacific Park Financial, Inc., a Registered Investment Adviser with the SEC. Gary Gordon, Pacific Park Financial, Inc, and/or its clients may hold positions in the ETFs, mutual funds, and/or any investment asset mentioned above. The commentary does not constitute individualized investment advice. The opinions offered herein are not personalized recommendations to buy, sell or hold securities. At times, issuers of exchange-traded products compensate Pacific Park Financial, Inc. or its subsidiaries for advertising at the ETF Expert web site. ETF Expert content is created independently of any advertising relationships.