A triple play by a stock is basically the best earnings report a shareholder can hope for. From Investopedia.com:
In investments, a stock that simultaneously beats analyst expectations for revenue and earnings and also raises earnings guidance for future quarters. The term triple play was first popularized by Bespoke Investment Group in the mid-2000's and is seen as a highly positive sign for the stock. Some investors like to look at triple-play stocks as a preliminary filter for finding good stocks to research for investment.
So far this earnings season, 17 out of 296 (6%) stocks have reported triple plays. Six percent is a pretty typical reading for triple plays each earnings season. Below is a table that lists these 17 stocks along with the 1-day price change that each one experienced in response to its earnings report. As shown, Select Comfort (NASDAQ:SCSS) is currently up 28.64% today in response to its triple play that came after the close yesterday. Polaris (NYSE:PII) has been the second best performing triple play so far this earnings season with a gain of 20.95% yesterday. VMware (NYSE:VMW), Intel (NASDAQ:INTC) and IBM are three other notable triple plays this earnings season.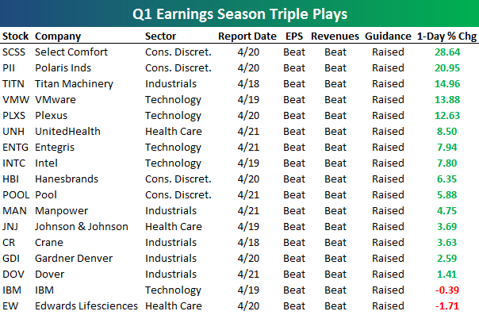 Click to enlarge
(Click charts to expand)