L-3 Communications Holdings Inc. (NYSE:LLL) reported first quarter 2011 diluted earnings per share (EPS) of $1.85, comfortably surpassing the Zacks Consensus Estimate of $1.78. However, the result came in below the year-ago quarterly earnings of $1.87 per share.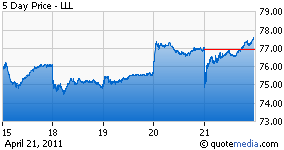 Operating Statistics
Quarterly net sales fell marginally by 1% or $23 million year-over-year to $3.6 billion, and came in line with the Zacks Consensus Estimate. Lower sales year over year primarily came from the Aircraft Modernization and Maintenance (AM&M) and Electronic Systems segments.
AM&M sales were lower primarily due to the loss of a Special Operations Forces Support Activity (SOFSA) contract, while Electronic Systems sales were offset by lower volumes. The downside was partially offset by higher sales from the Command, Control, Communications, Intelligence, Surveillance and Reconnaissance (C3ISR), and Government Services segments.
Operating income for the reported quarter decreased by 5% or $20 million year-over-year to $390 million. Operating margin decreased by 50 basis points to 10.8% in the reported quarter. Lower operating margin in the C3ISR segment was partially offset by an increase in operating margin for the AM&M segment. Net income decreased $17 million year over year to $204 million.
Segmental Performance
C3ISR
The C3ISR segment recorded net sales of $785.6 million, up 2% year over year. The upside was led by increased demand through new business for networked communication systems for manned and unmanned platforms, airborne ISR logistics support and fleet management services to the U.S. Department of Defense (DoD) and international ISR systems. These increases were partially offset by lower international sales of force protection products.
Segmental operating income fell 14% year over year to $89.5 million in the first quarter of 2011. Operating margin also slipped 220 basis points to 11.4%, primarily due to an $8 million loss on a contract termination and favorable contract performance adjustments in the year-ago quarter for airborne ISR systems.
Government Services
The Government Services unit generated net sales of $946.8 million, up 4% year over year. The increase was primarily due to additional working days in the reported quarter versus the year-ago quarter, along with increased demand for information technology support services & system engineering and logistics, training & law enforcement support services.
Additional working days increased sales by approximately $60 million. Excluding the impact of the additional working days, sales decreased by approximately $23 million year over year. The decrease was primarily due to reduced subcontractor pass-through sales volume related to task order renewals for U.S. Army systems and software engineering and sustainment services and the loss of an Afghanistan Ministry of Defense support contract.
Operating income in the Government Services segment was $71 million, down 1% year over year. Operating margin fell 40 basis points to 7.5% driven by lower margins on select contract renewals, new contracts and task orders due to competitive price pressures. These decreases were partially offset by the absence of costs related to a security systems contract incurred in the year-ago quarter.
AM&M
Net sales for the AM&M segment slumped 9% year over year to $592.9 million as a result of sales volume declines from the SOFSA contract loss and lower contract field services revenue. The decreases were partially offset by higher demand from existing and new contracts for system field support services for C-12 and rotary wing aircraft for the U.S. Army and higher sales volume for Joint Cargo Aircraft (JCA).
Segment operating income increased 11% year over year to $66 million. Operating margin also rose by 200 basis points to 11.1%. This was due to a favorable price adjustment for an international aircraft modernization contract, improved contract performance on rotary wing cabin assemblies, and a decline in lower margin sales, primarily from the SOFSA contract.
These increases were partially offset primarily by start-up costs related to a U.S. Army C-12 aircraft maintenance contract and lower margin sales mix, primarily for higher JCA volume.
Electronic Systems Segment
The Electronic Systems generated net sales of $1.3 billion in the reported quarter that fell by 1% year over year. The downside came from lower sales volume for microwave products, combat propulsion systems, training & simulation products and night vision products.
Electronic Systems recorded a drop in operating income of 6% year over year to $163.1 million. Operating margin decreased by 70 basis points to 12.8%. The results were reduced by lower sales volume for combat propulsion systems, training & simulation and warrior systems. The decrease was partially offset by favorable sales mix as well as improved contract performance.
Financial Position
In the reported quarter, L-3 Communications generated net cash of $220 million from operating activities, up $51 million compared to $271 million of cash generated in the year-ago quarter. The company ended the quarter with Cash and cash equivalents of $548 million, while long-term debt stood at $4.1 billion. During the reported quarter the company repurchased shares worth $205 million and distributed $49 million as dividends.
Guidance
L-3 Communications reduced its revenue guidance range for full-year 2011 of $15.7 billion – $15.9 billion to between $15.5 billion and $15.6 billion. The company however increased its EPS guidance range for full-year 2011 to between $8.50 and $8.60, versus its previous guidance range of $8.40 to $8.55.
Our Take
L-3 Communications is one of the best-positioned pure defense players based on its non-platform focus, its broad diversification of programs, strong order bookings and order backlog, strong cash flow generation and its focus on shareholder value. However, this is offset by the loss of key contracts, a backlog skew towards fixed price contracts and apprehensions over defense cuts to reduce the federal deficit under the Obama administration.
L-3 Communications currently retains a Zacks #3 Rank, which translates into a short-term 'Hold' rating. The middle-of-the-road strategy is reflected across the board for its peers like General Dynamics Corporation (NYSE:GD) and Lockheed Martin Corporation (NYSE:LMT).