The combination of continued trouble in euro area peripheral sovereign debt and a weak US dollar has resulted in continued buying interest in precious metals. Silver is on a near-parabolic run, quoted at over $46/oz. as of the time of writing. Gold has in the meantime established a foothold above $1,500.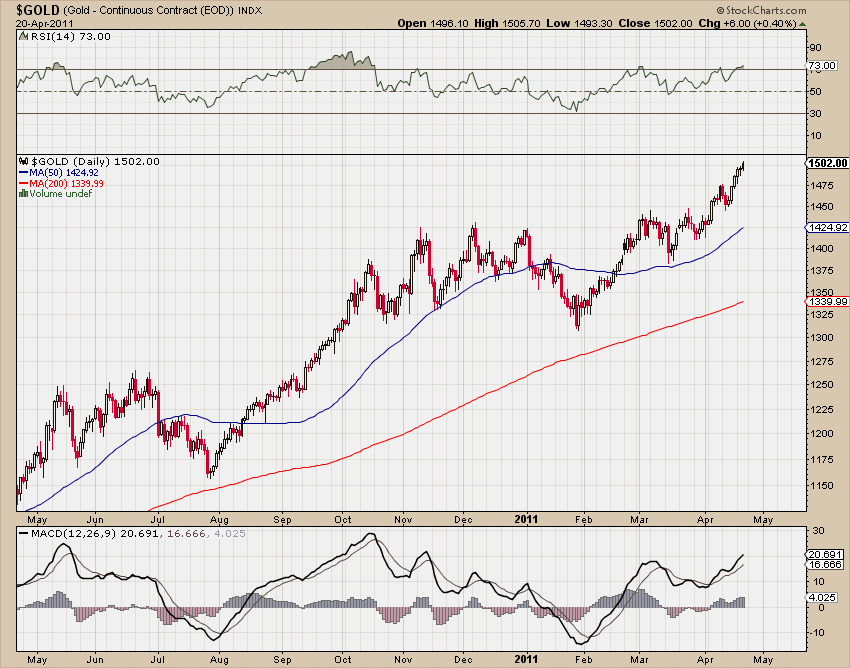 Gold as of Wednesday's close – first time above $1,500 – click for higher resolution.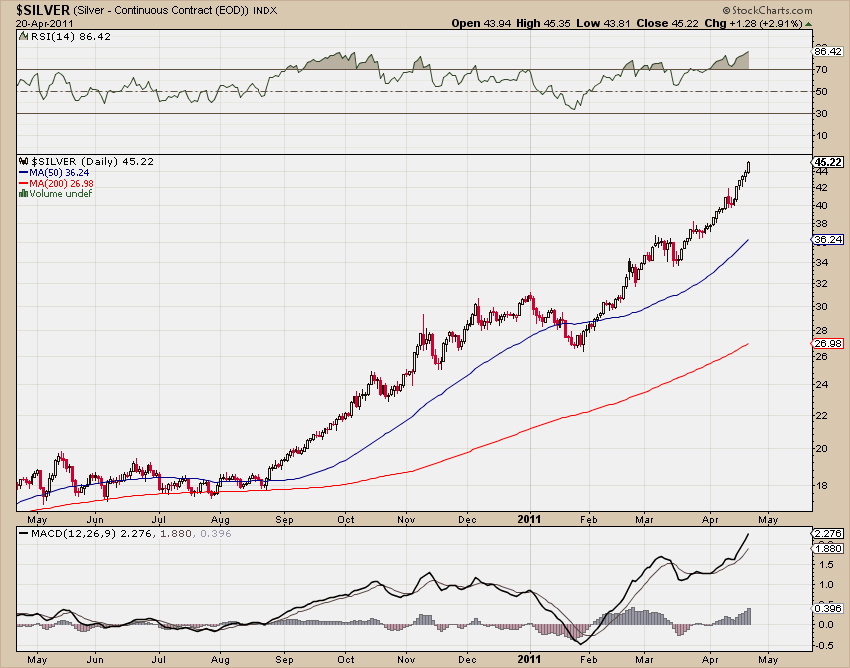 Silver's incredible rally continues – this was Wednesday's close – as of early afternoon on Thursday it trades another $1 higher at $46.28 – click for higher resolution.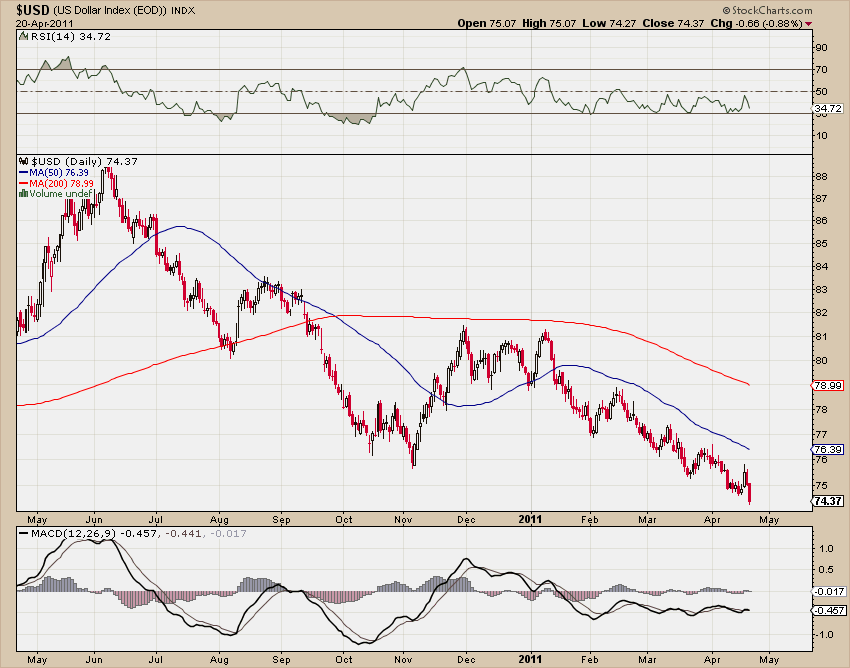 The US dollar continues to sink – but it is close to major long term support levels here – click for higher resolution.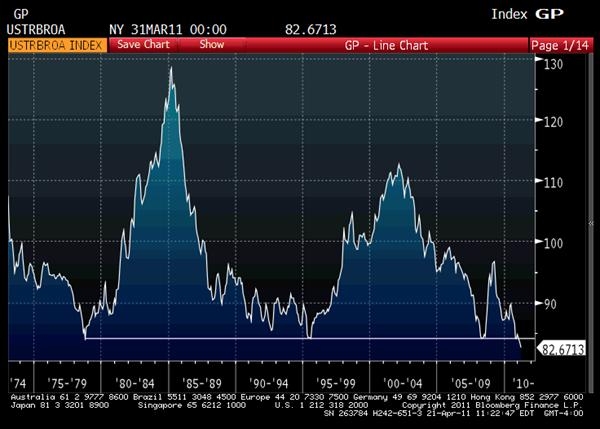 The Fed's broad trade-weighted dollar index meanwhile is at a new 40 year low – click for higher resolution.
Some Warning Signs On The Horizon
Jon Hilsenrath, the Fed's mouthpiece at the WSJ, has just published an article on Ben Bernanke's upcoming press conference. The interesting part is a small sentence in the article:
In stepping out now, the chairman has a chance to assert his voice over the Fed's cacophonous internal debates—before any of his colleagues can get to a microphone—and reassure the public that he'll keep inflation under control.

[…]

The outcome of next week's Fed board meeting isn't in doubt. It is likely to decide to allow a $600 billion program to buy Treasury bonds to run its course, as planned, in June. The debate will shift to how and when to begin raising interest rates to stem the risk of inflation.

Despite internal opposition, Mr. Bernanke and his top lieutenants—Vice Chairwoman Janet Yellen and New York Fed President William Dudley—have signaled they believe it is too soon to start raising rates. Though inflation is rising, they believe consumer-price increases will prove transient, as occurred in a 2008 run-up in food and energy prices. The press conference will give Mr. Bernanke a chance to explain this view to a sometimes skeptical public.
(our emphasis)
Such a 'shift in the debate' may be enough to sober up the 'risk asset' trade for a while. Just something to keep in mind.
A less well known warning sign is provided by the price of lumber. As Business Insider reports, lumber prices are plunging lately. We found this remark interesting:
Every commodity in the world seems to be doing well right now. Lumber has been an exception, as Chinese demand has slowed, and the housing economy is still rough.
The problems of the US housing market are of course well known. That China's demand for lumber is declining too is less well known, but it may prove to be important. This could in fact be a sign that the building boom in China is about to slow down as well.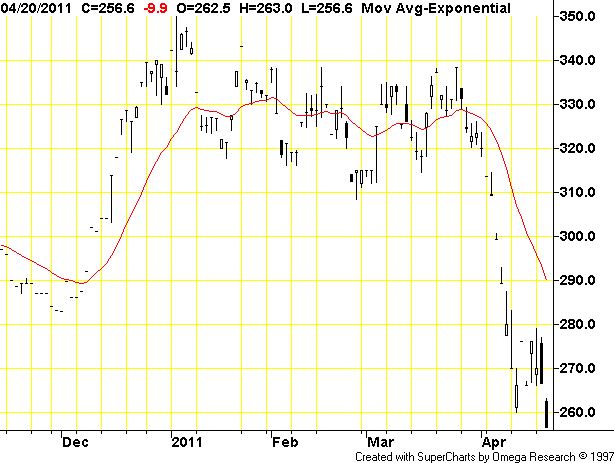 The July lumber contract has lately been in free-fall – click for higher resolution.
We still remember from our bond trading days that bond traders back in the 1970's and 1980's always used to keep an eye on lumber as a leading indicator for interest rates. With lumber prices highly sensitive to housing demand, rising prices were thought to presage a stronger economy, and hence higher long term rates and vice versa. We're not sure to what extent this old adage still applies, but we thought it worthwhile to point it out. Perhaps the economy is weaker than it appears on the surface. If so, there is one more reason to expect that the cessation of 'QE2' will lead to lower rather than higher long term US government bond and note yields in the short to medium term. One day the time will likely come when the bond market revolts against the vast increase in US fiscal debt – but as we have pointed out before, we do not believe this moment to be nigh yet.
In this context we also found it interesting that one of the 'hawks' on the Bank of England's monetary policy committee (MPC) , Martin Weale, expressed his disappointment over the recent growth trajectory of the UK economy. Weale has voted for raising the BoE's administered interest rate since January. When he makes 'dovish' comments all of a sudden we regard that as a meaningful development.
Very often the UK economy's performance will slightly lead that of the US economy, so this is another sign that things may not be going as well as it superficially appears. With US weekly claims clocking in at 413,000 today (vs. an expected 395,000), there is in any case still not a lot of strength in this coincident economic indicator yet.
Meanwhile Cate Long at Reuters writes that one should keep an eye on derivatives related 'black swans' in muni-land. She writes:
Recently Denver public schools issued new debt which included $50 million to terminate a swap agreement made with JPMorgan in April 2008 and $12.1 million for termination payments in connection with a swap from 2005. In the article Bloomberg reporters Darrell Preston and Brendan McGrail claim this derivatives settlement is three times the annual cost for food in the Denver public school system. Starting to get a sense of the black swan?

Then there is the collusion between JP Morgan, Bank of America and up to 10 other banks with CDR Financial Products in which guilty pleas began coming in February, 2010. Basically the banks were rigging their bids for providing guaranteed investment contracts (GICs) to municipalities. (Sounds like the current controversy over LIBOR!)

The problem of muni derivatives first surfaced in 2008 when Bloomberg started reporting on 500 deals totaling $12 billion done in Pennsylvania between 2004 and 2008. If Pennsylvania had this many deals it's easy to imagine this cancer all across America.

When Jamie Dimon, Chairman of JP Morgan, recently sided with Meredith Whitney on predicting a large number of muni defaults I wondered what information he had that varied from the credit rating agencies. After reflecting on this for awhile it seemed so obvious. JP Morgan is one of the largest municipal underwriters and has also been at the center of so many municipal messes. Was Mr. Dimon signaling the trouble to come for muniland?

Unfortunately there is no central repository of municipal derivatives. And I rarely, if ever, see it mentioned in muni trade associations. I think America's black swan is municipal derivatives. Let's keep our eyes peeled.
We expect to hear more about this in the future – as Ms. Long says – let's keep our eyes peeled.