Our "persistent, consistent dividends" filter identified 7 large pharmaceutical companies among the approximate 75 companies that have dividends of 3.5% or more, have paid dividends for at least 7 years without decreasing them, have sufficient current cash flow from operations to cover the dividend, and have at least $20,000 per minute in trading volume. Those 7 are:
Let's look more deeply at those companies in terms of:
v

aluation

operating

fundamentals

total

return

and

dividend

growth

best

and

worst

performance

periods

and

volatility

price

behavior

analyst

ratings

.
click images to enlarge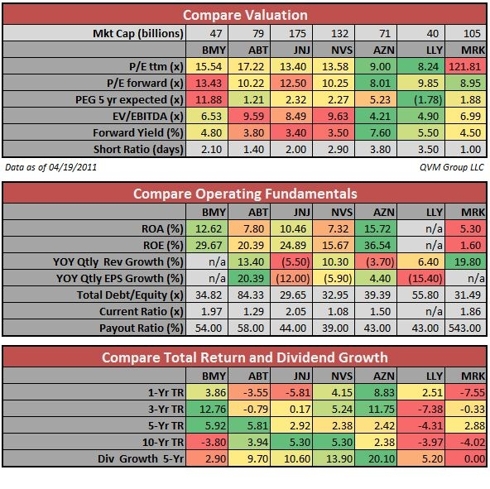 Click to enlarge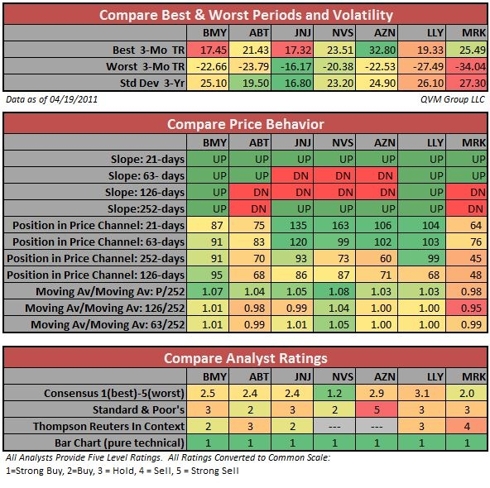 Click to enlarge

The color coding is applied to each row to visually grade the data from best to neutral to worst (using green, yellow, red and shades in between).

Valuation:

AZN and LLY carry the lowest trailing and forward P/E ratios, the lowest EV/EBITDA ratios, and the highest forward yields, but not the best PEG ratio [LLY has a negative PEG which creates an artifact in the color coding which should be ignored in this instance]. They also have a higher short ratio (the number of days of volume to cover the short positions).

Balancing the several parameters, BMY, ABT, JNJ and NVS are in the same broad area, but BMY has a richer yield.

Operating Fundamentals:

AZN and BMY have the highest returns on assets and equity, but ABT has the best growth figures. However, ABT has more than twice the debt load of the others, except for LLY, which isn't looking good so far.

Total Return and Dividend Growth:

BMY, NVS and AZN are the upper 1/2 of the group in terms of 1, 3, and 5-year total return, but BMY has negative return for 10 years. Looking back over 3 years, which includes the 2008 market mess, BMY and AZN did best, with AZN leading the group for 1-year.

AZN not only has the highest yield, it also has the highest 5-year dividend growth rate, with NVS and JNJ second and third in line for dividend growth.

By this far down the data crunching trail, LLY and MRK are off our radar screen.

Best & Worst Periods, and Volatility:

AZN, MRK, NVS and ABT, in that order, have the highest of the Best 3-Month returns, but were not warming to MRK in this exercise. JNJ, NVS and AZN had the mildest declines in their Worst 3-Month period.

ABT, JNJ and NVS have the lowest volatility, as measured by 3-year standard deviation. JNJ and ABT have volatility substantially below that of the others, which are closer to each oher.

Price Behavior:

BMY and LLY are the standouts for price behavior over 21 days (1 month), 63 days (3 months), 126 days (6 months) and 252 days (1 year). ABT and MRK are in the second tier with positive slopes for 21 and 63 days, but not for 126 and 252 days. JNJ NVS and AZN are sloping upward in the short-term and over the past year, but have a rough spot in the middle time frames.

All except MRK are above the mid-point of their various length price channels. JNJ, NVS, AZN and LLY are particularly strong by exceeding the top of their short-term price channels [that possible because the price is always compared to the top and bottom of their price channels from the prior day].

All except MRK have prices above their 1-year moving averages. Except for MRK, the others have 63-day and 126-day averages that are basically at or above their 1-year averages.

Analyst Ratings:

For this presetation, all the different alpha and number rating systems are converted to a common numeric scale: 1= Strong Buy, 2 = Buy, 3 = Hold, 4 = Sell, 5 = Strong Sell.

Novartis has the highest consensus rating (Strong Buy minus). LLY has the lowest consensus rating (Hold). The others have roughly the same concensus rating (Buy plus).

Standard & Poors gives a Buy to ABT and NVS, and a hold to the others, except for AZN which received a Strong Sell.

Thompson Reuters In Context didn't provide ratings for the non-US pharmaceutical companies. They put a Sell on MRK, and a Buy or BMY and JNJ. They put ABT and LLY at hold.

BarChart (pure technical service) put a Strong Buy on all of the companies.

Relative Performance Price Charts (one day after data above):

click images to enlarge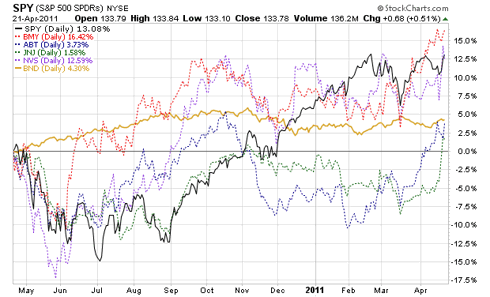 Click to enlarge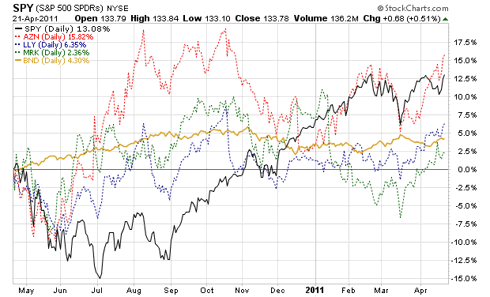 Click to enlarge

Conclusion:

As you can see, there is no perfect stock in this group (or in any group for that matter), but somehow each investor has to weigh the separate dimensions and come up with a preference for certain stocks in any list under consideration.

Our basic approach is to seek high quality, with reliable, above average yield, and below average risk, in stock stocks that are demonstrating some upward movement.

With that in mind, these data would probably lead us to favor ABT, NVS and BMY. You may do the calcluation differently.

This data was gathered before JNJ made a great run today, which could that up in overall ranking. We haven't run the data yet.

For investors seeking out-of-favor stocks with lots of come-back potential, JNJ would have likely been on a prospect list.

We make some room for such special situations in our portfolios, but primarily seek stocks that are already in an upward trend, as well as being fundamentally sound and attractive with yield.

Data, is not the end of the story. Once whatever data you use narrows the list of prospects, then digging deeper into the story of the company is important to understand issues that numbers just can't reflect -- such as patent expiraton pipelines for pharmaceutical companies.

Investors focusing on rising price patterns can perhaps be somewhat more reliant on numbers that in-depth understanding of the company than deep discount value investors expecting the market to once again love a stock, but for both knowing what is going on in the company beyond the numbers is important.

That would be a next step for anyone thinking of investing in any of these companies after reading these data.

Prior Articles In This "Crunching the Data" Series:
Disclosure: We hold ABT and NVS in some but not all managed accounts as of the publication date of this article. We may purchase BMY.
Disclaimer: This article provides opinions and information, but does not contain recommendations or personal investment advise to any specific person for any particular purpose. Do your own research or obtain suitable personal advice. You are responsible for your own investment decisions. This article is presented subject to our full disclaimer found on our site available here.