Citi-strategist Robert Buckland stayed in Tokyo because of a customer visit. It's always good to hear from someone on the ground what's happening in Japan. Buckland made some interesting observations.
His first observation is that the Japanese are of course literally and figuratively still shocked. There are still about 10 aftershocks daily, with an average strength of 6.1. That corresponds to the recent earthquake in Auckland, which lay New Zealand upside down. In Japan people and authorities are much better prepared.
Stocks
The second observation is that foreign investors bought significantly after the earthquake, while Japanese investors were selling their shares. Foreign investors have done well. Stock prices increased after the crash - and are only a few points below the level before the heavy earthquake.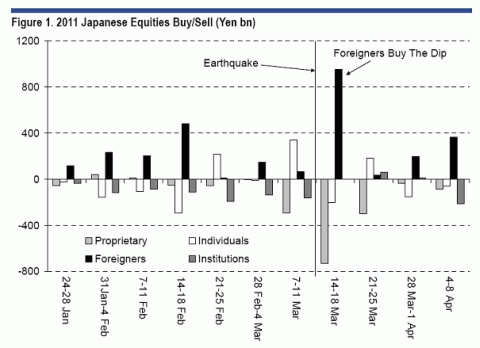 But what is the fundamental picture basically? Because, of course, profits have gone down.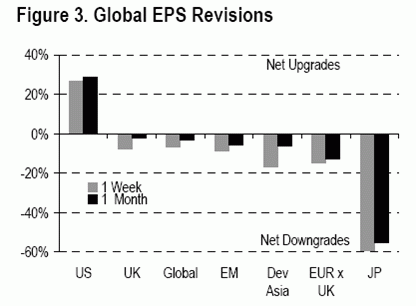 The big question is whether it is a temporary phenomenon or not. In the graph is clear to see that, on balance, Japan has 60% more downgrades than upgrades. Funny to see that in most regions EPS revisions on balance go down; the only country that stays green is the U.S.
Japan Is Cheap
Also on the basis of other valuation metrics, Japan is now cheap. The price-to-book value now stands at 1.1 times, while the global average is 1.9 times. Of course you should be aware that a part of that book value is wiped out. But due to the fact that the affected area was economically not that important, the impact on the price-to-book value is limited.
Buckland is not shaken nor stirred and remains overweight Japanese stocks.
Disclosure: I have no positions in any stocks mentioned, and no plans to initiate any positions within the next 72 hours.