Coca-Cola Company (NYSE:KO) is scheduled to report first-quarter earnings next week, and investors are sure to be keeping a close eye on the beverage giant and consumer bellwether's results. Did the turmoil in the Middle East, and its impact on gas prices, cause consumers to tighten their belts? Did the tragic tsunami and earthquake in Japan impact global Coke sales?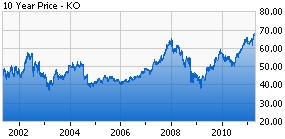 We'll find out answers to those questions Tuesday when Coca-Cola reports.
But while many will be hyper-focused on the firm's latest results, I like to take a longer view when analyzing companies and stocks. The genesis for this article was a comment stream from a prior article written about Coke's valuation, and so I thought I'd take the opportunity to discuss Coca-Cola's excellent long-term track record in the context of how the stock rates using one of my more stringent Guru Strategies from Validea.com - that which I base on the approach of the great Warren Buffett.
Buffett himself has long been a fan of Coca-Cola, both in terms of its shares and its signature soft drink. At the end of 2010, Berkshire Hathaway (NYSE:BRK.A) owned 200 million shares of the Atlanta-based company, an 8.6% stake. In his 2010 letter to shareholders, Buffett called the firm an "extraordinary business" and noted that he measures Berkshire's success "by the long-term progress of the companies [it invests in] rather than by the month-to-month movements of their stocks."
So, what does my Buffett-inspired model (which is based on the book Buffettology, by Buffett's former daughter-in-law and colleague Mary Buffett) like about Coke's long-term track record? For one thing, it likes that the firm has had only one dip in earnings per share over the past ten years. During that period, EPS have grown an average of 19.1% per year; even if we back out the $5 billion one-time windfall involved last year in its acquisition of its North American bottler, the growth rate is almost 13% per year, during a period that includes two recessions, including one of the worst in history.
My Buffett-based model also likes firms that are conservatively financed. It keys on companies with enough annual earnings that they could, if need be, use those earnings to pay off all debt in less than five years; it especially likes firms that could do so in under two years. With just over $14 billion in debt and $11.9 billion in annual earnings, Coke makes the grade. (Again, even if we back out that one-time $5 billion windfall last year, it still has enough annual earnings to pay off its debt in just over two years.)
Two other qualities Buffett is known to cherish: strong management and a "durable competitive advantage." And one way he has measured both is return on equity. My Buffett-inspired model looks back ten years into a firm's ROE history, seeking companies with a 10-year average ROE of at least 15%. At 30.8%, Coke more than doubles that, a great sign.
My Buffett model also measures management's success by looking at the return on retained earnings, which should be at least 12%. Over the past decade, Coca-Cola has retained (i.e., not paid out as dividends) $11.99 in per-share earnings, during which time its EPS have increased by $3.46. Divide the latter by the former, and we see management has proven it can earn shareholders an exceptional 28.9% return on retained earnings. Even if we back out that one-time $5 billion gain in 2010, we get $9.86 in retained EPS (assuming all of the EPS from the gain was retained), and an EPS gain of $1.33, which makes for a still-solid 13.5% return.
Of course, Coca-Cola also seems to be a great example of a firm that meets the qualitative aspects of Buffett's approach. As one of the largest, most-recognized companies in the world, the firm has exceptional brand recognition that peers can't match; an upstart could have nearly unlimited resources and still fail to topple Coca-Cola, whose signature drink has become so entwined in the American lexicon that we often refer to any dark-colored soda as "a Coke."
And that big brand name gives Coca-Cola something that Buffett last year said is the key to his investment analysis: pricing power. "If you've got the power to raise prices without losing business to a competitor, you've got a very good business," he told the Financial Crisis Inquiry Commission. "And if you have to have a prayer session before raising the price by 10%, then you've got a terrible business." Coca-Cola's brand recognition, pricing power, and its excellent long-term track record make its shares worth a look, regardless of whether the company beats or misses earnings expectations next Tuesday.
Disclosure: I am long KO.