Lululemon (NASDAQ:
LULU
) is telling a compelling story, one that resonates with a new generation of American and Canadian women. From its 10-K:
(Lulu's) primary target customer is a sophisticated and educated woman who understands the importance of an active, healthy lifestyle. She is increasingly tasked with the dual responsibilities of career and family and is constantly challenged to balance her work, life and health. We believe she pursues exercise to achieve physical fitness and inner peace.
My cousin is a raving fan.
In the midst of rapid growth, they have focused on their core competencies, avoided debt, and generated significant free cash flow after capital expenditures. They have used that cash wisely, expanding their online presence (expected to be 15% of sales in FY 11), opening new stores (25-30 in FY 11), and acquiring their headquarters (March 2011) and a new distribution center in the United States. They also have been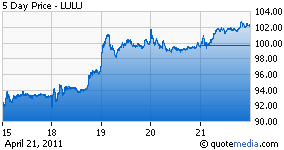 exceeding their own projections (by 70% from the Q4 09 Press Release forecast to the FY 10 actual EPS of $1.69) and analyst estimates.

A number of tailwinds contributed to smooth sailing for the year ended January 30, 2011. These included an approximate 6% revenue increase due to the CAD strengthening against the US Dollar and a 33% tax rate. Lulu's achieved comparable stores sales increases of 30% and $1,726 sales per square foot in fiscal 2010.

Though the ship will certainly sail on, there will be a few minor headwinds in FY 2011. The tax rate is expected to increase from 33% to 36% because Lulu will have more of its revenue coming from the United States. Lulu is projecting 1% stock dilution. Finally, the high price of oil will affect freight and cost of fabrics used. Together, these could negatively impact the bottom line by 5%. The only other factor is USD/CAD exchange rates, as Lulu reports its numbers in CAD. The CAD is up approximately 5% from January 31, 2011 at the time of this writing, so that should about offset the margin impact of the items above, at least in Q1.

Clearly, Lulu is a solid company whose revenue and earnings growth will outperform its peers over the next few years. The market appears to be pricing 30% growth over the next 5 years. This is the part of the article where I had planned to write, "While the story is compelling, the valuation is not." After analyzing, though, Lulu is still in growth mode with more tailwinds than headwinds.
An abundance of articles have been written over the past few years about Lulu's overpriced valuation including
here
,
here,
here
, and
here
.
While I generally agree with the above analysis and that now is probably not a great time to buy, any advice to short the stock may be premature. I do not expect the valuation to change substantially until growth rates change substantially.

The market appears to be pricing approximately 30% growth over the next 5 years, which is higher than Company forecasts and current analyst consensus. Lulu is forecasting 18% growth for FY 11 (analysts are at 20%), at the high end. 30% growth appears to be attainable, however, for FY '11. Approximately 20% store growth, 10-12% same store growth, 20-30% online sales growth and a 5% benefit from the CAD exchange rate would potentially put them at 35% growth.

A 53 week year will help FY '12. Again, 30% growth may be attainable with approximately 20% store growth (35 new stores on top of potentially 165 already built at end of FY 11), 8-10% same store growth, 20-30% online growth, 2% bump from the 53 week year.

If the two years above occur, for the year ended 2/3/13, Lulu will have achieved sales of $1.25B (200 stores), net income of $210M, and EPS of 2.90 (P/E of 34 based on $100 stock price). At this point, the growth rate should slow down. 30% growth would require growing sales to $1.63B. 20-25% seems more likely with 18% store growth, 4-6% same store growth and 10-20% online growth, offset by a 2% decrease back to the 52 week year.

Signs to look for over the next couple of years that Lulu is headed toward a more realistic valuation: margin contraction, stabilized exchange rates, around 5% same store growth, and new store growth of under 20% relative to the expanded store base. At the time of this writing, the online sales platform is still not back online (has been down for one week), which also could be a short term obstacle. Lulu should give more color around this at its Q1 conference call.

In summary, imagine a local athletic wear company had a for sale sign in the window. It made $100,000 last year and had global expansion plans with 30% expected growth in the coming year. While I would check the price and look at the business's numbers, I probably would not be buying at $6M.
I do not expect Lulu's valuation to drop significantly in the near term, though I also do not see a lot of upside near term either. The story will continue. While timing is always difficult to predict, I would expect the growth rate expectation and related valuation to change around the time Lulu gives its FY 13 forecast, when the market realizes 30% is not sustainable at Lulu's FY 12 levels. On my Sep 11 Put, I am planning on waiting to see earnings on the next two quarters and then probably closing out my position and waiting for the signs mentioned above before making another move.
As an aside, if you are interested in buying Put options past June, I would recommend purchasing even numbered amounts (i.e. $80, $90, etc.) as the stock will probably split, and these amounts, when split, will have more volume versus an $85 option that becomes two $42.50 options.


Disclosure: I am short LULU.