U.S. Bancorp (NYSE:USB), Minneapolis, Minnesota reported first quarter net income of $1,046 million. The bank also noted in a company press release charge offs declined 14.1% compared to the fourth quarter of 2010 and the total risk based capital ratio was 13.8%.
According to FDIC filings, year-end 2010, Tier 1 risk-based capital ratio 9.06% with non-current loans and leases at $9.1 billion. Net charges off in the year-end were $4.18 billion, higher than the previous year of $3.86 billion, mostly from real estate loans, $1.7 billion, followed by $1.6 billion in loans to individuals, $1.2 billion in credit cards and $102 million in lease financing receivables, down from the previous year of $223.4 billion. First Quarter FDIC filings were not recorded at press time as well as SEC 1st Quarter.
The press release shows the following chart, indicating a slight improvement in "Lease financial", but down from first quarter 2010, as "commercial is up from the previous first quarter, showing the improvement, from $40.8 billion to $42.68 billion.
Residential mortgages were up with the only decrease being in "Home equity and second mortgages." Loans were up 2.4%.
[Click to enlarge]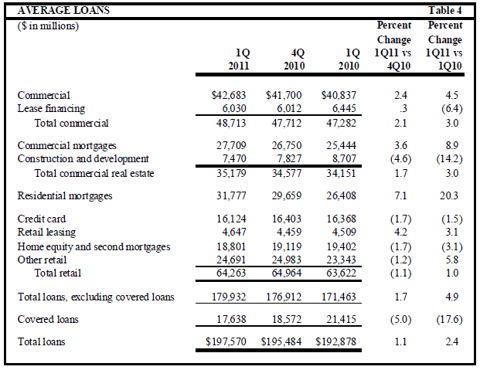 Click to enlarge
At the same time while the press release noted less charge offs, actually going from $1.2 billion to $899 million first quarter, 2011, the allowance for credit losses also reflect the nature of loans, where total commercial and lease financing went from $277 million to $139 million.
[Click to enlarge]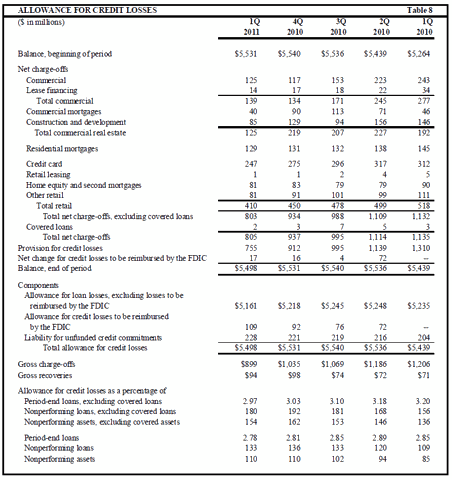 Click to enlarge
Similar to what the Key Corp. current and CEO-elect said in their telephone conference call with reporters, U.S. Bancorp Chairman, President and Chief Executive Officer Richard K. Davis announced "...The expansion in branch banking and its success to their bottom line."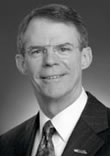 He stated:
…the average commercial loans outstanding were 1.9 percent higher, excluding acquisitions, in the first quarter than the prior quarter, as lending and commitments to corporate, middle market and small business customers grew.

Contributing to this growth were our metropolitan branch banking and in-store divisions, which together increased average small business loans outstanding by over 22 percent year-over-year and by 3.9 percent linked quarter. The growth in lending activity and commitments, higher deposits, new and enhanced product capabilities and expansion initiatives in each of our business lines contributed to strong first quarter net revenue, which was, in fact, a record first quarter total for our Company.

We continue to invest in our franchise, most notably this quarter with the acquisition of the banking operations of First Community Bank from the FDIC. The acquisition extended our branch banking franchise into New Mexico, our 25th contiguous state, and immediately established us as one of the top three banks in terms of market share in this new attractive market. The purchase of FCB fits perfectly into our strategy of acquiring businesses and smaller fill-in banking franchises that add product and service capabilities, as well as profitable scale to our existing business lines and footprint in comparatively low-risk transactions.

Our adherence to prudent underwriting and an improving economy resulted in significantly lower credit costs for the first quarter.... I am pleased to begin rewarding our shareholders for their patience, confidence and support during the recent economic downturn. In addition to the dividend increase, our board of directors authorized a 50 million share common stock repurchase program, which provides the Company with added flexibility going forward as we seek to return capital to our shareholders.

"The economy is slowly recovering. We can see it in our customers' actions - from growth in small business lending to higher payment processing transaction volumes to improving credit metrics – and, importantly, in our customers' outlook. A healthy banking industry is crucial to the country's economic growth and future prosperity, and our Company and our employees are taking an active role in Washington D.C., communicating with our regulators, legislators and the administration. In fact, this year U.S. Bank market leaders from across our footprint have attended over 130 meetings with representatives in Washington D.C. We are working on behalf of the industry to make certain that our voice is heard and that new regulation and legislation supports the recovery, rather than stifles the country's progress.

And we are working everyday on behalf of our stakeholders. Emerging from this downturn as a stronger Company, I am confident that our operating model, our prudent risk management and growth strategies will continue to serve us well for the benefit of our employees, customers, communities and, importantly, our shareholders.
US Bancorp press release with financials (pdf)
Disclosure: I have no positions in any stocks mentioned, and no plans to initiate any positions within the next 72 hours.