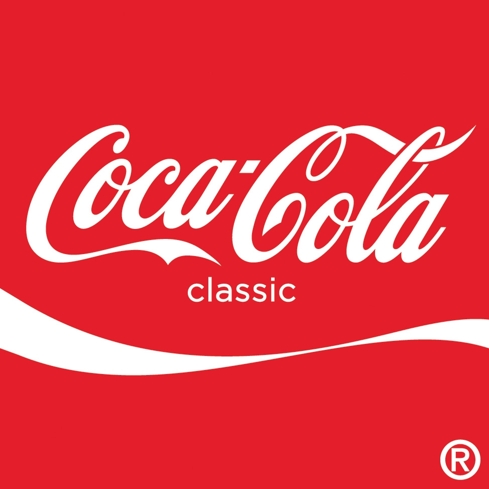 Click to enlargeThe Coca-Cola Company (NYSE:KO) is a non-alcoholic beverage company. The Company owns or licenses and markets more than 500 non-alcoholic beverage brands, primarily sparkling beverages but also a variety of still beverages such as waters, enhanced waters, juices and juice drinks, ready-to-drink teas and coffees, and energy and sports drinks.
Sales, Earnings, and Free Cash Flow
| Years | Revenue (in millions) |
| --- | --- |
| 2006 | 24,088 |
| 2007 | 28,857 |
| 2008 | 31,944 |
| 2009 | 30,990 |
| 2010 | 35,119 |
Coca-Cola has managed to grow revenue by an average of 9.8% over the past 5 years, which is faster than the 10 year average of 7.9%. When it comes to sales and market position, it's hard to beat Coca-Cola. 500 brands (14 of which have over $1B in sales), and 3500 unique beverage products sold in over 200 countries worldwide. As if that were not enough, KO owns the 4 of the world's top 5 sparkling, non-alcoholic beverage brands: Coca Cola, Diet Coke, Fanta, and Sprite.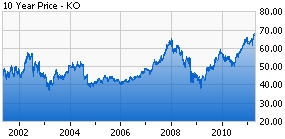 Though sales are growing from every operating group, the Eurasia and Africa group has the highest growth, with a 12% increase in unit volume last year. Even with much of the growth coming from international markets, KO has not forgotten about us here in the U.S. Its strategic 2020 vision has many facets, but strong North American growth is essential. It's predicted that by 2020, the US will have the third largest teen population in the world, behind only China and India. That's a key Coke demographic, and the company is investing heavily to capture it, including it's 2010 acquisition of Coca Cola Enterprises, one of the companies main bottlers (it has 75% of US bottle operations and almost 100% of the Canadian).
It's interesting to note that Coca-Cola is run very much like a franchise. The majority of their product, especially that sold outside of the U.S., is manufactured, sold, and distributed by independently owned and managed bottling operations. Though Coke does occasionally take over bottling or canning operations, the large majority are independent - yet Coke retains significant power in their relationships. Check out this quote straight from its 10-K.
Under most of our Bottler's Agreements we generally have complete flexibility to determine the price and other terms of sale of the concentrates and syrups we sell to our bottlers, as a practical matter, our Company's ability to exercise its contractual flexibility to determine the price and other terms of sale of its syrups, concentrates and finished beverages is subject, both outside and within the United States, to competitive market conditions.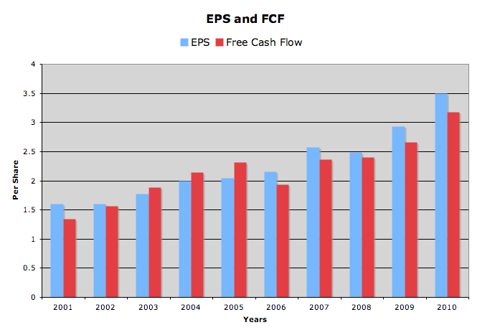 Click to enlarge
Coca-Cola reported EPS in 2010 of $5.06 a share, yet this number is highly inflated due to the $5.2B dollar windfall from the purchase of CCE and sale of both the Norwegian and Swedish bottling operations. I instead chose to use the comparable full year EPS of $3.49 found in this press release. I think this gives a much clearer picture of Coke's earnings power.
Using this figure, Coke's 10 year earnings growth averaged 9%. 2010 earnings grew 19.1%, from $2.93 in 2009 to $3.49 in 2010. Analysts expect KO to earn $3.87 in 2011, and $4.28 in 2012, growth of 10.9% and 10.6% respectively.
Free cash flow has stayed pretty much in line with earnings over the years, growing an average of 9.9% over the past decade.
Earnings and cash flow growth have been the result of strong sales increases, steady margins, and share buybacks. In the past decade, KO has managed to take 1.6% of its stock off the market each year, although 2010 saw slight growth of 0.2% in shares outstanding, due in part to the CCE acquisition.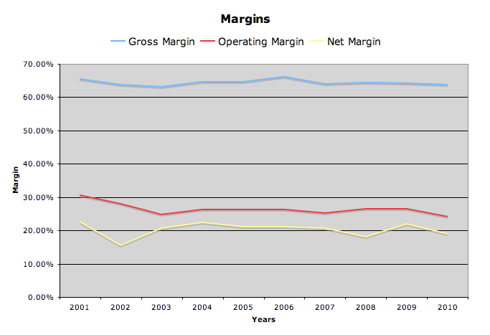 Click to enlarge
Dividend
Coke is a dividend aristocrat, and has increased distributions for 49 consecutive years. The most recent increase came this past February, when the company boosted the quarterly payout 7%, from $0.44 to $0.47 a share.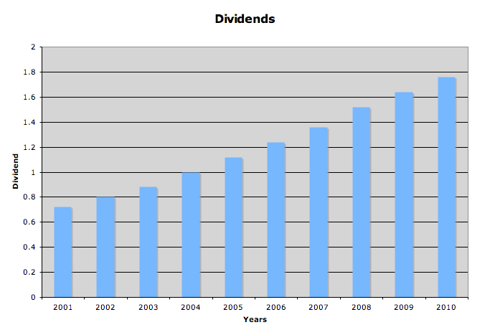 Click to enlarge
Dividend growth has averaged 10.3% growth over the past decade, though growth rates have slowed, with the 5-year average at 9.2%, and the 2010 increase (to $1.76) was only 7.3%. This number is slightly skewed by the large size of the annual payout, where a 10% increase can cost a company much more than if the dividend were a smaller amount.
Using the new quarterly payout, we can expect a 2011 dividend of $1.88, a 6.8% increase to the dividend paid in 2010.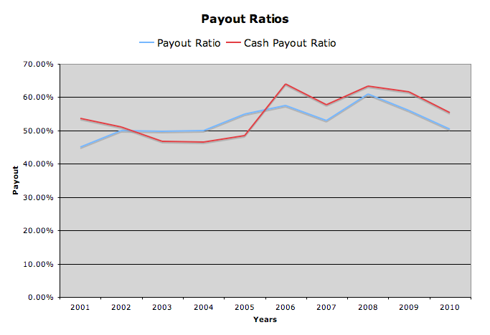 Click to enlarge
Payout ratios have trended up slightly, but remain at a sustainable level, especially for such a stable business. In the most recent year, the EPS payout ratio was 50% (using the $3.49 figure, not the reported $5.06) and the FCF ratio was 55%. I think that's a nice payout ratio for a large, stable company like this one - better than some others out there (I'm looking at you Walmart (NYSE:WMT)) that keep their payout ratio around 30%, and sport lower yields as a result.
Balance Sheet
As far as similar companies go, KO's balance sheet is not pristine, but neither is the company in trouble. 42.8% of the company's total capital is from debt - a bit high, but with an interest coverage of 11.5, and $8.5B in cash, that debt should be no problem. It must also be noted that this debt level is unusual for KO - the 10 year average debt/total capital is only 30.4%. The surge in debt can be attributed to the CCE acquisition, in which Coke assumed $8.9B in CCE debt.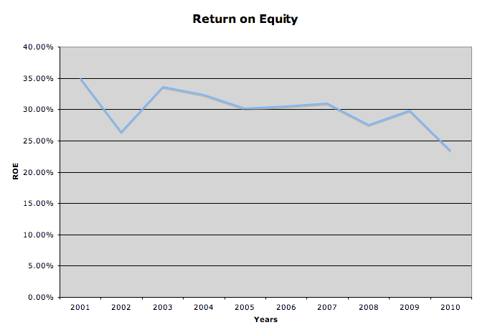 Click to enlarge
Return on equity has remained quite stable at over 25% for much of the past decade, only dipping below that threshold in 2010, when it hit 23.4%. With moderate levels of debt over the past decade (most years between 25-30%) this is an impressive and stable ROE.
Stock Price Valuations
Current Price - 67.88
5-year Low P/E - 17.6
Current P/E (ttm) - 19.4
Current P/E (forward) - 17.5
5-year high yield - 3.6%
Current yield - 2.8%
Conclusion
It would be hard to go wrong with Coca-Cola, one of Warren Buffett's all-time favorite stocks, and currently his largest holding. The company has everything a conservative investor is looking for - growth, stability, the worlds most valuable brand, a hugely diversified portfolio, pricing power, half a century of dividend increases, and very shareholder friendly management. What more could you ask for?
The current price is reasonable, since I expect to pay a premium for this company, but I'm going to wait and see if it drops a bit and the yield crosses the 3% barrier. I'm a little spoiled at the moment, because I picked up some shares when it was in the $40s, which was probably the sale of a lifetime. For the moment I am just going to enjoy my capital gains and locked in 3.5%+ yield, but I will most surely add to my position over the years when the price is right.
Disclosure: I am long KO.