Leased silver? Derivatives? Phantom silver?
No, no and no.
I've seen a lot of comments, like the one following this Seeking Alpha post, speculating on the various ways that iShares Silver Trust (NYSEARCA:SLV) investors could find themselves holding something other than the silver bullion they'd expect.
Every investor interested in buying SLV should first read its prospectus, particularly the Risk Factors section on pages 7-11. You will see the risks involved with an investment in SLV, including the potential for losses and liquidity risks.
What you won't see are risk factors around SLV holding derivatives, i.e. silver futures, BlackRock or the trust custodian leasing SLV's silver (the trustee is authorized to sell silver in the smallest amounts required in order to pay expenses), or SLV not holding sufficient silver to correspond to all shares outstanding, all of which SLV is not permitted to do under its prospectus or current legal structure.
At BlackRock, we take the responsibility of protecting shareholder interests very seriously and spend a lot of time constructing our iShares products to help ensure they meet investor expectations. In the case of SLV there are multiple safeguards in place. For one, it's structured as a grantor trust, which means the trust (on behalf of its shareholders) has the legal right of ownership to the silver it holds.
JPMorgan Chase Bank, N.A., London branch, provides custodial services for storing the silver, but has no legal rights to SLV's silver holdings. Investors can see the serial numbers of all the silver bars in the trust here, and can review an independent audit of the trust's silver here. (See chart showing total shares outstanding vs. total ounces of silver in the trust below; click to enlarge image.)
The iShares Silver Trust (SLV)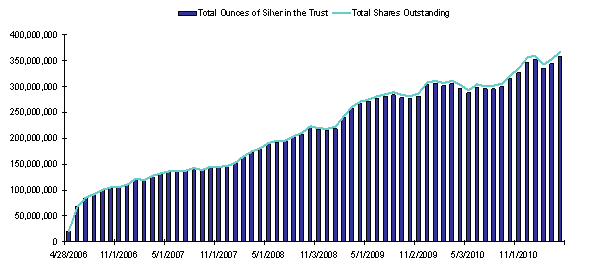 Source: BlackRock 4/28/06 (launch date) – 4/1/2011
Another concern revolves around ETF creation and redemption. I've gathered from many posts and comments that there is a misunderstanding about the role of Authorized Participants who facilitate trading in SLV through the creation of new shares when demand is high.
Creating new shares does not expose existing SLV shareholders to some new mysterious risk. During the creation process, the AP exchanges physical silver for new shares, which are issued by Bank of New York Mellon (SLV's trustee) on behalf of BlackRock Asset Management International Inc. (the trust's sponsor). SLV's trustee and custodian ensure proper receipt of the silver before new SLV shares are released.
I recognize we live in a skeptical time, especially following the events of 2008, and it's smart to question whether your investments are doing what you think they should be doing. One of our key tenets here at iShares is transparency, which means we make every effort to educate potential investors on how each ETF works and what it holds. In the case of SLV, it's a very straightforward answer: silver.
Disclosure: Kevin Feldman is a Managing Director in the iShares unit of BlackRock. Read the fund's full disclaimer
here
.