Omnivision Technologies Inc (Nasdaq: OVTI) is the leading maker of CMOS imaging sensors for smartphones, iPads and digital still cameras. Omnivision has been a key player in the Apple (Nasdaq: AAPL) supplier food chain because Omnivision sensors are in the popular iPads and iPhones.
On April 4th, 2011, a rumor that Sony (NYSE:SNE) might have won the socket for image sensors in the iPhone 5 caused OVTI shares to decline 8% (after being down over 12% intraday). The stock continued to decline (along with the market at the time) to $29.79 this week – a loss of 21% since the Sony rumor.
[Click to enlarge]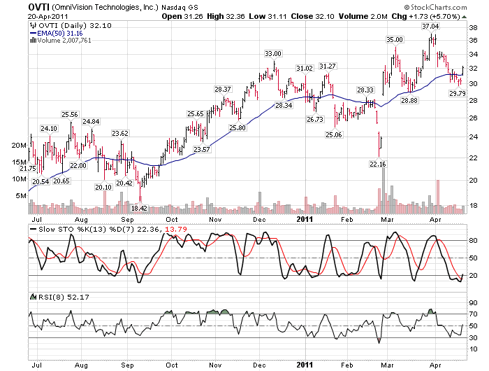 Response to the Sony Rumor
Various analysts came out that day in defense of Omnivision:
A bunch of things suggest OmniVision will, in fact, get the iPhone 5 socket, he writes: OmniVision can get as many as 72,000 wafers per month working with Taiwan Semi (NYSE:TSM), whereas Sony won't likely get to 50,000 wafers per month for CCD and CMOS image sensors till March of 2012, giving OmniVision a big capacity advantage, in his view. Also, in 8-megapixel sensors, Gill sees OmniVision having a technology lead with its "BSI-2" product; TSM's manufacturing should lead to cheaper parts than Sony's; the TSM fabrication means OmniVision's parts would be near the iPhone's assembly in Taiwan; and, on a business basis, "Why would Apple use a competitor part from Sony?"
Note also that in July 2010, Sony's CEO essentially implied that they can't produce the image sensor volume needed:
If the competition in imaging devices were strictly based on volume and cost, our approach wouldn't succeed. We don't have the large-scale fabs that our rivals do, and we won't build them. Fortunately, we can compete in device quality, and we can continue to add functions that make our customers happy.
Until now, discussion of OVTI's sensors being on board the iPhone 5 has been purely speculative.
Reuters Gave the Best Clue so Far...
Recent information makes it apparent that Sony is NOT the image sensor provider for the iPhone 5.
Here's why:
A Reuters press release Wednesday indicated that their sources have disclosed that Taiwan-based Largan is the chosen supplier of camera "modules" for the iPhone5. A camera module is the lens and housing that the CMOS sensor is embedded in.
"Suppliers to the new iPhone include camera module maker Largan Precision Co Ltd, touchscreen panel maker Wintek Corp and case maker Foxconn Technology Co Ltd, two of the people said."
Sony makes their own sensor modules.
Omnivision's CMOS sensors are typically embedded within Largan camera modules.
Conclusion
If Sony normally ships their own sensor modules for their CMOS camera sensors, then it's highly likely that Sony's sensors are not on board the iPhone 5 because Largan's modules are.
Thus, the April 4th rumor about Sony is probably false. Not to mention that Sony can't supply the volume that AAPL needs and the March 11 Japan earthquake has caused supply disruptions in Japan that would seem to benefit Omnivision immensely.
If Not Sony, Then Who Else?
That leaves us with only a few other possible suppliers who would have their image sensors onboard the iPhone 5:
Aptiva – Micron's (

MSVS.PK

)

spinoff called Aptiva has inferior technology.
Samsung (

SSNLF.PK)

– Since it was announced Tuesday that AAPL is suing Samsung it would be very unlikely Samsung's sensors are going to be into the iPhone 5.
ST Micro – a less likely player
Of the foregoing players, Omnivision is the only image sensor company with high quality BSI-2 (Backside Illumination) image sensors that doesn't have other negative issues with Apple such as litigation with Apple, or directly competing with Apple in the smartphone market.
Omnivision's 5-megapixel cameras are already in the iPhone 4 and the camera on the iPhone 4 has garnered rave reviews. And the iPhone 3GS uses a 3.2-megapixel camera from Omnivision. Why would Apple not want to continue the trend of offering high quality cameras on its iPhones that can also be supplied in the volume it needs?
Finally, if Reuters is correct that Largan of Taiwan is the chosen iPhone 5 sensor module provider, then that essentially shuts down the Sony/iPhone5 rumor once and for all. Besides, why would AAPL give business to one of its strongest competitors?
Hints During Apple's Earnings Conference Call
Providing yet another clue, Apple's earnings conference call Wednesday after the close, Tim Cook mentioned a list of suppliers from Japan that did not include Japanese image sensors:
Regarding our global supply chain, as a result of outstanding teamwork and unprecedented resilience of our partners, we did not have any supply or cost impact in our fiscal Q2 as a result of the tragedy, and we currently do not anticipate any material supply or cost impact in our fiscal Q3. To provide a bit more color on this, we sourced hundreds, literally hundreds of items from Japan, and they range from components such as LCDs, optical drives, NAND Flash and DRAM to base materials such as resins, coatings and foil that are part of the production process at several layers back in the supply chain.
Conclusion
Once market players put these facts together, Omnivision shares should resume the upward trajectory they were on before the Sony rumor.
Disclosure: I am long OVTI.
Disclaimer: The author makes no warrant for the accuracy of the content herein other than the links provided to traditional online sources of information for verification purposes. Additionally, investors shall not take any comments stated herein as advice to buy or sell any equities and if investors do so, they acknowledge that they have done their own proper due diligence and proceed at their own risk.