Valuevision Media (VVTV) shares are down nearly 30% since posting a high of $7.60 in early February, largely due to another offering, which we see did not sit well with investors. We admit that we were caught off guard by the offering, the second in three months, but understand its intention and are moving on beyond it. Investors should too and should accumulate the shares aggressively, as we see the shares increasing 40% in a year. Furthermore, we continue to believe that Comcast (NASDAQ:CMCSA) will buy in the company and bolster its position to compete with Liberty Interactive (LINTA) and HSN (NASDAQ:HSNI), which could merge.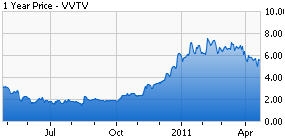 Word to the wise though: When a company surprisingly issues great guidance, as in the case of Valuevision a few months back, expect some transaction such as a sale or a equity or debt offering.
Before we dive into the fundamentals and valuation behind why the shares could double, we think it is worthwhile to clarify the confusion around ValueVision's ownership and capital structure:
There are 55.6 million shares outstanding, assuming the treasury method and assuming they make a profit, which consensus expects in the fiscal third quarter. That share count includes 2 million stock options and 6 million GE warrants to purchase common shares at a strike price of 75 cents. However, Comcast is owed $4 million worth of stock on May 15, 2011, or 724,638 shares at current prices, for the use of the ShopNBC brand. So total shares outstanding, including those owed to Comcast, is 56.32 million, which gives us a market capitalization of $311 million. Valuevision has $25 million in debt, a term loan with Crystal Financing, that carries an 11% interest rate, and a $12 million deferred payment to a vendor that is due February 2012. So total debt is $37 million.
The company ended the last quarter with $46.5 million in cash, and we are assuming no cash burn with the April quarter. Valuevision stated that they retained $8.3 million from the secondary offering after eliminating the GE preferreds and after commissions and other cost, so total cash we estimate is $54.5 million.
So with a market cap of $311 million, debt of $37 million, estimated cash of $54.5 million, and $0 preferreds, the enterprise value is $294 million. That would put the fiscal 2012 (end Jan. 2012) Ebitda multiple at a lofty 11.7x, based on $25 million in Ebitda. However, fiscal 2012 is the first full year of Ebitda positive results since fiscal 2008. Thus, fiscal 2013 is a better measurement for the multiple, which is 5.8x based on $50 million in Ebitda.
Given that Ebitda doubles between 2012 and 2013, we think VVTV deserves a premium multiple to the current 7x multiple that the competitors are currently trading at today. So applying a 8.5x multiple to the 2013 Ebitda, we arrive at a one year price target of $7.86, up 42% from current trading levels.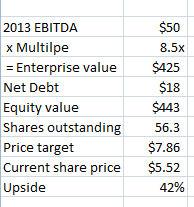 Fundamentally, we believe that Valuevision is in great a position. They have hired over 40 staffers from QVC and HSN. We think the smart staffers at these companies realize that there is likely to be a serious hacking away of headcount when/if the two companies merge and are seeking an exit now. That allows VVTV to capture great talent to build a competing business.
In addition, we think that Comcast should want this business to succeed and could seek to bring it in house completely. Their current ownership including the shares they are about to receive is about 13%, and we think that they would acquire all outstanding shares that they do not own and then fold it into the NBC Universal joint venture with GE, that includes marquee names such as CNBC, MSNBC, NBC, USA Network, Bravo, Versus, and SyFY. Makes perfect sense to us.
Disclosure: I have no positions in any stocks mentioned, and no plans to initiate any positions within the next 72 hours.