Right out of the gate on Monday, several key companies report earnings. Among the notable firms updating investors -- First Solar (NASDAQ:FSLR), Netflix (NASDAQ:NFLX), Radio Shack (NYSE:RSH), and Sohu.com (NASDAQ:SOHU). Each of these companies will tell us something not only about their own businesses, but their broader sectors and sub-sectors.

Despite seeing its stock pull back from recent highs, First Solar remains one of the leaders in the alternative energy/solar space. FSLR closed down $1.25 at $137.22 on Thursday. Recent institutional buying and a large short interest could help aggressively propel the stock on solid earnings. According to Yahoo! Finance, the 40 analysts covering the stock expect First Solar to report quarterly earnings of $1.17 per share.

Netflix could provide investors with an early look at how increased competition in the online streaming wars is shaping up. Investors ran the stock up over the course of the shortened-trading week. NFLX hit a 52-week high of $252.32, before closing at $252.22 on Thursday. While analysts expect big numbers revenue- and profit-wise, they might place greater focus on whether or not the company hits its subscriber estimates or if it, uncharacteristically, provides some guidance on expenses going forward. If Netflix misses or fails to impress in some way, the shares could suffer and potentially buoy competitors ranging from Google (NASDAQ:GOOG) to Amazon.com (NASDAQ:AMZN) to Coinstar (NASDAQ:CSTR).

Radio Shack faces a pivotal earnings report on Monday. Goldman Sachs raised its estimate on RSH, citing solid sales of tablets from Apple (NASDAQ:AAPL), Research in Motion (RIMM), and Motorola (NYSE:MMI). Investors have decimated shares of the Shack, sending it from a 52-week high of $24.00 to Thursday's closing price of $15.83, just a couple dollars greater than its 52-week low. While it's certainly a value play, it could just as well turn out to be a value trap.

Whenever a Chinese firm, particularly an Internet company, reports earnings, investors watch. Shares of Sohu.com have been consolidating in the mid- to upper-90's over the past couple of weeks. Clearly the stock will break one way or the other -- and probably sharply -- after earnings. Something's got to give as Sina (NASDAQ:SINA) learned after getting hammered as the result of several bearish reports, including a Goldman Sachs downgrade that came on the heels of a Seeking Alpha article by Robert Weinstein.

Hundreds of other companies report earnings during the week, including Amazon.com (AMZN) on Tuesday. Investors did not punish Amazon shares for a glitch associated with its Amazon Web Services that took several prominent websites down on Thursday. Instead, AMZN continued its bull run, ending the day at $185.89. The run has been quite remarkable, taking the shares from a recent closing low of $160.97 on March 17th.

Despite my long-term bullishness on all things Amazon, the stock concerns me around the earnings report. If the response to the company's last report serves as any indication, Jeff Bezos will need to announce that he's buying Apple for a first round draft pick and a bag of hockey pucks to trigger a seriously positive move. The street punished AMZN because of rising expenditures a few months back. These costs will go back into the business, yet the shares still tanked. And Amazon is a company with a stellar track record in terms of generating return on investment.

When I tally up what can go right and what can go wrong with Amazon's call, the wrong column simply has too many checks for me to do anything other than pop open a beer (or a cup of green tea) and listen to the call.

Privacy Concerns and Apple

Al Franken helped further the furor over news that Apple collects location information from iPhone and some iPad users and stores it on these devices as well as computers these gadget users backed up their data on. I would expect Apple to respond during the week to the questions the senator from Minnesota sent off to Steve Jobs.
Click to enlarge: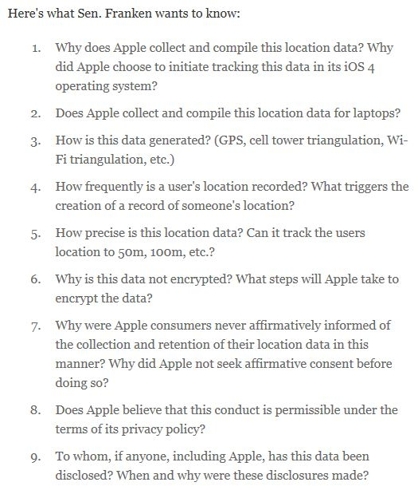 Click to enlarge

First, I am shocked that Franken could somehow manage to waste more time and perform even worse as a politician than he did as a talk radio host. The country is worse off with him in Washington and without him on Saturday Night Live. What's more annoying than Franken's headline grab, however, is what riles up Americans.

Middle America will find common ground with Franken because Apple might discover that you spend time in a pub with your girlfriend at two in the morning, yet they stand behind true encroachments on their privacy in the name of national defense. It's a non-story and, ultimately, I think Apple will prove that we should all simply read those terribly long disclaimers they make us check off when we register one of their products or use one of their services. I won't read them because, you see, I "hate freedom" so much that I am willing to give it up just so I can Tweet and Foursquare my whereabouts (and every move), voluntarily, with an iPhone.

Will McDonald's Bounce Back?

Looking at blue chip stocks these days proves interesting. At the height of bull markets, it's only natural to second guess yourself if you hold companies like McDonald's (NYSE:MCD) steady in an IRA as you watch the Chipotle's (NYSE:CMG) and Open Table's (NASDAQ:OPEN) of the world reach even loftier highs.

Last week, McDonald's reported strong earnings, but the shares dropped over concern about rising costs of beef and other inputs. After a modest run-up over the last few weeks, MCD closed Thursday's session down $1.49 at $76.91. As CEO Jim Skinner noted in the confernece call the company faces near-term "headwinds," which could morph into "tailwinds" a few months down the road.

I am intrigued by the question -- Do you buy MCD on this dip and enjoy its halfway decent dividend as you wait for a rebound? Or do you put your money to work in a more exciting stock that carries not only greater upside potential, but more risk?

Disclosure: I am short NFLX via a long position in NFLX put options.