Another fight and I slam the door on

Another battle in our dirty little war

-Bruce Springsteen, "One Step Up"
One of these two companies will likely end up receiving the proverbial glass full of beer and slap in the face. Wal-Mart (NYSE:WMT) and Amazon.com (NASDAQ:AMZN) highlight a key difference between the blue chips that established themselves as such a generation ago and the new century's companies destined for blue chip status. Like Apple (NASDAQ:AAPL), Google (NASDAQ:GOOG), and others, Wal-Mart and Amazon use offshoots from their core or original businesses to enter into fierce, even if somewhat unintended, competition against one another. And while I grew up on the entertaining cola and burger wars, today's corporations wage their battles in different and more interesting ways.
Looking at several examples, the distinctions become clear. On Saturday, Wal-Mart announced that it is testing a grocery and consumer staples home delivery service -- Wal-Mart ToGo -- in the San Jose, California, market. This comes on the heels of an almost identical pilot program -- Amazon Fresh -- the online giant has been operating in the Seattle area. Both companies allow users to search by address at their respective websites, noting, in Amazon's case, that "We are expanding our service areas as fast as possible," whereas Wal-Mart tells users they will email them when they bring Wal-Mart to Go to their area.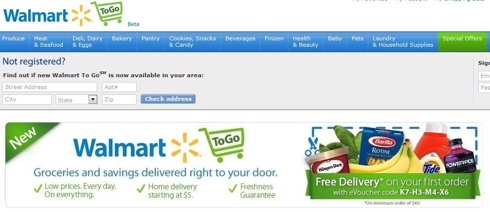 Click to enlarge
(Click to enlarge)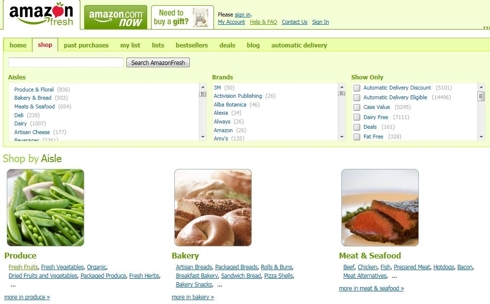 Click to enlarge
(Click to enlarge)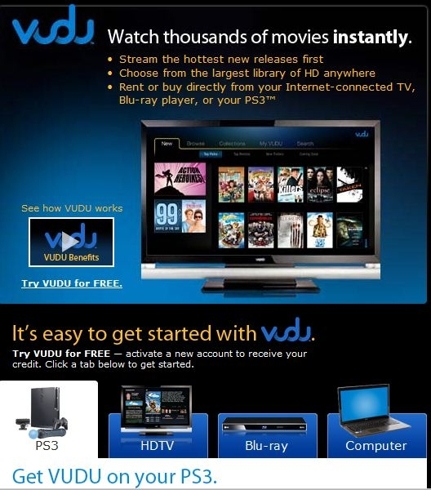 Click to enlarge
(Click to enlarge)
Wal-Mart appears to be setting up, even if quietly, to take on Amazon, Netflix (NASDAQ:NFLX), and others in the online video streaming world via its 2010 takeover of Vudu. Also evidenced by its recent purchase of e-commerce social media start-up Kosmix, Wal-Mart recognizes that it cannot rely solely on the power of its brick-and-mortar outlets; instead, it must leverage this strength to other areas. In terms of streaming, relative to the hype surrounding Amazon's streaming for Prime members, Hulu.com, Google's new approach for YouTube, Coinstar's (NASDAQ:CSTR) somewhat half-baked ambitions, and other similar endeavors, Wal-Mart's move with Vudu has flown under the radar.
You would have to think Wal-Mart will ramp up Vudu's profile sometime soon. Vudu differs from what Netflix and Amazon do in several ways, primarily in that Vudu offers pay-per-view access and new movie releases, as opposed to a focus on television reruns and "old" movies. And let's not forget, Wal-Mart, like Amazon, has been offering MP3 downloads at its website for a long time. Could some sort of transition to the cloud that Amazon took the lead on come soon?
Much like the cola and burger wars of yesteryear (let's face it, they're not quite the same today), there's not a whole ton of innovation happening here. Novel ideas emerge -- DVD mailing service, online streaming, cloud storage, etc. -- and companies that run in multiple spaces essentially put out offerings that mimic what came before them. In some cases [see Research in Motion's (RIMM) Playbook], early adopters (see just about every product Apple has produced) produce products that remain far superior to their imitators. On one hand. these companies merely represent purveyors of the trend and new technology. It would be nice, however, for somebody to do what Netflix did with DVDs; Apple with the iPod, iPhone, and iPad; and Google with much of what it touches more often; that is, do a better job of building on what came before them or unleash something entirely new and novel.
The thing that most of these companies and some of their other competitors have going for them -- and the blue chips of old typically did not, or at least not to the same extent -- is that they have massive leverageable platforms from which to work. Part of the reason for my Netflix bearishness is that they exist pretty much as a one-trick pony, given their plans to abandon DVD rentals. Even their two-pronged attack does not offer a whole lot of opportunity to launch profitable complementary businesses.
Amazon, Wal-Mart, Apple, and Google each have diverse businesses. While it's more obvious in Amazon's, Apple's, or Google's case, Wal-Mart, increasingly, appears to be taking on a more eclectic business model. If it plays its cards correctly -- and I think it is and will -- Wal-Mart will attempt to emulate, in some fashion, Amazon's incredible platform that I illustrated in a previous Seeking Alpha article.
A college student starts purchasing textbooks through Amazon because they are cheaper than she can get them for at the school bookstore. She also realizes she can get a bookcase, beanbag, plastic chairs, and a stereo system to outfit her dorm room for less at Amazon than she can at Ikea or Best Buy (BBY). While she's at it, she notices she might as well save herself money and trips to the grocery store by loading up on Pop Tarts and frozen pizza delivered to her door by Amazon. Because she shops so much at Amazon and uses the same grocery items regularly, Prime and Subscribe & Save start to make sense. And while she's there, she ought to get on this cool new "cloud thing" that Amazon thought of. If only Bezos could find a way to sell beer, wine, and spirits, he'd be golden.
Amazon's platform resembles Apple's halo effect. And Google has its hands in so many areas that most consumers probably don't even realize when they've been touched by the company. Maybe it's because I don't shop online or in the flesh with Wal-Mart (I use Amazon), but it doesn't seem as if they have made the push with full force quite yet to be a retail sector play that more than dabbles in other spaces. I wonder if they are waiting to build out their urban strategy before an all-out attack. Not to get into the standard Wal-Mart customer bashing, but having Manhattanites, San Franciscans, and other shoppers with more disposable income and greater new media savvy on board could better enable success vis-a-vis a strategy more often associated with Amazon, Apple, or Google. And while Target (NYSE:TGT) is aggressively competing with Wal-Mart in the rush to America's traditional urban cores, it's relatively late or maybe not even planning to come to the new media party.
If I were playing this notion of one business line feeding off of another today, I would be short NFLX, which I am, and long AMZN. I am not sure, however, that I would want to be long AMZN at its present level. It could get hit when it reports earnings on Tuesday like it did after its last call. With that in mind, you can effectively go long the stock by going short -- selling -- put options. Pick a price you would be willing to own AMZN stock at and sell a put with that strike. For instance, I would be more than happy owning AMZN somewhere in the 160's. I could sell the AMZN May $165 put and collect a premium of somewhere around $1.25. If the put expires worthless, the party I sold my put to loses and I keep the premium. In fact, I keep the premium no matter what, therefore, if I am "forced" to buy AMZN at $165 a share, I am actually buying it for $163.75 per share. Of course, if AMZN rises after earnings, you keep the premium, but miss out on the appreciation you would have seen if you went long the stock.
AAPL and GOOG are both strong plays, but I will stay away from both other than day or swing trading their options. I think GOOG could fall further, and I expect AAPL to pull back a bit from its post-earnings highs.
More than anything, it will interesting to watch how the online streaming, cloud, grocery delivery, and urban retail wars evolve over the next several years.
Disclosure: Author is short NFLX via a long position in NFLX put options. Author may initiate a short position in RIMM and a long or short position, via the stock or options, in AMZN, AAPL, or GOOG within the next 72 hours.