Brazil has been a very interesting economy to observe over the past decade. With a rapidly growing GDP and strong local industries, it has drawn substantial attention from the international investment community. The objective with this paper is to develop a deep understanding of the Brazilian market through the BOVESPA and ultimatley attempt to forecast the direction of the market through the use of various statistical methods. By attempting to forecast the BOVESPA, it is very likely that other factors are uncovered that will better aid in the understanding of what moves Brazilian markets.

Introduction
Before forecasting any financial asset, it is critical to understand the fundamentals behind the asset to better-put perspective on forecasting. Developing a strong foundation of fundamental understanding will be helpful later on when single and multi-variable regression models must be developed.
BOVESPA
(Data was provided by MSCI: BOVESPA Gross USD)
The BOVESPA (Bolsa de Valores de São Paulo) is the stock exchange located in Sao Paolo Brazil. The exchange was originally founded in 1890. After a long history of being a state-operated exchange, in 2007 it was officially demutualized and became a for profit company. In 2011 the BOVESPA was ranked 9th largest exchange by domestic market cap, at $1.337 trillion. This serves to make the exchange truly international. Over the last 10 years, there has been a heightened interest in Brazil from international investors as emerging economies, specifically BRIC economies (Brazil, Russia, India and China) have exhibited strong economic and financial growth in excess to western countries. There are currently 11 ETFs that track Brazil and various Brazilian indices, including one listed on the TSX and one on the LSE. The largest stocks listed on the BOVESPA are as follows:
As can be seen by the names, the companies are in very different industries including: Oil & gas, financial services, agriculture/food, aeronautics, consumers beverage. This is reflective of the overall Brazilian economy and how diversified it is; one would be mistaken to think of the Brazilian exchange as one sided.
American Depository Receipts (ADRs) have had a profound impact on the BOVESPA and many of the 'top' companies listed on it. This has the effect of allowing the Brazilian companies to raise additional capital, gain international attention, and increase liquidity. ADRs essentially make it easier for investors in the U.S. to access Brazilian stocks as no foreign exchange conversions need to be made and local U.S. brokers can be used to purchase the stocks. This may also have affected the 'trading style' that the holders of BOVESPA stocks utilize since international traders/investors may have different perspectives and intentions than local investors. This can result in the BOVESPA reflecting international factors more than ever before.
For this reason, the data that will be used to analyze and later forecast the index will be: BOVESPA Gross in USD. Using the USD data will allow for the use of USD denominated drivers which will reflect the potential drivers and factors that international investors in the BOVESPA will use when making investment decisions. A table depicting ADRs can be found on the following page.

Brazil
| | | |
| --- | --- | --- |
| ADR Name | Ticker | Industry |
| AmBev | ABV | Beverages |
| Aracruz Celulose | XARA | Forestry & Paper |
| Banco Bradesco | | Banks |
| Brasil Telecom | BTM | Fixed Line Telecom. |
| Brasil Telecom Participacoes | | Fixed Line Telecom. |
| Braskem | | Chemicals |
| BRF - Brasil Foods | | Food Producers |
| Centrais Eletricas Brasileiras-Eletrobras | | Electricity |
| Comp. Paranaense de Energia-COPEL | | Electricity |
| Companhia Brasileira de Distribuicao-CBD | | Food &Drug Retailers |
| Companhia Energetica de Minas Gerais-CEMIG | | Electricity |
| Companhia Siderurgica Nacional-CSN | | Indust.Metals&Mining |
| CPFL Energia | | Electricity |
| Embraer | | Aerospace & Defense |
| Gafisa | | HouseGoods&HomeConst |
| Gerdau | | Indust.Metals&Mining |
| Gol Linhas Aereas Inteligentes | | Travel & Leisure |
| Itau Unibanco Holding | | Banks |
| Net Servicos de Comunicacao | | Media |
| Petroleo Brasileiro | | Oil & Gas Producers |
| SABESP | | Gas,H20&Multiutility |
| Sadia | SDA | Food Producers |
| TAM | | Travel & Leisure |
| Tele Norte Leste | | Fixed Line Telecom. |
| Telecomunicacoes de Sao Paulo | | Fixed Line Telecom. |
| TIM Participacoes | | Mobile Telecom. |
| Ultrapar | | Gas,H20&Multiutility |
| Vale | | Indust.Metals&Mining |
| Vivo | | Mobile Telecom. |
| Votorantim Celulose e Papel | VCP | Forestry & Paper |
To better understand the BOVESPA it is critical to understand the Brazilian economy. Brazil is a nation of 190,732,694 inhabitants with the eighth largest economy in the world by nominal GDP and the seventh largest by purchasing parity. From 1990 until 2010, Brazil's average quarterly GDP Growth was 0.78 percent reaching an historical high of 9.03 percent in September of 1994 and a record low of -7.68 percent in June of 1990. In 2010, the economy maintained a steady growth rate of 7.5% compared to 2009, this was the highest annual rate since 1986 (Trading Economics).
Brazil still struggles with large wealth disparity and high levels of poverty in certain regions of the country. While total GDP is very high, with regard to GDP on a per capita basis ($11,289), Brazil is ranked 71st globally. Furthermore, Brazil on the Human Development Index is ranked 73rd globally. This, however, has given the nation the ability to have substantial room for growth; which is one of the many things that make Brazil so very attractive to foreign investors.
Despite common belief, the Brazilian economy is not primarily driven by agriculture but rather is heavily focused on service-based value creation. The main contributors to Brazil's GDP are shown in the table below. Given the data, it will thus be critical to consider a variety of different factors when forecasting the BOVESPA, including drivers that would impact the service sector such as employment, inflation and interest rates (local).
| | |
| --- | --- |
| Composition of Nominal GDP (2009) | % |
| Agriculture | 6.1 |
| Industrial | 25.4 |
| Service | 68.5 |
Technical Analysis (Click on chart to enlarge)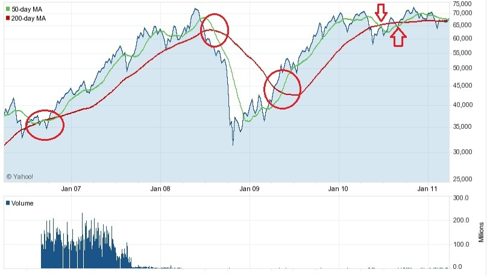 Given that the BOVESPA is a financial asset with accurate data reflecting its value, it is possible to use technical analysis in an attempt to better understand the index and potentially develop a system to understand trends and 'buy' and 'sell' signals.
To understand and use technical analysis one must understand the basic principles that underlie it. Investopedia says:
Technicians say that a market's price reflects all relevant information, so their analysis looks at the history of a security's trading pattern rather than external drivers such as economic, fundamental and news events. Price action also tends to repeat itself because investors collectively tend toward patterned behavior – hence technicians' focus on identifiable trends and conditions.
Moving averages are amongst the most basic technical indicators, however they are useful in indicating when trend reversals occur and where support and resistance levels have developed. As can be observed from the chart below there are four points where the 50 day moving average crosses the 200 day moving average.
The 50-day crossing the 200 day is considered to be significant as it symbolizes the short term trend moving against a long term established trend (200 day). The first cross over point, 50-day crossing from above (a bearish signal) was not accurate in forecasting a downward trend. However the second and third crossover points seem to be effective along with the fifth. Overall, it can be said that using two moving averages for the BOVESPA has some element of success and can be used with some level of effectiveness. Of course, any single technical indicator should always be used in conjunction with other indicators and any signal should be confirmed with high levels of trading volume. Without volume confirming any given technical indicator, it is not considered significant as it is not a 'supported' and thus carries no meaning.
To complement the moving average method two additional methods were employed: Relative Strength Index, and Bollinger Bands. The Relative Strength index serves to indicate whether a security is overbought or oversold and thus the price should revert to 'normal' levels. Bollinger bands help to give traders an idea about the volatility in the market; and result in indicating whether a security is overbought or oversold. The upper and lower lines in the Bollinger bands represent two standard deviations from the center moving average line. The chart below shows the same data as the chart above.
Click to enlarge: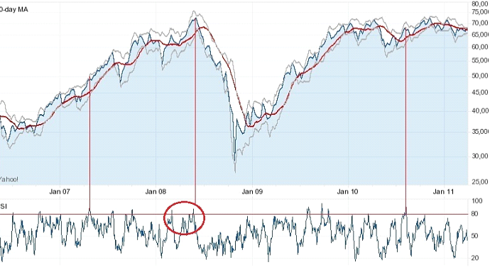 The first high RSI level indicates an overbought level. However, the Bollinger bands do not confirm [this] and the BOVESPA continues its upward trend. The second overbought level is not confirmed by Bollinger Bands. However, the BOVESPA takes a substantial drop. The third and final high RSI point is not confirmed by RSI either and proves to not be significant. It can be concluded that overall, RSI has shown to not be a very successful indicator for the BOVESPA and thus should be primarily relied upon as an indicator.
Disclosure:
I have no positions in any stocks mentioned, and no plans to initiate any positions within the next 72 hours.