Shares of Avanir Pharmaceuticals (NASDAQ:AVNR) surged more than 9% on April 21, 2011, seeing heavy call volume and the heaviest overall trading volume since the FDA approval of its flagship product for the treatment of PBA, Nuedexta (click to enlarge image):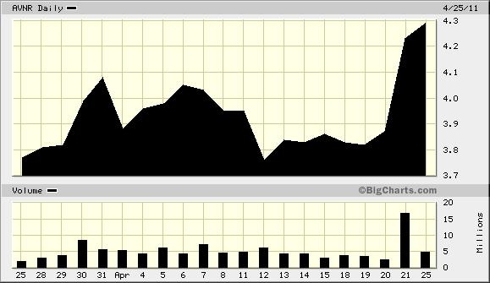 With the new drug's commercialization effort well under way and weekly prescription data rolling in, Avanir Pharmaceuticals is just beginning to demonstrate its relevance in the market and its ability to operate as a fully functional commercial enterprise.
During the initial launch of Nuedexta four burning questions appear to have finally been answered:
Is there really a market for PBA?
Will doctors really prescribe Nuedexta?
Will patients really pay for Nuedexta?
Can the company's management pull off a successful new drug launch in the US without the help of big pharma?
The answers to the above questions (in no particular order) are yes, yes, yes, and yes.
As weekly prescription data flows in and positive stories surrounding Nuedexta's impressive efficacy continue to emerge from patients and doctors alike, it is becoming clear that Avanir may soon be vindicated in its early post-approval decisions to dilute, go it alone in the US, and not rush into a European partnership agreement.
Negotiating from a position of strength:
Having now shown Nuedexta's potential to surpass analysts' peak revenue projections, not only will any would-be European partner be required to pay a premium for rights to market and sell the drug in the EU, but Avanir has also created a situation in which any low-ball buyout offers may safely be laughed-away from the proverbial bargaining table.
Recent developments and upcoming events:
In a move to bolster its already impressive management team, the company recently brought in a well-known industry heavyweight, William Sibold, to act as Chief Commercial Officer. Sibold brings with him a wealth of experience, connections, and (most importantly) success. It has been speculated that his addition to the company signifies that a direction has been chosen with regards to the EU and that it is simply a matter of time until the details are hashed out and released.
While the shorts' bets against the company nearly doubled during Q1 2011, institutions like Barclays quietly added to their positions and, thus far, another quarterly net increase in institutional holdings has been reported.
Avanir is scheduled to hold its FY Q2 earnings conference call next week. It is widely expected to be positive, upbeat, and informative. Though the company has made clear that it doesn't intend to issue any guidance until several quarters of Nuedexta's sales have been booked, management is likely to release detailed initial sales/prescription data which many suspect will surprise to the upside.
Just the beginning?
The recent high volume surge seems to support the general sentiment that things are progressing quite nicely for Avanir Pharmaceuticals and may be just a glimpse of what is to come, as investors appear to be positioning themselves for a much larger move in the days ahead.
Disclosure: I am long AVNR.