Market Opinion: Last week was a great week for the market. The DJIA climbed 1.3%, the SPY climbed 1.32%, and the QQQ stormed up 2.93%. Earlier, we outlined a possible three-month inverse head and shoulders forming on the DIA After seeing Intel (NASDAQ:INTC) and International Business Machines (NYSE:IBM) report good earnings, the Dow rose and broke out right above its right shoulder, confirming the inverse head and shoulders formation. From here, the direction is up.
We see numerous market leaders breaking out with the market - chiefly Apple (NASDAQ:AAPL). Initially, we were worried that AAPL would close at or below 346 after earnings, which would make us bearish on the market, but our anxieties were calmed as AAPL broke well out of its mid-term downward channel, which was very bullish for the Nasdaq. Earlier this week, we also were wondering when the bottom would occur in the semiconductor space. The bottom occurred just before Advanced Micro Devices (NYSE:AMD) reported good earnings and Broadcom (BRCM) shot up on great volume. Financials remain weak with a terrible looking chart on Goldman Sachs (NYSE:GS) unable to break above 154. However, the selling pressure seems to have stopped on JP Morgan Chase (NYSE:JPM) and Bank of America (NYSE:BAC). Silver and gold remain on their rampage, and we expect further buying in the short term until a market top.
Now to position ourselves for a bullish market ... let's talk charts.
The following stocks are a watch list which we may position into next week:
3SBio Inc. (NASDAQ:SSRX)
Most Chinese biotechnology stocks have been in a downward channel but not SSRX. This stock has been in an upward channel since last September, which means it moved more with the U.S. market rather than the Chinese pharmaceutical market over the past eight months. The stock saw strong volume come in all this week especially on Thursday in which SSRX almost reached a 52-week high. On Friday, Oppenheimer said the Chinese biotech/pharma space was a buying opportunity on recent weakness and outlined that buying should move first into the leader of the sector - that would be SSRX.

Click to enlarge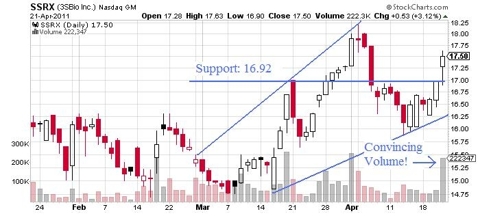 Price Target: $19.00
Support: $16.92

Harmony Gold Mining (NYSE:HMY)

This South African gold stock was recently upgraded on April 21th to a buy from neutral at UBS. HMY is positioned on the breakout with strong volume coming into the upside. With gold breaking out and trading at $1,500/ounce, the momentum in the commodity has significantly increased this week. It's a surprise this stock has not broken out just yet, and if we break higher, HMY should follow suit.

Click to enlarge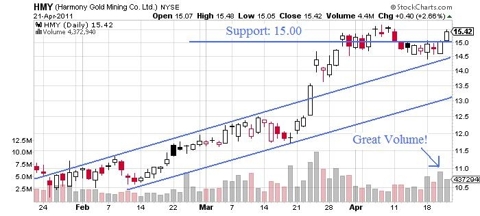 Price Target: $15.98
Support: $15.10
Pioneer Natural Resources (NYSE:PXD)
This oil and gas company had a small pullback Thursday, giving us a buying opportunity. PXD has had a good deal of buying over the past two weeks and has been forming a series of higher lows since March 13. Recently, two analysts upgraded Pioneer Natural to "Outperform" and "Overweight," at Wells Fargo and Barclays, respectively. With the push higher in oil prices regardless of Goldman's downgrade, this stock has higher valuations ahead, and we see investors positioning themselves for a large move higher. We need PXD to hold $99.00 to remain bullish.
Click to enlarge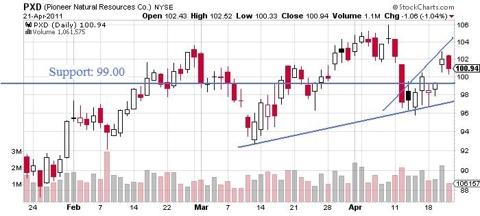 Price Target: $104.00
Support: $99.00
Twin Disc Incorporated (NASDAQ:TWIN)
Twin Disc beat EPS by 56% by reporting a 0.61 EPS vs. 0.39 consensus estimate last week. The company also spoke encouragingly about 2012 (i.e. good guidance). Additionally, on Wednesday, RW Baird raised its price target on TWIN to 40 from 35. Apart from fundamentals and news, the chart looks great with strong volume flooding into the stock. With so much great news out on Twin Disc, we expect the momentum to continue and see the stock reaching 35.42 soon.
Click to enlarge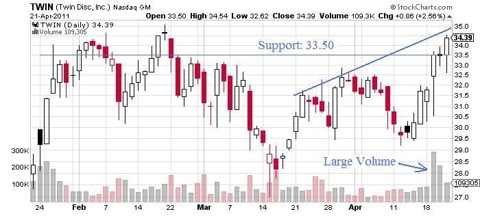 Price Target: $35.42
Support: $34.39
Abbott Laboratories (NYSE:ABT)
It was surprising to see Abbott sell off after earnings. Yet, that surprise was met with buying, and a breakout on strong volume looks ready. Abbott emphasized strong international sales growth in a number of its divisions, which is great to hear when foreign currencies are stronger than the dollar. Much like SSRX, we see this U.S. pharmaceutical company breaking out in the near term as healthcare is starting to come into earnings season and looks quite strong.

Click to enlarge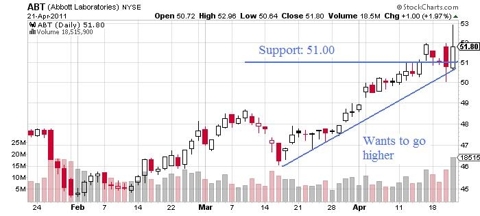 Price Target: $52.83
Support: $51.00
VMware (NYSE:VMW)
After reporting a 13.74% surprise in EPS this quarter, this software company made a tremendous 10%-plus move up this week. However, the momentum has not diminished. VVMW experienced five price target upgrades on April 21 from Susquehanna, RW Baird, RBC, Lazard and Needham in the range of 105-120. We look to buy this stock as a pure momentum play. It should be bought on any pullback with buying coming in on any value.
Click to enlarge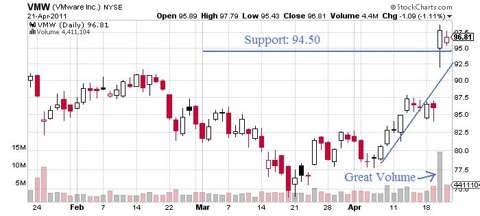 Price Target: $99.70
Support: $94.50
Disclosure: Some information presented in this article can be sourced to theflyonthwall.com. Charts presented are courtesy of stockcharts.com. I have no positions in any stocks mentioned, but may initiate a long position in SSRX, HMY, PXD, TWIN, ABT, VMW over the next 72 hours.