Mortgage insurer MGIC (NYSE:MTG) recently reported earnings for Q1 2011, a loss of $0.17, vs. expectations of ($0.06). Although management reported improvements beyond the normal seasonal expectation for both delinquencies and cures, the stock was hammered mercilessly, along with competitors Radian (NYSE:RDN) and PMI (PMI).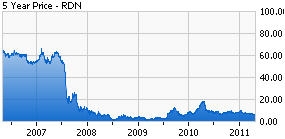 Are these stocks value traps, or will patient investors eventually reap rewards in this troubled backwater of the insurance industry?
I wrote Radian up favorably in December when the stock stood at $7.81. With shares closing last week at $5.52, I'm nursing substantial unrealized losses. Like most value investors, I add to my positions when they go down, something which has not been helpful so far in this case. After making another review of the RDN in the context of the mortgage insurance industry, I believe the recent sell-off is overdone.
Insider Buying at MTG
On 4/21, after the market pummeled MTG's stock in reaction to the prior day's earnings report, CEO Curt Culver bought 40,000 shares at $7.7569, for a cost of 310,276: COO Patrick Sinks bought 25,000 shares; and CFO Jon Lauer bought 20,000, again at market prices.
During the conference call, management expressed considerable optimism about recent reductions in monthly delinquencies and improvements in the cure rate. They said these were better than normal seasonal improvements would have called for, and when questioned provided information that more of the delinquencies were repeaters, who have a well-established tendency to cure rather than go to foreclosure. The biggest improvements were in the most troublesome areas - California and Florida, and the 2006 and 2007 vintages.
The insider buying is a statement, intended to demonstrate management's confidence in their analysis and the future prospects of the company and the industry.
Cheap for a Reason?
| Symbol | RDN | MTG | PMI |
| --- | --- | --- | --- |
| Price | 5.52 | 8.07 | 2.01 |
| Price/Book | 0.85 | 0.97 | 0.78 |
| Forward P/E | 6.57 | 4.72 | 4.90 |
| Target Price | 10.44 | 12.20 | 4.21 |
| Short Interest | 15.01% | 14.16% | 19.21% |
| Risk to Capital | 16.8:1 | 19.7:1 | 19.9:1 |
Here we have a group of stocks that are trading below book value and at very low forward P/E's, but with serious short interest.
The companies have been able to write new business at profitable terms, and if the issues around QRM and the Federal footprint in the mortgage guarantee area are resolved, they will be able to regain market share from the FHA. However, a large number of states require a maximum risk to capital ratio of 25:1, and if the companies continue to write new business while incurring substantial losses on the 2006 and 2007 vintages, they will become capital constrained, and may elect to further dilute shareholders.
Issues Around Federal Involvement
Regulators recently proposed a definition of a QRM (Qualifying Residential Mortgage), as required by Dodd-Frank. The comment period ends June 10th, and implementation will be at least a year after that. QRM's will be exempt from the bill's requirements that banks retain 5% of the risk on mortgages they originate and sell into securitizations. There is much debate about the size of the down payment required for a QRM, 20% in the proposal.
Of particular concern to mortgage insurers, mortgage insurance is not mentioned as a substitute for the 20% down payment. The Dodd-Frank bill instructs regulators to consider mortgage insurance to the extent it reduces defaults.
The trade association, MICA (the Mortgage Insurance Companies of America), presented testimony at the relevant congressional hearing. It is well worth reading in its entirety. Briefly, mortgage insurers are carefully and counter-cyclically regulated by the States, adequately capitalized and able to attract new capital under adverse market conditions, and were warning Federal regulators of impending difficulties as early as 2005. Here's a quote:
Our concern is based in part on the fact that high-risk products can undermine reliance on proven forms of credit risk mitigation like private mortgage insurance (MI). But, far more disturbing to us is the fact that recent trends could lead to sudden increases in foreclosures, accompanying sharp reductions in the value of residential mortgage collateral. This would, in effect, "pollute the residential mortgage well" - a well of profound importance to the depository institutions you regulate and to the mortgage insurance industry.
That's from September 2005. Somebody should listen to these people. One can only hope that unelected regulators, together with our elected representatives, will take an approach that provides an increasing role for private sector capital in the business of guaranteeing and insuring mortgages. Taxpayers have already shouldered too much of this burden, a situation that has been exploited by too big to fail banks.
MICA did produce evidence that low down payment mortgages using mortgage insurance default at a lower rate than similar piggyback loans. Here's a chart of their data, provided by CoreLogic: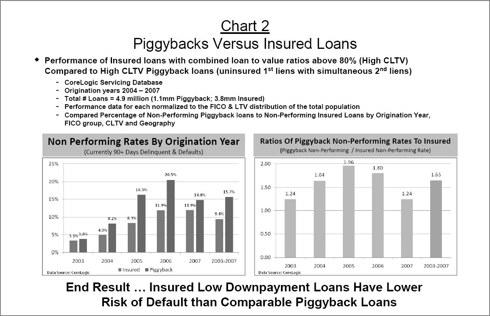 Delinquency Pipeline
The companies provide a delinquency roll-forward, updating on a monthly and quarterly basis. Here's an example from a March press release for RDN: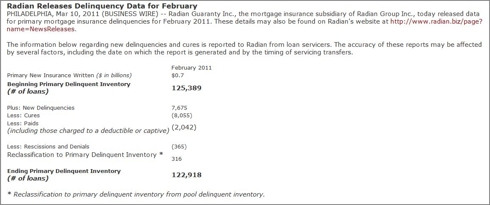 MTG includes a detailed version of similar information in their 1st quarter earnings press release. The big takeaway from their conference call was an improvement in delinquencies, as discussed earlier in the article.
RDN and PMI are scheduled to report their 1st quarter in early May, and I will be reviewing their delinquency roll-forward and listening carefully to management's discussions on this topic.
Radian Update
RDN CFO Bob Quint presented at Credit Suisse Group Financial Services Conference on 2/10/2011. The presentation slides and transcript are available on the website, as are reports from both Moody's and S&P. This update relies on information developed from the sources linked.
RDN's Q4 2010 earnings were marred by an allowance of 841.5 million (6.35 per share) taken against the company's deferred tax asset. This charge can be reversed if and when profitability is restored. The company has adopted a plan intended to preserve their NOL's, as detailed in the 10-K.
Radian Asset Assurance, a financial guaranty subsidiary, has been placed in runoff and contributed to Radian Guaranty (the mortgage insurer) for capital support. RDN does not publish a non-GAAP adjusted book value along the lines used by Assured Guaranty (NYSE:AGO) and MBIA (NYSE:MBI). However, the peculiarities of mark-to-market accounting on derivatives creates a liability that is $500 million more than what the company actually expects to pay for losses.
Finally, Radian Guaranty has a substantial embedded profit in its book of mortgage insurance, which the company estimates at $1.3 billion.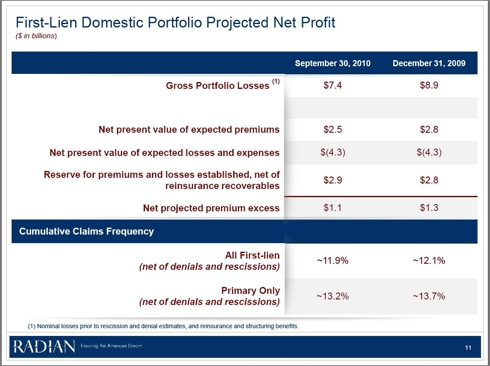 These three items, if added to GAAP book value, demonstrate substantial upside potential from today's prices.
Of particular interest, RDN contacted a representative sample of their aged delinquency inventory and discussed the situation with the homeowners involved. Based on their findings, they believe that there will be a higher rate of cure on the aged delinquency than most market participants are looking for.
And what we've done, and I think it's unique to Radian-- we've gone out, and we've done borrower outreach. So we've actually taken a whole section of our very old, delinquent loans, and we've sent people out to knock on their doors and find out what the heck is going on with these loans. And what we have found is that only a relatively small portion of these loans do we think are going to be definite claims to us. There's a big section of these loans that are potential cures. Either it's a borrower that hasn't made his payments because no one's come to him or he's working with his servicer; he's in a modification program. He lost his job, but now he has a job. And he has the ability to pay something, but he hasn't gotten a call from his servicer. So it's-- I guess it's encouraging in that there are a lot of potential cures that we are seeing out there. It's discouraging because it's kind of stalled, and it's really not coming through the pipeline.
Difficulty of Projections
With the ample detail available on delinquency inventory and loss reserves, it's tempting to try to model the outcome. I've done some work in the past with complex models, on refineries and chemicals, and was not able to generate output that had predictive power. However, professional analysts work on that basis, and may encounter less difficulty. I took a pass.
The analyst community, having done their best, has some optimistic estimates for 2012. The problem is, nobody knows what delinquencies will be like 6 months or a year from now, so regardless of how elaborate and carefully thought out the model is, there is still a huge element of luck and chance in the accuracy of any predictions.
The 2012 estimates are best thought of as normalized earnings. Mortgage insurance is fairly leveraged and when written on good quality mortgages it is very profitable. A 15% ROE is possible, so applying that to the book value per share you get normalized earnings, apply a multiple of 10.5 to that and you have a target price. For RDN, that would be book value 6.46 X 15% ROE = .97 EPS X 10.5 P/E = 10, fairly consistent with consensus.
Bear in mind that there is phantom book value in the form of deferred tax assets that can be resuscitated, as well as overstated losses due to mark to market in the financial guarantor and the embedded value in the book of mortgage insurance.
Valuation
After putting this through the blender, I'm investing on the basis that shares of RDN will trade as high as 11 by the end of 2012. Mortgage insurers, including Radian, are speculative investments and not suitable for those who cannot tolerate extreme volatility and possible loss of principle.
Short Interest
High short interest is always a reservation. However, in this case, I think the short-sellers involved are more opportunistic momentum players and not too concerned about the fundamentals. I personally would not short a company that is writing profitable new business, trades for less than book value, and has demonstrated access to capital markets.
Strategy and Tactics
Radian has a beta of 2.9 and implied volatility of 64.54%. It's optionable, to include LEAPS. The range of possible outcomes is very broad, noting the relatively high consensus target price and the large short interest, as well as the potential values not expressed in GAAP book value.
From where it is, I'm long by a mixture of shares, deep in the money covered calls, and short puts. The Jan 2012 2.5 calls make sense to me as a way to hold my position going forward, and I plan to concentrate my existing position into the Jan 2.5 calls over the course of the next week or so. I'm digging in to wait it out, although I might sell some covered calls in the event of a bounce, as a way of funding the time cost of maintaining the position.