Molycorp (MCP) invited our editor to attend the groundbreaking ceremony at their Mountain Pass facility on April 20th and we were offered the opportunity to get a tour of the property.
Author's Note: Please note that all pictures are the property of The Strategist Newsletter and our founder & editor in chief Jon Christian Evensen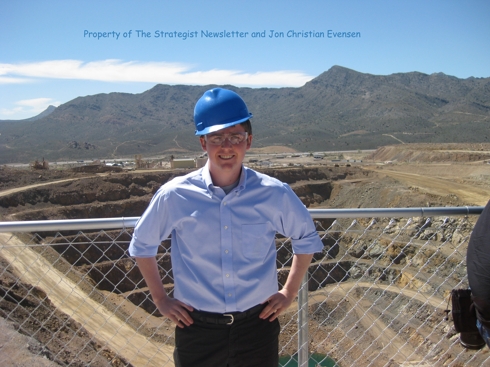 (Click to enlarge)
*The current pit disturbance areas is 55 acres and is forecasted to be over 150 acres in thirty years time. This picture is of our editor on the north side of the pit. The pit is expected to expand to the west and the north over the course of mining operations.
Our newsletter subscribers and those who read our work published on Seeking Alpha are familiar already with our views on Molycorp before our visit to the Mountain Pass. For that reason we will not waste your time telling you something you probably already know. If you are new to the rare earth investment story and Molycorp specifically, we would recommend reading our article on Seeking Alpha "Molycorp: Sunshine on the Horizon, Not Smoke."
Getting Element Specific: Raising Our Long Term Price Forecast
The first interesting piece of information to come out of this trip to Mountain Pass was on our bus ride from the hotel in Las Vegas to Mountain Pass when Jim Sims the Director of Public Affairs for Molycorp started talking about Dysprosium production at Mountain Pass which got our attention, because we when we built our original valuation model we did not include any revenue from Dysprosium Oxide production. When we asked Mr. Sims for an expected Dysprosium annual production figure, he said they were not disclosing it but that it would not be enough to entirely satisfy domestic demand. We currently do not model for any Dysprosium production, but in our view though, any Dysprosium production is a net positive.
The second thing that stood out to us was that we learned one of the uses for lanthanum and cerium is to crack heavy oil into lighter petroleum products. This is not a use for these specific rare earths that we were previously aware of, but it stands out to us as a major growth opportunity in terms of demand drivers.
We definitely came away from our visit thinking that Wall Street and investors are making a mistake being so focused on the heavy rare earth element issue and not giving more consideration to the light rare earth elements. Cerium and Lanthanum are the elements that have seen the steepest price increases since China slashed export quotas last summer. Management told us that they have customers telling Molycorp "if we cannot get product in the next couple of months we will have to shutdown for awhile." Management also stated that right now there is essentially zero cerium or lanthanum available outside of China beyond what Molycorp is producing from stockpiles.This information puts our mind at ease somewhat regarding the risk of a potential supply surplus in those two specific rare earth elements. In the slideshow management presented prior to the tour, demand for Lanthanum Metal in 2015 was guided to 52,000 tons per annum or an annualized growth rate of 19%.
Combined with the fact that currently cerium and lanthanum are the most impacted markets due to the Chinese export quotas and exporters opting to export the more expensive elements with their quotas, we are raising our long term rare earth price forecasts to reflect the increasing likelihood in our opinion that all cerium and lanthanum demand outside of China will have to be satisfied by supply outside of China.
In the media briefing prior to the tour, we learned that several Fortune 100 companies are in talks with Molycorp to secure a steady supply of rare earths. The reason for this is that many of these companies are sick of wondering where their next pound or ton of cerium is going to come from because of the uncertainty. The end result of this in our opinion will be off-take agreements, which is something Molycorp plans to secure for portions of Mountain Pass production. While we will have to wait for any agreements to be announced before evaluating how they impact our valuation model, in the current pricing environment we expect Molycorp will be able to secure favorable price floors and price ceilings since companies normally desire to have a steady supply of raw inputs.
Cost of Production: Low Cost Producer Worldwide
Management was very focused on the message that the cost of rare earth oxide production for Molycorp will be $2.77/kg or more appropriately half the Chinese cost of rare earth oxide production. In the spirit that such an excellent part of the Molycorp story merited some due diligence, we asked management what percentage of that figure was natural gas, what price of natural gas they were assuming in that figure, and if Molycorp planned to hedge its natural gas exposure. The answer we got from Mark Smith, CEO of Molycorp, and Dr. John Burba, Chief Technology Officer, was that Molycorp does not plan to hedge Molycorp's natural gas exposure, assumed a $5 natural gas price, natural gas made up 10-15% of the COGS number (rough estimate), and that the cost of production is not very sensitive to fluctuations in natural gas prices.
We heard a little bit about the engineering aspects of the new chemical processing methods Molycorp will be using, however we also learned that the company intends to treat some of the processes as trade secrets due to intellectual property concerns.
One thing we got great detail on is that Molycorp is looking to reduce the wastewater output from the chemical processing. Mark Smith made a point that in his many years in the mining industry, evaporation pools and dams sooner or later may leak, and as a result Molycorp is trying to minimize the need for evaporation pools. We learned that Molycorp intends to build a chlor alkali plant to convert the salt water by product of its chemical processing back into acid and base to be used again in the chemical extraction process with the water being recycled back into the extraction process.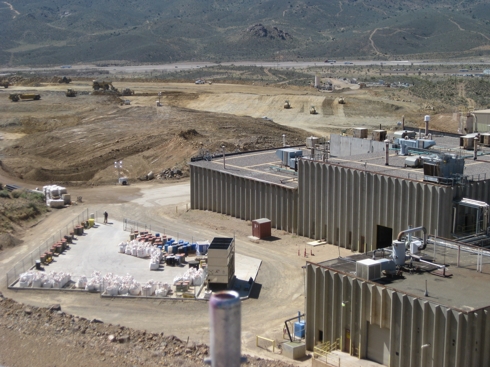 *Notice the flat plateau foundation being constructed in the background of the current facility, that should be completed in three months at which point a significant portion of the new facilities will be constructed on that foundation.
Pending Strategic Partnerships
We asked about the pending Sumitomo equity investment and were told that when it closes the shares will be priced based on a 20 day volume weighted average price.
Digging really deep into the IPO prospectus, we asked if there was an update on the relationship with Neo Materials as outlined in the S-1 that the two companies had entered either a letter of intent or memorandum of understanding (those that are concerned which of the two it is, just email us). Mark Smith said that at this point it looked like it would primarily be a technical exchange.
Hitachi is the primary provider of sintered permanent rare earth magnets (95% of the market) and management said that joint venture is on track with only a minor delay due to the earthquake and tsunami in Japan.
Financing: Management offers indications they are looking at debt financing
When the issue of raising the remaining funds for the Phase II expansion, management indicated they were reviewing several debt financing options. When media members pressed on the possibility of equity financing, we got the impression that it was not something management was interested in or considering.
Political Standing: Everyone Seems to Be On Board
At the groundbreaking ceremony, we heard from two congressmen, Senator Harry Reid sent a representative, three California assemblymen, two country officials, and the union leadership.
Everyone seemed really excited about the project. Some bears on Internet message boards have brought up the desert tortoise as a potential issue, but Molycorp seems to be in front of it. They announced at the ceremony that they donated some land for a facility to raise some desert tortoises that could then be released into the wild. So for those bears and short sellers dreaming of an environmental crack down, we don't think its going to happen based on what we heard. Molycorp appears to have gotten all their ducks in a row.
The Grand Slam of The Trip: the Second Richest Rare Earth Deposit in North America
At this point, we all know that Molycorp is looking to produce 40,000 tons per annum for a 15 year mine life. The sell side analysts have built their models using that assumption. And there has been speculation, including by yours truly, that around 2015 Molycorp would look to acquire a second project that could feed its facilities once Mountain Pass ran out.
Well, Molycorp currently also has mining claims on what they estimate is the second richest rare earth deposit in North America and it's a three minute walk or van drive from the open pit at Mountain Pass. It is the tailings pit that contains 10-20 million tons of tailings created by the 50+ year operational history of Mountain Pass. The estimated TREO of the tailings pit is 4-5% with four to five times the HREE/TREO percentage found in the main Mountain Pass ore body.
The reason the tailings are so rich in rare earth elements is because when Mountain Pass first started there were not very many uses for rare earth elements. In fact the first thing Mountain Pass produced rare earths for was lighter flints. This was followed by Europium for the color in televisions. But whatever was not needed due to a lack of use for it was put in the tailings pit. Well there is now a use for pretty much all the rare earth elements.
The tailings pit is covered by an engineered cap of approximately 2-3 feet in thickness. The cap is designed to absorb precipitation and let it evaporate without moisture seeping into the tailings. We were right next to the tailings pit during our tour, and let us just say it was kind of surreal realizing that the richest rare earth deposit in North America was the source of the second richest and that the new Molycorp facilities are literally a two minute walk from it.
*This picture of the tailings pit was taken from the same point as the pictures above of the facilities were taken, all our editor had to do was turn around and walk twenty feet so the tour bus/van wasn't blocking the picture.
The reason no one is talking about this tailings pit which could add an additional ten years of full production to the mine life of Mountain Pass is because it is a non-compliant resource. We asked management why they wouldn't try to upgrade it to a compliant resource and we were told that if the compliant resource is higher then the property tax bill will go higher. Management indicated their goal is to have a compliant resource to supply 30 years of mine life and based on our calculations they technically do right now before adjusting for Phase II doubling capacity, so the way we see it there is no need to upgrade this tailings pit to being a compliant resource for many years to come.
Management during the day was constantly talking about the 2% TREO ore grade level like it was gospel whenever someone mentioned the junior rare earth mining companies. We heard several times that if the ore grade was below 2% TREO that Molycorp did not generally think the ore could be extracted and processed economically.
The only resources outside of China we know of that are of both substantial ore grade and volume are Mt. Weld and Mountain Pass. Great Western's (OTCPK:GWMGF) South Africa project has a high ore grade, but not a lot of volume (historical resource estimate of only 30,000 tons) however they have issued a press release indicating they will be bringing the resource into compliance, and we are looking forward to seeing that report and if the resource is expanded (which is critical to the economics of the Steenskampskraal deposit). Bear Lodge in Wyoming is controlled by Rare Element Resources (NYSEMKT:REE) and has a TREO of between 3-4% but it is not accessible via just one pit (the resource is split up and not continuous). As a result, until we knew about this tailings pit we were viewing this 2% TREO talk as just bluffing by management since we were having difficulty finding a deposit that had a 2% TREO outside of Mt. Weld and Mountain Pass and those two mines alone cannot satisfy the global demand for rare earths outside of China on an element by element basis.
But with the tailings pit, it does not look like Molycorp will be going resource shopping in the near or medium term. With the tailings pit being right on the Mountain Pass property, Molycorp would not have to outlay an additional quarter to half a billion dollars to bring a second deposit up and running since the facilities for the main ore deposit will already be there on site. When we asked management why we had never heard about the tailings pit's high TREO levels before, we were told that they had mentioned it at conferences but no one seemed to have put two and two together.
Net Present Value: Adding the Tailings Pit to Our Model
We are including production from the tailings pit to our model as production from 2029-2038 at 40,000 tons per annum. This figure was taken from the estimates we received while on the tour of 10-20 million tons of tailings at 4-5% TREO and using the low end of those estimates plus assuming capacity remains at Phase II levels. We are assuming an identical metallurgy even though management indicated there is a higher percentage of heavy rare earth elements in the tailings. We are keeping the cost of production to account for the fact that tailings have already undergone some level of processing in the past.
Normally we do not include non-compliant resources in our models for mining companies, but with the resource literally right next to current open pit and facilities, and the fact that exploitation would not be necessary until the current ore body becomes uneconomic or ends (we have not assumed an expansion of the current resource even though Molycorp said they have not yet defined where the main ore body ends) we have decided to include it in our model using the low ends of the guidance we and others in our tour group received when we asked for an estimate of what the tailings pit contained.
Due to the uncertainty involved with the addition of the tailings pit production to our model, we are increasing our discount rate to 12.5% from 8% for the entire model, not just the years assuming exploitation from the tailings pit.
We have also updated our long term pricing forecast for our base case scenario to reflect the increased domestic rare earth prices in China. We view the current domestic rare earth prices in China as indicative of a long term floor.
Please also note that our model does not include in 2011 and 2012 any cash flow contribution from operations (inflow or outflow) beyond the capital expenditure required for Project Phoenix, and yes that means we are not including any 2H12 production in our valuation model (Project Phoenix Phase I is scheduled to be mechanically complete in July 2012).
Bull Case: Net Present Value is $193/share
Our bullish case assumes that March 11th spot prices sustain themselves throughout the life of the Mountain Pass mine. We would note that some sell side analysts get substantially higher net present values when spot prices are inputted for the life of the Mountain Pass mine (and those models do not include production from the tailings pit), so our bull case net present value in all likelihood is conservative for this pricing scenario. Probability: 10%
Base Case: Net Present Value is $116/share
Our base case scenario includes our new long term rare earth price forecast. We are now assuming the Mountain Pass basket price will be at 100% of March 11th spot prices in 2013, 75% of spot prices 2014-2016, 65% of spot prices 2017-2020, and 50% of spot prices after 2020. We feel very comfortable with this updated pricing forecast in part due to increased domestic prices in China and what we learned on our trip to Mountain Pass. Our 2021 onward Mountain Pass basket price is below the current Mountain Pass basket price based on domestic Chinese prices, which we view as very conservative on our part but fits into our philosophy on valuation of toning down the conviction of our investment thesis in order to create a margin of error to the upside at the gain of a reduced risk to the downside. Probability: 85%
Bear Case: Net Present Value is $73/share
Our bear case scenario assumes 45% of March 11th spot prices in 2013 going forward. We find this very unlikely due to the fact that this is far below China's domestic prices. Probability: 5%
Bottom Line
On a weighted probability average basis: our new net present value estimate for Molycorp is $120/share. To the best of our knowledge, this is highest price target on the Street for MCP.
Upside Risks to Our Valuation
We would also note that current spot prices are higher than the March 11th spot prices we have used in our models - so there is an upside bias to our valuation if we put current spot prices into the model.
We also note that we have not taken into consideration the possibility that Molycorp may process rare earth concentrate produced by rare earth mines brought online by other junior rare earth companies (this was mentioned by Rare Element Resources management in an article published by the Associated Press as a possiblity when discussing their Bear Lodge deposit - see the March issue of The Strategist Newsletter for the article excerpt) .
In China, rare earth concentrate producers receive 15% of the end value of the processed concentrate according to individuals we have spoken to in the rare earth industry. However, at this time we have not included any such arrangements in our model for Molycorp. We do note however that the cost of expanding an existing facility to increase capacity are relatively small compared to the cost of an entirely new plant being constructed by one of the junior rare earth mining companies.
Management indicated that they do not know where the main ore body at Mountain Pass ends, which indicates the potential for resource expansion. On the tour we heard that one drill hole on the west side of the property had tagged the deposit at depths of 3000 meters, of course that was followed with the point that one drill hole does not make a mine. We would expect to see an updated compliant resource estimate by the end of 2012 from Molycorp. If the current ore body can be expanded at the current economics, it will push off the potential exploitation of the tailings pit and increase our valuation.
Downside Risks to Our Valuation (and our responses)
We have seen some commentary making the argument that the fair value of Molycorp is below the current market price, and we disagree with that assessment. Even if we factored in a one year delay in Project Phoenix plus our bear case pricing scenario, the fair value of Molycorp is pretty close to the current market price. This to us suggests that the risk/reward on Molycorp remains very compelling, especially when we consider that if rare earth prices crash that several junior rare earth companies will find their projects not to be economic anymore.
We have heard the argument that Lynas Corporation (OTCPK:LYSCF) is scheduled to be the first to "full-scale" production outside of China, and we do not dispute that. We actually like Lynas Corporation as well as Molycorp.
But the reason we prefer Molycorp is because while the Molycorp cost of production is $2.77/kg, the Lynas cost of rare earth oxide production is $10/kg which suggests that should prices collapse the survivor will be Molycorp instead of Lynas.
Another argument we have heard against Molycorp is that Molycorp has not fully funded Phase II of Project Phoenix. We would point out Phase I is fully funded (which will generate substantial free cash flow), so now the major risk is completing the project on time and on budget. Obviously a delay in Phase II of Project Phoenix would impact our net present value assessment negatively, however not substantially such that our entire upside from the current share price is wiped out. At this point, we do not expect Molycorp to have issues raising the remaining funds for Phase II of Project Phoenix.
Conclusion
We say it's time to back up the truck and load up on Molycorp if you have not already done so. Our editor is looking to increase his position via either stock or options at some point in the next week. The Molycorp allocation in The Strategist Newsletter Paper Portfolio was increased as of the Thursday April 21st market open.
*All costs related to our trip to Mountain Pass were covered by our editor. Molycorp provided us with a bus ride from our hotel to and from Mountain Pass which, when our editor is not old enough to rent a car, beat the alternative of hiking over 60 miles through the desert from Las Vegas to Mountain Pass and back again.
Disclosure: I am long MCP, LYSCF.PK. The facts in this newsletter are believed by the Strategist to be accurate, but the Strategist cannot guarantee that they are. Nothing in this newsletter should be taken as a solicitation to purchase or sell securities. These are Mr. Evensen's opinions and he may be wrong. Principals, Editors, Writers, and Associates of The Strategist may have positions in securities mentioned in this newsletter. You should take this into consideration before acting on any advice given in this newsletter. If this makes you uncomfortable, then do not listen our thoughts and opinions. The contents of this article, email, and/or newsletter issue do not take into consideration your individual investment objectives so consult with your own financial adviser before making an investment decision. Investing includes certain risks including loss of principal.