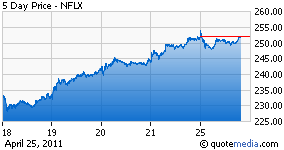 Netflix (NASDAQ:NFLX) just released its first quarter earnings. Earnings per share were $1.11, up 88% (3 cents above the consensus estimate of $1.08). Revenues came in at $719 million. And Netflix added 3.3 million U.S. subscribers in the quarter, plus another 290,000 intern, to end at 23.6 million, which is slightly below the 3.7 million analysts were hoping for but still double the growth from a year ago. Net income was $60 million, and free cash flow in the quarter was $79, a 55% increase from the fourth quarter.
Netflix saw a rise in domestic operating margins to 16%, from 14.9% in the fourth quarter, largely due to an increase in streaming-only subscribers and price increases on hybrid subscriptions. Margins should fall back to around 14% as streaming and marketing costs continue to rise (offset by declines in DVD shipping).
Netflix is licensing more video from broadcasters, and also last quarter commissioned its own mini-series, a remake of the BBC's House of Cards with Kevin Spacey. But in its quarterly letter to shareholders (embedded below), Netflix CEO Reed Hastings and CFO David Wells write:
Rather than a shift in strategy toward original programming, our decision was driven by a desire to test a new licensing model using a small portion of our content budget.
Netflix is hoping to license two or three similar shows in the future, but doesn't expect to spend as much as it did on House of Cards. The company did not break down its licensing cost for that show, however. The letter also tries to downplay the threat Netflix poses to traditional cable providers, suggesting that there is more "cord mending" going on than "cord cutting." Essentially, you should think of Netflix as "rerun TV." From the letter:
Recently, the CEO of an MVPD characterized Netflix as "rerun TV." While we don't plan to use that line in our next marketing campaign, he is fundamentally correct.
As for competition for streaming online video, it's coming from Hulu Plus, Amazon Prime and possibly:
We also think Dish Network is likely to launch a substantial subscription streaming effort under the Blockbuster brand.
Some other stats from the quarter:
Marketing costs rose 39% to $104 million
The domestic churn rate rose lightly to 3.9% from 3.7% in the fourth quarter of 2010
Free subscribers in trials represented 6.1% of the total, down from 8% last quarter
Paid subscribers in the U.S. totalled 21.4M, up 57%
Below is Netflix's quarterly shareholder letter: