by Sebastien Buttet and John Schloss
As the stock market starts discounting the end of the Fed's QE2 coming in June, along with possible spending cuts and austerity programs in Washington, investors should start rotating money from beloved momentum stocks such as Netflix (NASDAQ:NFLX) or Open Table (NASDAQ:OPEN) towards companies with stable operating business and good dividend yields. Lorillard (NYSE:LO), the third largest U.S. tobacco company, is such a company.
About one month ago, an independent report about menthol cigarettes by the Tobacco Products Scientific Advisory Committee concluded that "menthol flavor harms the public by luring more people to start smoking and making it harder to quit" but fell short of recommending an outright ban on menthol cigarettes to the U.S. Food and Drug Administration (FDA). That same day, shares of Lorillard (LO), which derives a substantial fraction of revenues from its leading brand of menthol cigarettes Newport, surged by more than 11 percent closing at $87.11. Upgrades by Goldman Sachs (NYSE:GS) and UBS AG (UBSN) rapidly followed and the stock is now trading around the $100 mark.
Are investors late to the party? We review 5 positive catalysts for LO as well as some bullish technical indicators:
The company generates 86% percent of its revenues from premium brands, including Newport, Kent, True, and Max. Newport is the leading brand for menthol cigarettes and holds the number two spot for the overall US cigarettes market trailing only to the Marlboro brand. The focus on strong brands has allowed LO to pursue an aggressive pricing strategy and its operating margins of 43% (as defined by the ratio of Ebitda to Sales) are the highest among large tobacco companies.
Even after its recent surge, the stock only trades at a PEG ratio of 1.25 - the ratio between current P/E and projected earning growth in 2011 (see Table 1). In comparison, Altria and RAI are more expensive with PEG ratio of 1.4 and 2.5, respectively.
Moody's has an investment grade rating on LO's debt (Baa) with no immediate refinancing need, reflecting LO's strong financial position and robust free cash flow. With an interest coverage ratio of 6 times earnings and a ratio of debt/ebitda of 1.1, LO has all the financial resources it needs to meet its short-term obligations.
Healthy free cash flow allows for both dividend payments and shares buyback. Currently, LO has a 70% payout ratio and a dividend yield of 5.26%. Both are in line with the tobacco industry's practices.
Finally, LO has been a darling among professional investors with institutional ownership at more than 99%. Retail investors beware though as the stock could become volatile if money managers decide to dump large blocks of shares onto the market.
| | | | | | | |
| --- | --- | --- | --- | --- | --- | --- |
| Stock | Market Cap in $Billions | 12-Month Trailing P/E | 2011 Projected Earnings Growth Rate | PEG | Dividend Yield | Institutional Ownership |
| LO | $14.1 | 14.5 | 11.6% | 1.25 | 5.26% | 99.80% |
| MO | 55.6 | 14.4 | 10.2 | 1.41 | 5.63 | 61.51 |
| PM | 118.2 | 16.97 | 18.2 | 0.93 | 3.85 | 72.20 |
| RAI | 20.9 | 16.07 | 6.4 | 2.5 | 5.81 | 47.41 |
Technicals for LO are also bullish:
1. The stock is in a long-term upward trend since its divestiture from Loews Corporation in 2008. The rising support line which is obtained by connecting the stock's higher lows has never been violated in the last 3 years, validating the long-term upward trend.
click to enlarge images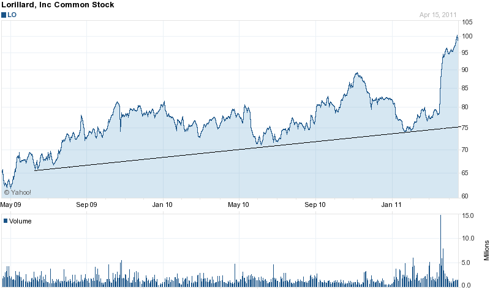 Click to enlarge
2.The 50-day and 200-day moving average are both trending higher. In addition, the 50-day moving average recently crossed the 200-day moving average, a bullish event known as the Golden Cross.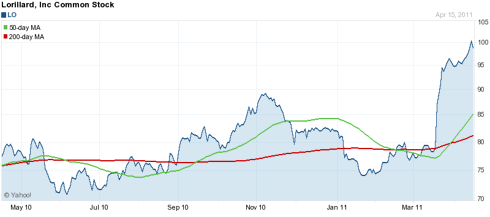 Click to enlarge
3. The stock closed at $97.83 on April 19th, 2011, well above the 50- and 200-day moving average indicating that the upward trend is still intact.
In summary, we find LO's stock to be an attractive investment proposition based on fundamental and technical indicators alike. We also believe that the stock is slightly pricey after its huge run-up and would rather wait for a pull-back to jump in.
With the on-going market uncertainty created by the Fed's QE2 program ending in June, we believe that investors will have plenty of chances to pull the trigger and buy LO at lower prices. We also handicap the litigation risk favorably as states and the federal government can't afford to part with the tax receipts associated with tobacco amidst the current budget crisis.