I know that most precious metal bulls would strongly disagree that silver is in a bubble right now, but one quick glance at a 35-year chart of the metal paints a pretty strong picture. Silver prices are jumping about $2 this morning hitting $48 per ounce, a level not seen since the last precious metal bubble of the late 1970's/early 1980's.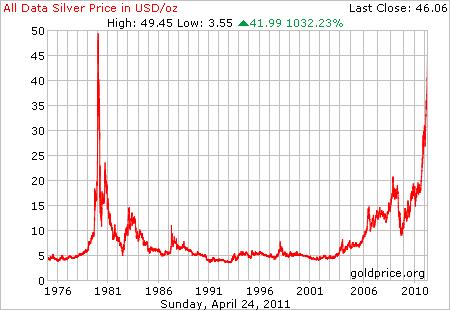 The macroeconomic backdrop 30 years ago was quite similar to today; a poor economy, high unemployment, fears of rising inflation and a weakening dollar, etc. History tends to repeat itself and this time appears no different in the commodity markets.
Given the momentum in the silver market right now, I would urge caution. If you want to jump on the train, do so at your own risk and at the very least, keep in mind the 35-year chart below, which shows that silver typically fetches between $5 and $10 an ounce during normal economic times, despite an occasional bubble that can end awfully quickly.
As much as it seems far off at this point, we will once again have normal economic times in the United States - although the timing is impossible to predict - and once we do, there is reason to think that the silver bubble will deflate.
Disclosure: I have no positions in any stocks mentioned, and no plans to initiate any positions within the next 72 hours.