Keryx Biopharmaceuticals (KERX) has several advanced pharmaceutical products in the pipeline, including an orally administered anti-cancer agent and a drug to treat a serious complication associated with kidney failure. The latter is currently entering Phase 3 clinical trials. Over the past year, the stock has traded between $3 and $6.50, and the current price is around $5.
Traders mildly bullish on KERX have an excellent opportunity to book a gain of nearly 50%, with about 30% downside protection, between now and January expiration. As of this writing, the Jan11 $5 calls are mid-priced around $1.70. A buy-write--buying shares of the stock and selling one Jan11 $5 call for each 100 shares--should cost about $3.35 per share (assuming $0.05 slippage on the sale price of the calls).
If KERX is at or above $6.50 at January expiration, the shares are called away and you keep the $1.70 per share profit on the calls. But even if the stock falls to $3.30, you still break even (less commissions and fees). Naturally, it's important to have an exit strategy--for example, stopping out at a certain pre-defined loss or rolling the short calls down to bring in additional premium--if the stock goes strongly against the position in the near-term.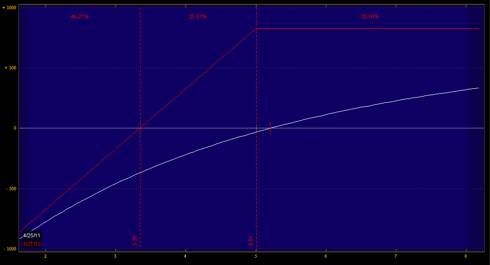 The graph above shows the anticipated profit/loss for a range of stock prices, both initially (white line) and at expiration (red line). The simulation includes $0.05 slippage in the buy-write purchase price.
Note that earnings are expected on May 9, so there's an element of an earnings play in this trade. We're taking advantage of the fact that we can sell options premium equivalent to 100% implied volatility to bulls who are willing to pay big money for the chance to capture a huge break-out. Personally, I don't need to gamble $1.70/share on the slim hope of doubling my money, when I have a much better chance of getting a 30% return in fewer than 8 months, with much less risk, by selling the calls and covering it with the stock.
Also note: Never buy any stock without thoroughly researching the company's business, financial fundamentals, and potential risks.
Disclosure: I currently have a small position in the KERX covered call described above.