Note: The following contains highlights from Reporting Monitor, available for download here. The report breaks down S&P500 earnings reports as they come in and groups them by Select Sector SPDR. To further research the Sector SPDRs of any of the 600+ funds we cover load the ETF Analyzer PREMIUM app. Try it FREE today.
OVERALL HIGHLIGHTS
With 29% of S&P500 firms having reported Q1 results so far, index earnings are forecast to grow 16.9% YoY, lead by the Technology (XLK) and Energy (XLE) sectors (see chart at bottom). Comparisons are now much tougher than they were last year, which is why overall EPS growth is likely to slow dramatically.
Sales are forecast to grow about 8.0% YoY, but excluding the Energy sector the figure would be only half that amount. Thats represents a significant deceleration in sales growth (ex-Energy) versus the 6-7% rate that persisted last year. Revenue for Financials (XLF) and Utilities (XLU) are forecast to have declined in Q1.
Though still early, the biggest positive surprises have been in the Materials (XLB), Financials, and Industrials (XLI) sectors.
THE NUMBERS, SECTOR BY SECTOR
CONSUMER DISCRETIONARY SPDR (XLY)
Q1 earnings are forecast to grow about 12% YoY to some $17.2 billion, or $0.53 per share, on revenue growth of 7.1%. That would represent an uptick in margins from a year ago (+0.3%) but also a decrease sequentially of 0.2%. At 15.7x 2011E EPS, the sector is tied with Industrials (XLI) for the highest P/E ratio.
CONSUMER STAPLES SPDR (XLP)
Staples should see decent earnings growth of about 6.4% YoY, on the back of healthy sales growth (for this sector, anyway) of 5.6%, indicating that firms in the sector are able to pass along price increases to some degree, to compensate for the rising cost of the agricultural and raw materials that are such a big portion of costs.
ENERGY SPDR (XLE)
Sales growth of 30%, or $85 billion, amounts to roughly half of all S&P500 sales growth. But with margins barely improving, profit growth is expected to be up about 31% YoY. Energy is the second largest source of S&P profits after the Tech sector.
FINANCIALS SPDR (XLF)
Although expected earnings growth of 14.5% appears healthy, it is due mostly to easy comparisons (i.e., fewer write-offs) versus Q1 2010. But those figures mask a more difficult reality: revenues are expected to fall some $15 billion, or 4.5%. So far, however, Financial firms that have reported Q1earnings have beaten expectations by an average of 4.7%.
HEALTH CARE SPDR (XLV)
Steady-as-she goes: earnings should grow 5.5% on sales growth of 4.6%. XLV remains the cheapest Sector SPDR at just 12.2x 2011E EPS, compared with 13.6x for the S&P500 as a whole (Health Care has historically traded and a premium to the market). It also continues to enjoy the highest ALTAR Score™—our measure of an ETF's overall investment merit—of any Sector SPDR.
INDUSTRIALS SPDR (XLI)
A very solid recovery is underway for Industrial firms. Q1 earnings are forecast to grow 29% on sales growth of 7.0% on a major improvement in margins, thanks partly to recovering capacity utilization rates. But here too higher commodity prices could spoil the picnic, as margins are expected to tick down versus Q4 2010.
MATERIALS SPDR (XLB)
Higher commodity prices are of obvious benefit to firms in XLB, where earnings are forecast to increase 44% YoY, the fastest of any sector. However the materials sector is also the smallest, and hence it won't have a big impact on overall S&P500 earnings growth (although higher commodity prices could ruin things for many other sectors).
TECHNOLOGY SPDR (XLK)
The Tech sector (including Telecoms) is the largest in the S&P in terms of both market cap and earnings, and the sector is on fire. Profits are forecast to increase $7.5 billion, or 21%, on sales growth of 11%, thus also making the sector the biggest contributor to growth in Q1. The disasters in Japan and the supply disruptions they engendered happened too late to affect margins for Q1, but they are already forecast to decline 0.8% versus Q4 2010.
UTILITIES SPDR (XLU)
Utilities is the only sector expected to report a decline in profits for Q1, of about 3.4%, on sliding sales down 7.6%. Worse, earnings are forecast to be flat both this year and next.
Figure: 1Q11 S&P500 Earnings Growth by Sector ($mns and %YoY)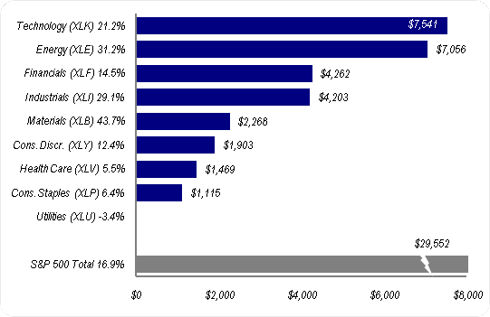 Source: ETF Research Center
Disclosure: I have no positions in any stocks mentioned, and no plans to initiate any positions within the next 72 hours.