As money continues to pour into the silver ETFs, namely PowerShares DB Silver (NYSEARCA:DBS) and iShares Silver Trust (NYSEARCA:SLV), the feeling of a bubble continues to build. That's not to say that owning silver is an unwise decision and that prices will move lower in the long-term, but it appears that we are headed for a silver correction.
In the classic investors chase for performance, investors may be getting ahead of themselves. Through last Thursday's close, silver as measured by SLV was up 25% in the last month. Over the past 60 trading days, silver prices have jumped nearly 60% and now stand at almost at four standard deviations above the average price move (see chart below). As a trend follower, I recognize the likelihood of mean regression, and the further the standard deviation above the mean, the more dangerous the trade becomes. This is not an exact science, and the price could move higher before correcting, but simply put, the risk to be invested in silver today is too high to justify the reward.
click to enlarge image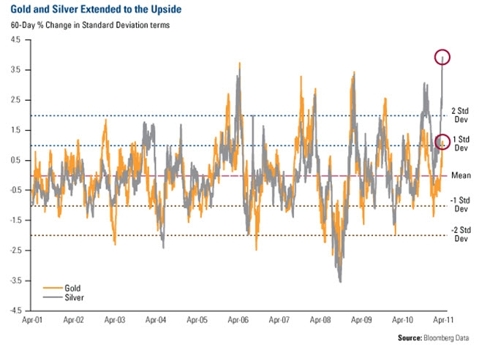 Click to enlarge
Silver is quickly approaching technical resistance around $48 and further technical resistance sits at the January 18, 1980, high of $48.70. Interestingly, volatility and volume yesterday picked up in silver ETFs in a big way. It is uncertain as to the cause, but there was speculation yesterday (which was promptly refuted by BlackRock) as to whether the iShares ETF actually holds physical bullion. It's hard for me to believe that this rumor is enough to drive silver trading, but in an uncertain world, traders react to what they hear.
Silver (SLV) opened yesterday at nearly $47 before falling over 4% in the first hour of trading. Over the next two hours, the metal regained its losses rising 3.9% before settling into a down-trending range that led to a close down 1.8% from the mid-morning high yet 0.60% high from last Thursday's close. Quite a bit of volatility for one day. Add to that, volume spiked to 189.36 million shares, over four times the average daily volume.
Regardless of whether the next move for silver (SLV) is to $50 or higher, now may be the time to take profits. Or, for a more risky investor, take a look at ProShares Ultra Short Silver (NYSEARCA:ZSL). However, buyer beware as this leveraged firepower could lead you to a meltdown if your timing is even just a little off. I don't have reason today to believe that the bull-market run for silver is over, so for now, consider moving aside and waiting for a better entry point.
Disclosure: I am long SLV.