Blackrock Global Allocation Fund (MALOX) is a flexible or go anywhere tactical asset allocation fund. The fund utilizes a variety of investment instruments such as U.S. and foreign equity, debt and money market securities. The fund's asset portfolio are varied from time to time among asset types and geographical regions when market and economic trends change. All in all, flexible and invest with few restriction are the main characteristics of the fund.
The portfolio managers of MALOX are Dennis Stattman, Dan Chamby and Aldo Rodan. Stattman is the chief investment officer of the BlackRock Global Allocation team and has rich experience of navigating bull and bear markets. He has worked as a manager since the fund was established in 1989. Based on its prospectus, the fund mainly invests in a portfolio of equity, debt and money market securities. In addition, the Fund may invest up to 35% of its total assets in "junk bonds," corporate loans and distressed securities. Moreover, the Fund may also invest in Real Estate Investment Trusts REITs (NYSEARCA:IYR).
The fund has performed well since it established. The fund only lost 7.72% in the crisis of 2002, and gained 36.40% in 2003 when the market recovered. From 2004 to 2007, the annualized return of the fund was over 10% for 4 consecutive years. In the 2008 financial crisis, unfortunately, the fund lost 20.35%. Since then, it has recovered modestly, gaining 21.99% in 2009. The fund was ranked best out of 58 funds which belong to global flexible portfolio funds category in the 3-year time period ending 12/31/09 and won the 2010 Lipper fund Award.
Let's take a closer look at the variation of the fund's asset allocation. As the figure 1 shows, as of 3/31/11, the fund allocated 67% asset on Equities, 26.3% on fixed income and 6.7% cash holding. As the figure 2 shows, as of 2/28/11, the fund mainly invested in U.S and Developed Europe market. Both are mature market with relative low systematic risk.

click to enlarge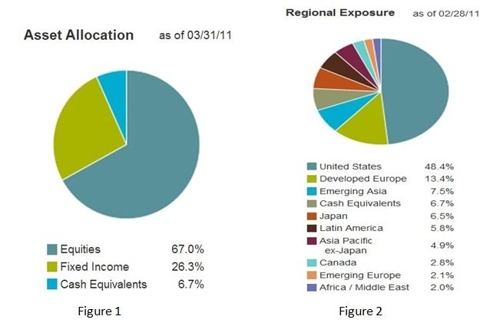 Click to enlarge
The following table illustrates the asset correlation percentages for MALOX in the last four weeks based on MyPlanIQ's SmartMoneyIQ tool.
| | | | | | |
| --- | --- | --- | --- | --- | --- |
| Date | IntlBond | CASH | USBond | IntlStk | USStk |
| 2011-03-25 | 14.32 | 21.2 | 0 | 40.71 | 23.77 |
| 2011-04-01 | 12.49 | 21.27 | 0.26 | 38.96 | 27.02 |
| 2011-04-08 | 11.14 | 15.55 | 5.64 | 34.13 | 33.54 |
| 2011-04-15 | 11.49 | 20.03 | 0 | 35.6 | 32.88 |
The above table is derived by MyPlanIQ SmartMoneyIQ tool. The percentage on each column reflects the portfolio's correlation coefficient with the asset class benchmark for that column. (Assuming all correlations are summed to 1). They do not necessarily reflect the actual asset allocation of the fund.
From the above table, one can see that the managers has maintained a very balanced allocation among international stocks (NYSEARCA:EFA) and US stocks (NYSEARCA:SPY). On the fixed income side, it overweighed international bonds (NYSEARCA:BWX) and short term bonds or cash (NYSEARCA:BSV). It has no or little US intermediate bond (NYSEARCA:AGG) exposure at the moment.
Blackrock Global Allocation Fund's latest quarterly commentary stated that "Since the launch of QE2, the US dollar (USD) has surprisingly strengthened… Improvement in US economic data coupled with instability in European debt markets have undoubtedly contributed to this rebound in the USD…Overall, we remain tactical with our currency positioning given the divergence in monetary policy between developed and emerging economies along with developments in the European debt markets." It remains nimble in its international exposure, both in equities and fixed income (currency exposure).
Disclosure: I have no positions in any stocks mentioned, and no plans to initiate any positions within the next 72 hours.