Before I get into what really matters, I have to give Netflix (NASDAQ:NFLX) some credit. The company's new VP of Investor Relations, Ellie Mertz, read one of the two questions I submitted to her for the company's Q1 earnings call. CEO Reed Hastings and CFO David Wells did not necessarily answer it how I would have liked, but I take partial blame for that. I poorly worded my question, asking:
In terms of international expansion and content acquisition in non-U.S. markets, what type of expenditures do you anticipate making for locally-relevant content?
I have yet to see the transcript of the call or listen to it again, but I think Mertz asked it word-for-word, leaving out a few questions related to the main question. I should have asked "how much do you anticipate spending" as opposed to "what type of expenditures do you anticipate making." Semantics aside, I still would have probably received the same non-answer without numbers. This generic vagueness has become a Netflix trademark when it comes to discussing expenses.
That question was my softball to the one I really wanted answered about all of the content costs I overviewed in a previous Seeking Alpha article on Netflix. While the company addressed these various costs, they, expectedly, stayed away from discussing hard numbers. I think they only take questions that allow them to avoid giving actual details when they'd prefer not to.
This is the biggest issue I have with Netflix's disingenuous conference call format. It does not allow for unrehearsed responses to questions worded strategically by analysts and investors or true, on-the-fly follow up questions. Had I been on the call live, I could have, assuming a true and typical format like every other company in the free world conducts, pressed for numbers. Granted, I would have likely received the same hockey player-style response.
Before discussing the call and my outlook for NFLX, here's the good news from the call:
Netflix beat estimates by $0.03 reporting Q1 EPS of $1.11.
Netflix revenues beat Q1 consensus estimates, $719M versus $703.6M.
Gross margins topped Wall Street estimates.
Netflix guides Q2 revenues higher than estimates, $778-$798M versus $763.01M.
I culled these figures from my Briefing.com InPlay service and Netflix's letter to shareholders. Some of the news that I perceive as bad got more media attention in the earnings aftermath than other news. Clearly the biggest headline -- and surely a big drag on Netflix shares -- was Netflix guiding its Q2 EPS lower than the $1.19 consensus. Instead, Netflix warned shareholders to only expect $0.93 and $1.15. This speaks volumes about bad news specimen number two -- rising content acquisition costs.
Obviously, even for loyal NFLX bulls, growth does not look quite as brisk as it has in the past. A prediction of stronger revenue, yet considerably lower EPS means only one thing in this case -- growing expenses. In fact, it's so bad that NFLX EPS appears to have a great chance of shrinking quarter-over-quarter. I know some people who got laughed at for suggesting this just last week.
According to CNBC, some analysts anticipated Netflix adding 3.7 million subscribers this quarter. No matter how you slice it, they missed. The company added 3.3 million new users domestically and 290,000 in Canada for a total of almost 3.6 million. The Canadian number dropped from the previous quarter when Netflix added 380,000 new subscribers. Yet, Hastings and Wells note that all looks good internationally, even while upping their expected international operating loss for the second half of 2011 from last quarter's $50 million to between $50 and $70 million.
While listening to the pitch and catch between Mertz, Hastings, and Reed, I fired off a question about something that Netflix never really addresses. In their 10K and 10Q filings, the company includes a footnote that most investors have never seen, but should not be overlooking. I have brought it up before. It's worth rehashing, verbatim, from my previous article (see link above) because it is critically important.
click to enlarge images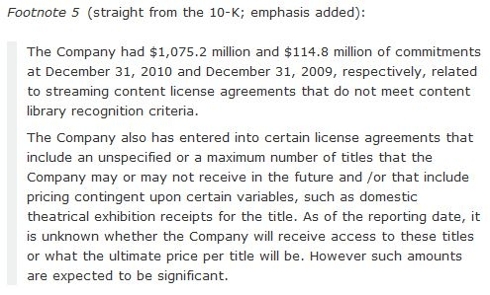 The executives did not get to my additional question, but IR, presumably Mertz, replied to my email directing me to the company's SEC filings. That's fine and good, but, as of press time, the official Q1 report had not hit the SEC website. I responded by making note of this, but received no reply. All I want to know is where Netflix sees the 2010 $1 billion-plus commitment "that [does] not meet content library recognition criteria" going in 2011. That number rose from just $114.8 million in 2009. It's no surprise Netflix buries it deep in its SEC filings.
As for other expenses, accounts payable keeps rising, up to just over $301 million in Q1 from nearly $223 million in Q4, 2010. If you dig into Netflix's filings, you'll see that accounts payable includes amounts for titles recognized in the content library that are due within a year. Non-current liabilities account for recognized titles with amounts due beyond a year. These rose significantly as well, from just over $69 million in Q4, 2010, to more than $90.5 million in Q1, 2011.
Given these realities finally becoming obvious to the part of the world who spent the last year in an euphoric haze, I was not surprised to hear a muted tone from Hastings and Wells on the call. In fact, I have never heard Hastings wax so cautious. It was a far cry from him telling Whitney Tilson to cover his short. The not-so-subtle change in tone from Hastings, in particular, but Wells also, reminded me of Barrack Obama's metamorphosis from campaigning Senator to shell-shocked President. It was easy to be confident and cocky -- a rhetorical world beater -- with the momentum on your side, but once the reality of the gig sets in, humility and caution does as well.
In terms of how to play it from here, I will have more thoughts as the days and weeks progress, but my key takeaways from the earnings report and pseudo conference call follow.
I don't think NFLX will ever see $250 per share again.
I own out-of-the-money NFLX May 2011 puts. I am not sure when I will sell them. I want to see how price action moves in the next several hours of trading.
I own out-of-the-money NFLX January 2012 puts. I am holding them for now. If I realize the right amount of profit from the May puts, I might buy more LEAPS.
I would not be shocked to see NFLX trade below $100 at some point in the next 6 to 18 months.
If I were long NFLX stock and had profits I would sell into the weakness or wait for the likely modest rebound.
If I were long NFLX stock, but stubbornly unwilling to sell, I would write covered calls. I would have absolutely no worries that my shares will get called away.
Netflix's EPS will decline in Q2 versus Q1.
This is the beginning of the end for Netflix. While I don't think the company will go anywhere anytime soon -- they do offer a sound and well-received service -- I think we have seen the top and will watch NFLX retrace its steps to its current 52-week low of $90.00. If you think I am overreacting, consider this.
On the call, Hastings reiterated that as Netflix's subscriber count grows, it can afford to write "bigger checks" for content in an environment where the company competes against online giants like Amazon.com (NASDAQ:AMZN) and Google (NASDAQ:GOOG), cable networks, cable operators, and others. Take a look at the company's guidance from its letter to shareholders. Focus on the highlighted subscriber estimates.

These numbers border on catastrophic for the stock. To reach the low end of domestic subscriber guidance for Q2, Netflix will add just 1.2 million subscribers. If it hits its target on the high end, it will add about 2 million users. That's a far cry from this quarter's addition of 3.3 million subscribers. The picture looks even more dismal internationally. To reach its estimate of between 900,000 and 1.05 million subscribers, Netflix will add between 100,000 and 200,050 subscribers in Canada, down from this quarter's number of 290,000. It's hardly a shocker that Netflix has decided to end the practice of reporting this type of guidance in 2012. With 2012, Netflix will just be a company that hides more key metrics from investors than it did in 2011.
If Netflix restrains itself from spending amidst slowing subscriber growth -- which Hastings conceded to on the call -- it loses from a competitive standpoint. Netflix's biggest competitors -- Amazon and Google, in particular -- can outspend the company, however, in just about any situation.
And if Netflix decides to compete aggressively for content, with or without the necessary subscriber growth, it will see costs rise with even more zest. It's latest downward EPS guidance will look modest in the rearview mirror. With this will come a secondary stock offering, which the institutions that have propped up the stock thus far, clearly hope to be a part of. That would be a big slap in the face, not to mention another warning sign, to the investors who Netflix is apparently trying to thank with share buybacks executed during its spending spree.
At this juncture, all that can save NFLX is a buyout. While possible, I wonder if Google, Amazon, Apple (NASDAQ:AAPL), or another equally as big player actually want to swoop in to rescue the recently-subdued Netflix.
Disclosure: Author is short NFLX via a long position in NFLX put options. Author may initiate a long or short position in AAPL or AMZN, possibly via options, at any time.