With its vast natural resources, Canada has benefited from the post 2000 commodities boom. In this report I highlight two top tier Canadian companies who indirectly benefit from the rise in oil, mining, and agriculture throughout the global economy.
Canadian Railways International (NYSE:CNI)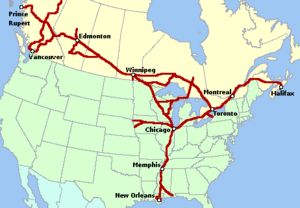 Extent of CNI's railroad tracks
Compared to its American competitors Union Pacific (NYSE:UNP) and the Warren Buffett owned Burlington Northern, CNI has been flying under the radar. Canadian Railways has the largest network of railways in North America and has the continent's only transcontinental network (along with access to the Gulf of Mexico). With rising oil prices, rail becomes more cost effective than trucks for shipping.
Also, rail freight is the primary method of transport of coal, iron ore, agriculture, and other raw materials from remote Canadian mines and farms to ports in Vancouver that ship the goods to Asia. The stock has a reasonable P/E ratio of 14, a PEG of 1.1, and has a strong profit margin of 25%. Its 0.5 debt equity ratio is reasonable for a capital intensive business such as the railroad industry. Expect CNI to boom with increasing commodity exports.
Potash Corporation of Saskatchewan (NYSE:POT)
Potash is the leading producer of the mineral potash, a critical ingredient to modern fertilizers. With the rise in agricultural prices and demand for farm land, farmers will need to buy more potash derived fertilizer to maximize crops in additional land. Production of ethanol based biofuels have also boosted Potash's earnings growth. Earnings are expected to grow 78% this year and 20.87% for the next five years thereafter. Margins are also high with a 27% profit margin and 39% operating margin. Along with strong fundamentals, Potash has also been a candidate for a takeover of a larger basic materials company (if the Canadian government approves it).