Valero (NYSE:VLO) vs. Western Refining (NYSE:WNR) - which of these two companies would make the better investment? Keep in mind that both of these companies are in the same business, oil refining and distribution, and this entire industry has seen unprecedented refining margins all spring.
1. Market Capitalization
VLO is $16.44B, WNR is $1.63B. An example of why this difference matters happened in January, when, due to a weather problem, WNR had some downtime on its El Paso refinery which had the effect of shutting down 2/3 of the capacity of the entire company for a week while repairs were made. Big is good.
2. Price Performance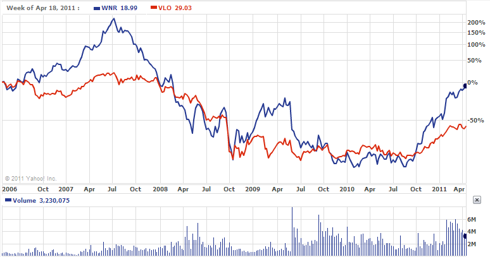 Chart Source: Yahoo.
Since November 1, both VLO and WNR have enjoyed some price improvement, WNR has enjoyed a 180% increase, as it came off of its lows. VLO has seen a 60% improvement, both are benefiting from increased earnings because of the unprecedented situation in refining margins.
Both stocks peaked in July of 2007, a period when all of the refiners were enjoying high margins plus high demand. At that point, WNR was trading at 62, and it is currently trading at about 18. VLO was trading at 77, compared to about 29 today. Both have significant upsides.
3. Earnings (and Earnings Surprises)
Valero is trading at a forward PE of 8.08, WNR with a forward PE of 9.59. In 2010, VLO beat its earnings estimates by an average of 18%, with only one negative earnings surprise, and WNR was short of its numbers by an average of 42% for the same period. This is another area where big is good. It makes VLO more predictable.
4. Strategic Options
VLO's management has stated its desire to reconfigure the company's portfolio of refineries, to take advantage of lower cost, heavier and more sour feedstocks. The company had two refinery transactions in the last quarter that accomplished this.
WNR's management is still in consolidation mode, and is content to continue to run a simple operation and exploit a market niche. The company's feedstock source, Permian Basin crude, is priced at a discount to WTI, but the company sells into markets in Arizona in which WNR benefits from the higher West Coast refining margins.
5. Capitalization
WNR has recently restructured the long term debt that the company had incurred when it purchased the Giant operation in Yorktown VA at the peak of refinery prices in 2008. The management believes that this will add about $9M to their earnings in reduced interest expense. The company's Debt/Equity ratio is 158.
Valero's Debt/Equity is 55, and most recent quarter had $3.5B in cash on the books.
Valero is in the much stronger position financially.
6. Insider Activity:
Since March 1, insiders of WNR have sold roughly 1 million shares of stock, and there has been a 26% decrease in net institutional shares owned this quarter vs. the previous. For Valero, since March 1, there has been 1 significant insider transaction, a 30,000 share option exercise. Institutional ownership has declined only 3%.
Conclusion
VLO is the better company of these two. The company has a stronger financial position, the management is preparing to participate in this business in the long term, the company's size makes it less vulnerable to operational issues and earnings surprises.
Valero has just as much room on the upside, and the insiders and institutions are sticking with them.
WNR: Conference Call/Earnings Announcement: 5-5-2011
VLO: Conference Call/Earnings Announcement 4-26-2011
Disclosure: I am long CLMT.