21Vianet (NASDAQ:VNET) is the largest carrier-neutral Internet data center services provider in China. It is a Chinese equivalent of US-based Equinix (NASDAQ:EQIX).
The company completed its IPO last week, raising $195 million, more than expected in its original filing, as the company succeeded in selling its shares at $15, $2 above the high end of the proposed range.
21Vianet was offering 13,000,000 American depositary shares, or ADSs, each representing six Class A ordinary shares.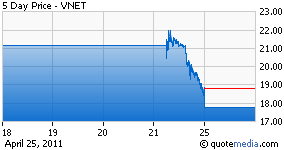 After the offering, and excluding the exercise of any over-allotment option, there will be about 322.5 million shares outstanding, divided into Class A ordinary shares (being sold as ADS) and Class B ordinary shares. Class B shares are entitled to ten votes with respect to matters requiring a shareholders' vote, so that the original shareholders of 21Vianet will retain about 97% of aggregate voting power.
The company is not profitable yet as is frequently the case among data center providers given the large investments necessary upfront to build facilities. But in 2010 it achieved an adjusted EBITDA of about $12.7 million on revenues of about $79.6 million.
EBITDA, however, is a negative ($30.6) million, as the company recorded well over $43 million of "share-based compensation expenses and changes in the fair value of contingent purchase consideration payable".
The IPO was also very successful in its first trading day, with the shares hitting over $21 at their peak. At that level, the company had a market cap of well over $1 billion, or about 14 times revenues.
Assuming $17 as a "safe" value for the shares, the company would still be worth about 72 times its 2010 adjusted EBITDA.
We must admit our calculator finds it hard even to try to apply this multiple to Equinix's 2010 $544.8 million adjusted EBITDA, so we won't take the risk to write down the result. We'll have to wait for the next April fools' day to give Equinix such a target price – or keep thinking that the market might need to get a bit more realistic on 21Vianet, sooner or later.


Disclosure: I am long EQIX.