The last time Silver hit a short-term "very overbought" extreme, I called for a short-term reprieve in SLV and the High Probability, Mean-Reversion strategy made 19.8 % on the trade.
As for the rest of the market, well, it seems as though everyone is anxiously waiting for Bernanke & friends to release some type of catalyst over the next two days. I expect to see the market move into the summer doldrums for various reasons immediately following (if not before) Bernanke's first press conference on Wednesday.
Gold (NYSEARCA:GLD), semiconductors (NYSEARCA:SMH) and the tech-heavy Nasdaq 100 (NASDAQ:QQQ) have also pushed into a short-term overbought extreme so I expect to see a move lower over the next few trading days.
I hope the strategy is given the opportunity to make a few more profitable trades this month. So far, the options strategy is up 14.2% for the month.
And one more thing.
I decided, per all of your requests, to add a few more ETFs. You will notice the dollar (NYSEARCA:UUP), India (NYSEARCA:EPI) and a few others.
Enjoy! (Click chart to expand)
Short-Term High-Probability, Mean-Reversion Indicator – as of close 4/25/11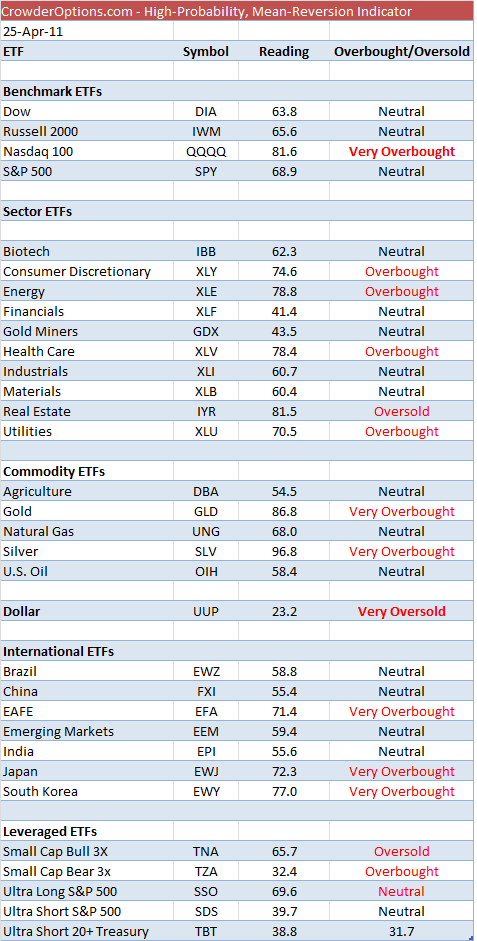 Disclosure: I have no positions in any stocks mentioned, but may initiate a short position in SLV over the next 72 hours.