Investors beginning the portfolio construction process would do well to include each of the following five asset classes in their portfolios. The ETF ticker suggestions are among those I use to populate these five asset classes. This group of ETFs provide broad coverage of the world market, although there are still a few gaps to close.
For ease of analysis, I allocated 20% to each of the above five asset classes. As a further assumption, I set the S&P 500 return projection to 7.3% for the next year. The projected return for this basic portfolio is 8.6%, with a rather high uncertainty of 17.2%. This combination gives a Return/Uncertainty ratio of 0.50. We prefer to see this value above 0.60.
The Diversification Metric is only 17%. Only BND provides a low correlation; the other four ETFs are highly correlated.
[Click all to enlarge]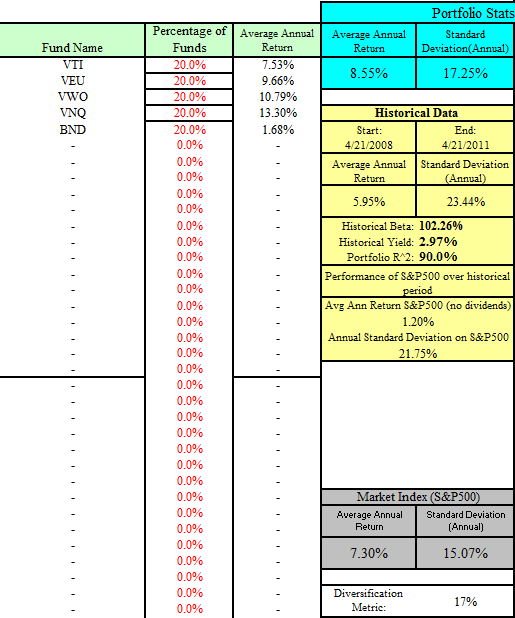 Below is what I call the "Delta Index," which shows is a probability indicator as to whether or not it is an appropriate time to be adding the ETF to the portfolio.
For a "super buy" signal, one would see green across each row for Delta, Delta Index, and Conservative Delta Index. Under current conditions, the best opportunity to add to a portfolio is developed international markets or VEU. For reference, in March of 2009 we had a sea of green showing up for these ETFs. That was a great buying opportunity; those do not come along frequently ... or at least we generally fail to recognize them when they are available.
Where do we go from here, assuming these five asset classes are part of our portfolio? That is the question we continually attempt to answer.